The Green Sheet Online Edition
September 26, 2022 • Issue 22:09:02
An ISOs path to prosperity starts at the kiosk
By Bill Vasquez
Advisor to Applova Inc.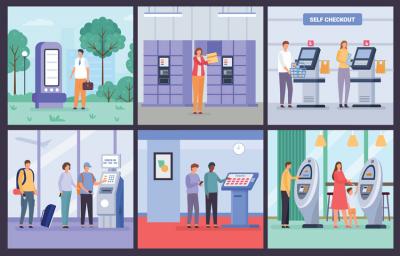 Under today's trying economic conditions, the food and beverage (F&B) industry has been hard hit. The acute labor shortage faced by restaurants has been exacerbated by the state of the economy. Spurning minimum wage jobs, potential restaurant workers are now seeking a livable wage—a figure that keeps rising due to the current economic context.
Extra perks and incentives also are becoming imperative to attract and retain staff, causing painfully high labor costs. This is impacting restaurant revenue, which negatively affects ISOs whose niche is the F&B sector.
ISOs working with F&B businesses need their merchant restaurants to make profits. Thus, they must help merchants cut costs and earn more, focusing attention on products that can achieve both so they can continue to collect residuals. This is where the kiosk comes in.
Earning more in more ways
Kiosks are an easy sell for ISOs: they offer merchants, particularly QSRs, an immediate solution to labor issues. By automating the order process, merchants can reduce their front-of-store staff or even shift to a completely unattended front of store. By providing an instant resolution to a critical challenge restaurants face, ISOs are guaranteed a high level of uptake for kiosks, thus bringing in revenue.
Kiosk sales are just the beginning for ISOs. As an all-in-one ordering solution, kiosks allow QSR customers to both place orders and make payments. These digitized platforms drive patrons toward using credit cards, flipping cash purchases to electronic ones. So by introducing kiosks to restaurateurs, ISOs facilitate more credit card transactions, increasing their residuals.
Kiosks can be tailor-made to suit a merchant's needs. Because they come in different forms and sizes, from the free-standing podium to a table-top display or a hand-held tablet, merchants can choose which model or combination of models best fits their QSR. The menu design can be personalized with the merchant's color theme and logo, making the device their own. Ultimately, merchants get what they want, ensuring satisfaction. ISOs keep merchants locked in, fending off competitors and ensuring their income.
Kiosks also create opportunities for ISOs to upsell other digital solutions. Kitchen display systems and PA systems can be easily paired with kiosks to streamline the merchant's workflow. Other forms of digitization like web ordering and mobile order ahead apps can further enhance merchant operations. The kiosk's tangible benefits will make merchants amenable to more automation, opening up even more revenue streams for ISOs.
Finding the best kiosk
There are many kiosk vendors, but an ISO needs a good partner to reap the multiple financial benefits kiosks offer. While conducting due diligence, ISOs should look for a provider who will customize software to meet merchant requirements. Merchants will be more open to purchasing kiosks when they have choice and flexibility. All-in-one solutions are not as favorable because merchants have to pay for features they do not need. In challenging economic circumstances, merchants won't be willing to spend on things that won't add value to their business.
Kiosks are ideal for QSRs. However, a creative solutions provider can figure out ways to integrate kiosks into other types of F&B outlets. By working with a vendor who thinks creatively and is willing to tweak their software to fit new situations, ISOs can broaden their horizons and sign different types of eating and drinking establishments. The more restaurant categories ISOs can tap, the more they will earn.
Finally, ISOs need a service provider to take away complexity and simplify the process. The software partner should work directly with the merchant, setting up the menu, making ongoing alterations and changes, providing upgrades, and troubleshooting. Once an ISO has sold a kiosk to the merchant, the software partner must take over, freeing the ISO to move on to the next sale and make even more money.

Bill Vasquez is senior vice president strategy & business development at ITRenew. He has served for more than 20 years in senior leadership roles in ITAD, reverse logistics and supply chain management services, and has been an advisor to Applova Inc. for over five years. Previously he was vice president of ITAD operations at Sims Recycling Solutions and COO at TASQ Technology (TASQ later was acquired by First Data, now Fiserv). Contact him at wpvasquez@aol.com.
The Green Sheet Inc. is now a proud affiliate of Bankcard Life, a premier community that provides industry-leading training and resources for payment professionals. Click here for more information.
Notice to readers: These are archived articles. Contact names or information may be out of date. We regret any inconvenience.
Prev
Next