The Green Sheet Online Edition
September 26, 2022 • Issue 22:09:02
Industry Update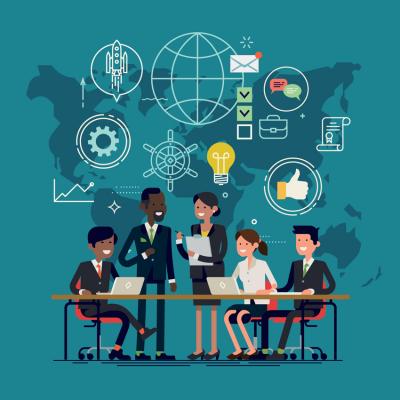 ANNOUNCEMENTS
Alibaba.com launches SMB grant program
Alibaba.com, a B2B ecommerce marketplaces and business unit of Alibaba Group launched its second annual small business grants program, the Alibaba.com "Manifest" Grants Program, to celebrate the innovativeness of U.S. small and midsize businesses (SMBs) and enhance the competitiveness of their products. Established in partnership with Hello Alice, a free resource helping SMBs launch and grow, the grants program aims to enable new entrepreneurs to succeed in today's digital age through ecommerce channels. In 2021, 50 small businesses were selected from more than 12,000 applicants to receive a $10,000 grant.
Boomtown rebrands as OvationCXM
Customer experience management (CXM) provider OvationCXM, previously Boomtown, heralded $20 million in a combined Series C and debt funding round, bringing the company's overall capital raised to date to more than $40 million, representatives stated. The funding round was led by Telstra Ventures with participation from KeyBank, JobsOhio Growth Capital Fund, JumpStart Ventures, Savano Capital Partners, Capital One Ventures, Nyca Partners, Neventa Capital and CIBC Innovation Banking. The new capital comes on the heels of a rebrand to better represent its service offerings as a category leader in CXM, the company added.
IPSI integrates IPSIPay mobile app
Innovative Payment Solutions Inc., a provider of digital payment solutions, said it completed integrating the IPSIPay mobile application and back-end payment processing infrastructure. The integration enables IPSIPay users to easily transfer money and make payments through the IPSIPay app throughout five continents and accelerates the full commercial launch of IPSIPay that began earlier in 2022, IPSI noted, and comes on the heels of IPSI's receipt of approval from the State of California to send remittances throughout the world, which was the only state in the continental United States from which IPSI was still awaiting approval.
Socure upgrades KYC solution
Socure, a provider of digital identity verification and fraud solutions, said it enhanced its KYC/CIP solution to provide full access to best-matched entity data via the UI dashboard or API, including reason codes and field validation intelligence that enable automation of exception processes and reduce manual reviews. These new features provide organizations with a fully transparent, expanded set of data about the customers they onboard, including an augmented ability to view and assess that information, Socure stated, adding that this upgrade also addresses risk to a company's customer portfolio to accurately verify their existing customers and mitigate risk of fines during an audit.
RESEARCH
Finances Online publishes top 2022/2023 fintech trends
Researchers at Finances Online reported the following ten trends will impact everything about money from payments to banking: digital-only banking is looming; blockchain is giving global finance a makeover; AI is a natural for financial institutions; fintech regulation is intensifying; payments continue to innovate; competitors are collaborating; meaningful inclusion is gaining traction; starting a fintech is heating up; China is leading the fintech revolution; and contracts are getting smarter.For full details, see https://financesonline.com/fintech-trends/.
SEON reports on global recession, fraud
SEON released a new report, which examines how a global economic downturn might affect levels of online fraud, as well as other forms of fraudulent activity, and how businesses can best respond to the challenge. The report, Global Recession Fraud, assesses how economic downturns impact fraud rates, and identifies what businesses can do to ensure they're protected against this threat. Using existing data sets compiled by the Association of Certified Fraud Examiners, as well as the Internet Crime Complaints Center, SEON makes the case that businesses across the globe should now plan for an impending uptick in online fraud attempts, which may begin happening on a larger scale than ever before.
PARTNERSHIPS
ARCA selects ThetaRay AI technology
ThetaRay, a provider of AI-powered transaction monitoring technology, reported that ARCA, an African payment services provider, will implement ThetaRay's advanced SONAR SaaS anti-money laundering and sanctions list screening solution for transactions on its open AI-based platform. According to the partners, ARCA is the first Nigerian fintech to adopt ThetaRay's advanced SONAR solution, which is designed to detect the very first signs of sophisticated financial crime.
ARCA provides advanced digital payments for an open banking ecosystem, helping expand innovative and inclusive financial services throughout Africa, they added.
CellPoint, Cybersource fighting fraud together
CellPoint Digital, a provider of payment orchestration, teamed up with Cybersource, a Visa solution for payments management, to provide merchants a holistic solution for fraud management capable of aggregating transaction data across multiple acquirers. With this integration, CellPoint now offers merchants best-in-class fraud management through Cybersource Decision Manager, one of the largest fraud detection radars—which uses machine learning to support merchants by automatically classifying transactions as good, bad or suspicious, the partners stated. With advanced fraud capabilities and insights from 141 billion+ VisaNet transactions, Decision Manager helps merchants increase acceptance rates, lower review rates and boost their bottom line, they added.
Kompliant picks authID's biometrics
Kompliant, a U.S.-based, AI-driven, business onboarding and risk-scoring company, will integrate authID's biometric authentication platform Verified to stop identity fraud and automate digital onboarding for its customers, the companies reported. Kompliant works with payment processors and sponsor banks, and will deploy authID's reliable, high-speed identity authentication solution to streamline and secure online merchant application processing and transaction monitoring, they noted, adding that the integration with authID's Verified will enable Kompliant to deliver biometric identity authentication during digital onboarding for its clients, including quick mobile identity document capture and validation, liveness confirmation and presentation attack detection, and facial biometric matching of a selfie to the credential photo.
NAB selects ISO Amp tools
ISO Amp reported it has become the exclusive provider of statement analysis and proposal generation to NAB's merchant sales partners. ISO Amp is a software and service solution that leverages AI and automation to take the grunt work out of statement analysis, ISO Amp stated. Users upload payment processing statements from prospects to a branded portal, where the statements are analyzed and accurate branded cost-comparison proposals are generated with an average turnaround time of less than 30 minutes, ISO Amp noted, adding that statements requiring human intervention, such as unusual document types, imperfect scans requiring data entry, unmatched fees, etc., get flagged for review by trained statement analysts.
Tilled, AEVI team up
Payfac-as-a-service startup Tilled partnership with payments technology company Aevi to further expand omnichannel and card-present functionality for its customers. Tilled and Aevi said this partnership positions them for long-term growth together, as they work to empower ISVs and vertical software companies seeking to monetize their payments. Beginning with five- and seven-inch Android solutions with expanded hardware offerings to come, Aevi's platform allows Tilled to further offer white-label functionality to its partners, the partners noted, adding that each terminal can be customized with a partner's branding, creating a seamless payment experience for merchants and end-users.
ACQUISITIONS
J.P. Morgan to acquire Renovite
J.P. Morgan signed an agreement to acquire Renovite Technologies, Inc. (Renovite), a leading cloud-native payments technology company. The strategic acquisition of Renovite is expected to help J.P. Morgan Payments build its next-generation merchant acquiring platform, bolster the firm's payments modernization strategy and support its journey to the cloud. Upon closing of the transaction, Renovite will become part of J.P. Morgan Payments. Founded in 2015, Renovite focuses on cloud-native technology and has built six proprietary, cloud-agnostic and payment token agnostic payments products to help clients optimize infrastructure, J.P. Morgan stated.
WPP to acquire Newcraft
WPP reported it will acquire Newcraft, a data-first ecommerce consultancy based in the Netherlands. Newcraft unlocks business opportunities for its global clients by combining transformation strategy with operational commerce expertise to deliver growth and tangible business results, WPP stated, adding that Newcraft will join its Wunderman Thompson global network, complementing a well-established commerce and marketing services teams in Northern Europe. The acquisition, WPP noted, will strengthen its digital commerce capabilities and reflects the company's ongoing investment into its commerce offer for clients as consumer needs continue to change.
APPOINTMENTS
Ranqx appoints John Horner
Specialist fintech firm Ranqx appointed retired banker John Horner as chairman of its board of directors. Former treasurer and chief investment officer of JPMorgan Chase, Horner, held a succession of senior leadership roles there from 2002, with significant responsibilities such as managing JPMorgan's $3 trillion balance sheet, before retiring in 2019. He took the reins from Ranqx's founding chairman Sir Ralph Norris, ex-CEO of Commonwealth Bank of Australia. Norris' stewardship saw the launch of the Ranqx insights platform in 2015 and the 2019 strategic pivot into solving the friction within SMB lending for banks.
SRM welcomes Marion King
Strategic Resource Management appointed Marion King to its international advisory board. King's 25 years' experience, leadership roles at Mastercard, Vocalink and Reuters, as well as several other non-executive director positions, are expected to help SRM and its European arm, SRM Europe, better serve financial institutions across the globe.
VizyPay promotes three women
Payment processor VizyPay said it elevated three experienced and dedicated women leaders to its senior team. Director of Sales Elizabeth Rucker, Director of Client Success Olivia Hall and Director of Marketing and Sales Enablement Shannon McCann all came to VizyPay from outside the payments space, starting out as sales partner recruiters and distinguishing themselves through hard work and leadership skills, the company noted. In her new role, Rucker oversees three divisions—the sales partner, account manager and sales support departments—and provides them with the training, resources and creative strategies to consistently meet and surpass sales objectives.
In her new position, Hall is building out VizyPay's client success department from scratch with the goal of improving customer service, satisfaction and client retention. Hall and her team serve to proactively and prescriptively guide customers, both merchants and sales partners, to succeed with VizyPay's product and service offerings. McCann oversees all branded content, guides public relations and marketing communication strategies, executes campaigns to drive quality lead generation, creates content and tools for sales enablement, and raises awareness for VizyPay's founding pillars of transparency, culture and advocacy for small businesses.
Sift Welcomes Mary Writz
Sift, a provider of digital trust and safety, appointed Mary Writz as its senior vice president of product. With over 20 years of experience in building and scaling cybersecurity solutions, Writz will lead Sift's product strategy and development to help businesses secure every stage of the customer journey. Writz joins Sift after four years at identity management company ForgeRock, where she led the consumer identity product organization and helped the company through an IPO. Prior to ForgeRock, Writz held product leadership positions at Hewlett Packard and IBM where she focused on threat detection, machine learning, security intelligence and targeted attack protection.

The Green Sheet Inc. is now a proud affiliate of Bankcard Life, a premier community that provides industry-leading training and resources for payment professionals. Click here for more information.
Notice to readers: These are archived articles. Contact names or information may be out of date. We regret any inconvenience.
Prev
Next