The Green Sheet Online Edition
November 22, 2021 • Issue 21:11:02
Industry Update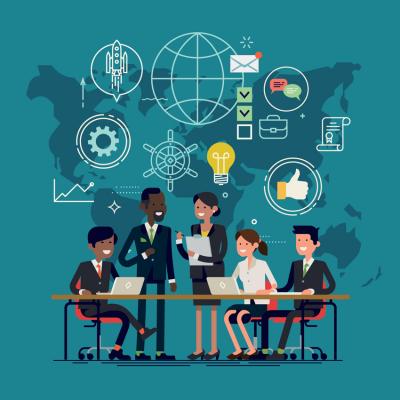 ANNOUNCEMENTS
Deluxe CEO writes book to help SMBs
Deluxe, a payments and business technology company, launched Small Business Revolution: How Owners and Entrepreneurs Can Succeed, a new book written by Barry C. McCarthy, Deluxe's president and CEO. Published by Wiley Publishers, the book is intended for small business owners and entrepreneurs.
It features stories from the company's 106-year history, along with anecdotes from its Emmy-nominated TV show Small Business Revolution, a reality series created to revitalize small businesses, one community at a time. McCarthy offers practical advice on reaching customers, recruiting employees, understanding finances, and more. All book proceeds will benefit the Deluxe Corporation Foundation, which has awarded nearly $110 million in grants to strengthen American communities.
dLocal expands in Asia, Central America
Technology-first payments platform dLocal expanded into three new countries in Asia and Central America: Thailand, El Salvador and Guatemala, the company stated, noting that together, these three countries represent a market of more than 93 million consumers and a total ecommerce revenue of $26 billion. Sumita Pandit, dLocal COO, said the One dLocal concept—one API, one platform, and one contract—gives merchants access to international and local credit and debit card brands, as well as to alternative payment methods such as e-wallets, bank transfers and cash-based transactions.
E-invoice Exchange Market to pilot US network
The Business Payments Coalition formed the e-Invoice Exchange Market Pilot to create and test an e-invoice network among businesses in the United States. The concept is based on two main pillars. "The first one is messaging infrastructure. It uses a connection model that enables businesses to exchange information in a standardized way," the BPC said. "The second one is the semantic model, which refers to the structure of the information in the e-Invoice, which should be clear and legible for both parties and use a common language." BPC added that it is working on these pillars in parallel through working groups, and the market pilot will bring their efforts together to establish the exchange structure.
EMVCo enhances contact chip security
The EMV Contact Chip Specification, managed by global technical body EMVCo, now supports Elliptic Curve Cryptography (ECC). Use of this cryptography standard by the payment community can enable enhanced security without impacting technical performance of a payment device or slowing transaction processing time, EMVCo stated, adding that the inclusion of ECC is required to support new, future payment scenarios. "In an EMV contact chip payment, the merchant point-of-sale terminal can cryptographically authenticate a card and its data," the technical body said. "For this purpose, EMVCo has based its EMV Contact Chip Specifications on RSA (Rivest-Shamir-Adleman) public key cryptography since its inception and intends to continue to support this standard."
F1 Payments named a top Texas employer
F1 Payments was named to the 2021 list of Best Companies to Work for in Texas, ranking No. 1 in the small companies category (15 to 99 employees) for the second consecutive year. Texas Monthly, the Texas Association of Business, Texas Society of Human Resource Management and the Best Companies Group support the annual recognition of the 100 best places to work in Texas.
Best Companies Group evaluates workplace policies, systems, philosophies, practices and demographics of nominees, along with survey responses measuring the employee experience to determine winners and final rankings.
GiftChill accepting crypto for e-gift cards
Online gift card store GiftChill now allows customers to use cryptocurrencies, including bitcoin, to buy gift cards from more than 200 companies, including Amazon, Fortnite, V-bucks, Google Play, iTunes and Nintendo Store. Customers using cryptocurrencies can benefit from secure payment, as well as weekly offers that can help them get deals on a range of popular cards, GiftChill stated. In addition to bitcoin, the site accepts bitcoin cash, ethereum and litecoin. All such transactions are handled through CoinBase, a platform for buying, selling, and storing cryptocurrencies.
RESEARCH
GoCardless finds tis the season for BNPL
According to a GoCardless study, 42 percent of shoppers it surveyed plan to use buy now, pay later (BNPL) during the year-end holiday season; for millennials this rises to 60 percent. Clothing tops the list as the most popular item for BNPL, chosen by 39 percent of respondents, followed by computers and laptops (33 percent) and game consoles (32 percent). In addition, 32 percent of shoppers in the study revealed they would be willing to spend up to $99 more if BNPL were available; 26 percent indicated they would spend as much as $200 more. In what has been a hard year for everyone, GoCardless noted, 42 percent of respondents said they want to use BNPL this holiday season to treat a loved one with something they could not usually afford.
Mercator studies U.S. shopping trends
Mercator Advisory Group's 2021 Buyer PaymentsInsights: Shopology – COVID Impacts on the Consumer Shopping Experience report examines U.S. consumer shopping habits for goods and services both in-store and online during the pandemic. The report, based on an online consumer survey administered to 3,003 U.S. adults between May 21 and June 22, 2021, covers the buyer experience before, during and after the pandemic and includes questions about consumers' shopping attitudes, shopping venue preferences, common ways consumers make non-grocery purchases, and more shopping-related subjects.
The report highlights key trends in consumer behavior, preferences, and motivations, influenced by consumer experiences with payment-related issues and changes in habits brought about by the COVID-19 pandemic.
Payments Association sees open banking growth
A report released by The Payments Association predicts open banking will transform the payments industry. With over 3 million users of open banking services in 2021, it is spreading to more markets around the world each day, driven by new regulation and increasing consumer demand, the association stated. The Power to the People: How open banking is transforming how we access and manage our money insight paper provides an overview of open banking developments globally, the impact for end users, and a wealth of use cases across different industry verticals, including use cases like subscription payments management or personal debt management, as well as small business financial management and credit scoring, the organization noted.
PARTNERSHIPS
Maverick Payments integrates with OpenPath
Maverick Payments integrated with OpenPath software-as-a-service, which provides advanced ecommerce optimizations. This integration provides merchants utilizing Shopify, WooCommerce and Magento a direct path to their Maverick merchant account without needing third-party payment gateways, Maverick Payments noted, adding that merchants can cut the number of apps used on their site, increasing page speeds while reducing operation costs dramatically. Maurice Griefer, CRO of Maverick, said integration with OpenPath "allows merchants to supercharge their checkout page to increase conversions and better compete online."
Paysafe, Bitrise powering digital wallets
In a collaboration with Bitrise, Paysafe, a specialized payments platform, is leveraging Bitrise's mobile development platforms to automate and accelerate the core mobile practices behind its digital wallets Skrill and NETELLER. According to a survey of 2,000 sports bettors Paysafe conducted in December 2020, three quarters of bettors would change their payment method if it meant a faster payout. According to Paysafe, the move to Bitrise has enabled Paysafe to automate and scale its operational processes and workflows, allowing it to release updates to app stores more frequently and quickly while accelerating app build times from hours to minutes and decreasing the cost of builds by as much as half.
PXP to expand in US with Shift4
Acquiring and payment services provider PXP Financial Inc. is partnering with Shift4, a provider of integrated payment processing and technology solutions. Shift4 will be added to PXP's platform as an acquirer, improving PXP's connectivity and reach in the United States, allowing PXP's customers to reach a wider market and offer an improved payment experience to end-users, PXP stated. Kamran Hedjri, CEO at PXP added, "The US is a complex market, but by leveraging partnerships locally, PXP can deliver a more seamless payment experience for customers."
QikServe teams up with QSR Automations
QikServe partnered with QSR Automations, a provider of kitchen automation and restaurant technology, to streamline food order fulfillment. The integration between QikServe's digital ordering platform and QSR's ConnectSmart Platform will ensure all customer orders placed are automatically analyzed and routed to the correct areas of the kitchen for faster, more efficient preparation," QikServe stated, adding that the smart integration will allow restaurant operators to have a single digital platform to manage everything from waitlists and table turns to orders placed by customers for delivery, collection or dine in.
The integration also offers brands greater flexibility between their online menu and the items held within their POS system, QikServe noted.
ACQUISITION
Tidal Commerce to acquire MBP
Financial technology and payment processing company Tidal Commerce agreed to acquire Merchant Bancard Processing, stating that the acquisition will accelerate Tidal Commerce's position as a national leader in merchant services. Drew Sementa, founder and CEO of Tidal Commerce, said, "The addition of MBP will complement and strengthen Tidal Commerce's portfolio as we focus on providing merchants, associations and banks unmatched cost savings, software and support.
The MBP team has built an incredible reputation with their merchants and partners, and we are pleased to add their existing customer relationships to our growing national footprint."
APPOINTMENTS
BlueStar promotes four marketing executives
Mark Fraker was named the chief technology officer for BlueStar. Fraker has been with BlueStar for over 21 years and served as the company's vice president of marketing for the past 18 years. He will now oversee development and dissemination of technology for BlueStar's external customers, vendors and other partners.
Dean Reverman will replace Fraker as vice president of marketing responsible for all aspects of marketing for BlueStar. Reverman's tenure at BlueStar spans over 10 years, where he has served as global marketing manager and most recently as director of North American marketing. Reverman will direct the creation and management of BlueStar's value-add marketing programs.
James Korte was promoted to MARCOM manager and has been on BlueStar's marketing communications team since 2011. As manager of digital marketing, Korte directed the strategy of BlueStar's end-user demand generation program. He will now manage BlueStar's MARCOM groups as well as oversee BlueStar's value-add reseller program.
Gabrielle Sirois was named marketing manager for BlueStar's Canada region. Employed with BlueStar for over 6 years, Sirois has worked on key initiatives and events, including digital marketing, social media demand generation, content marketing and more. She will develop marketing solutions while aiding BlueStar's customers in accelerated growth.
Robert Heinrich moves up at Simpay
Simpay, a payment, payroll and POS provider, appointed Robert Heinrich to lead its product strategy channel and implement product suites across the company. "With more than 20 years in the industry, Robert is the obvious fit for this role," said Lazaros Kalemis, Simpay's founder and CEO.
"With Robert's expertise, we'll be able to execute our long-term goals." Heinrich, who has been with Simpay for more than 15 years, most recently as vice president of sales, said that dedicating his full attention to product strategy, taking actionable steps on client and partner feedback, and improving Simpay's product stack is an exciting prospect.
GlobalPlatform hires
Ana Tavares Lattibeaudiere Ana Tavares Lattibeaudiere joined GlobalPlatform as executive director. Tavares brings more than 20 years of industry knowledge, nonprofit strategy and business development to the role, GlobalPlatform stated.
After employment at Accenture, BCG and Deloitte, Tavares spent 15 years in various roles at GSMA, most recently as head of North America, responsible for driving global initiatives across eSIM, future networks, IoT, identity and diversity, and more. She succeeds Kevin Gillick, who led the organization for more than 15 years.

The Green Sheet Inc. is now a proud affiliate of Bankcard Life, a premier community that provides industry-leading training and resources for payment professionals. Click here for more information.
Notice to readers: These are archived articles. Contact names or information may be out of date. We regret any inconvenience.
Prev
Next