The Green Sheet Online Edition
August 23, 2021 • Issue 21:08:02
The very point of sale: Bridging the digital commerce divide
By Dale S. Laszig
DSL Direct LLC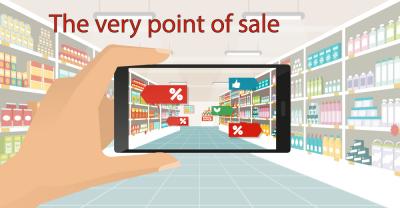 I've interviewed breakers, "bridgers" and builders in the payments industry. Breakers rip out and replace legacy technology. Bridgers create quick fixes for legacy systems but disregard inherent capabilities. Builders say, wait—this is powerful stuff if you take a closer look. Instead of popping tiles and gutting legacy systems, builders leverage existing infrastructure.
Will Graylin, founder and chief executive officer at OV Loop, suggested bridge technologies, such as NFC stickers for smartphones, are based on assumptions that tech is broken or incomplete. "I don't consider those NFC tags as bridge technology," Graylin said in a recent interview with The Green Sheet. "You know why? Because they're a bridge to nowhere."
If bridgers thought differently about legacy systems, they'd try to understand them and learn their language, Graylin stated. "That's the approach we've taken with OV Loop," he said. "We designed a bridge to reduce the friction of commerce."
Bridge to nowhere
Credit cards, for example, are old technology, Graylin noted. "They are plastic representations that have been manufactured and shipped to consumers for the last three decades," he said. "They are static devices that are not connected to a universal digital wallet."
These same old cards, even those with near field communications chips that can be tapped, haven't fundamentally moved to the digital era or the digital wallet, Graylin observed. And this simple fact became the inspiration for creating OV Loop's line of universal wallets.
"In America today, we are the number one economy in the world and yet, we are carrying around technology that is decades old," Graylin said. "We carry many of these cards, and banks are stuck in the same mode, issuing cards that sit in a leather wallet or a canvas wallet, and these cards that we all carry around are our lowest common denominator."
Channeling security
Across America, restaurants are still presenting checks in billfolds and using old POS systems that are hard to change, Graylin noted. He recounted how massive EMV and NFC migrations placed extra pressure on merchants, who were already fighting for margin, forcing them to install new systems and retrain staff—and payment cards are getting skimmed in the physical and online worlds. Tokenization and digital wallet technology can solve these challenges, he added.
When people start to use a true digital wallet, they are harnessing the power of tokenization in the physical and online worlds, Graylin pointed out, adding that they can tie that digital wallet to a set of digital interactions and transactions that go beyond tap and go into real-time engagement and interaction. OV Valet, currently in beta testing, is an IoT device connected to a digital wallet that works across all phones, channels and merchants, from physical to online to in-store and on the web, he noted.
"The [payments] industry gets caught up in nomenclature and brainwashing that there is no other way," Graylin said. "Now we're here to say there is a way, and the keys are ubiquity, consumer experience and digital wallet. After physical commerce, online and mobile commerce, the next big wave will be message commerce."
Sending a message
Message commerce allows you to see an invoice or bill—without waiting and being redirected or asked to log in and navigate to find a bill, Graylin explained. You simply press a pay button, and if you have questions, you click on live chat; that combination of digital identity, payments and messaging is "what we call three-in-one commerce," he noted.
"We believe that's the way to reduce the friction of commerce, but more importantly, we look at it as a bridge, not a bridge technology but a bridge that enables seamless digital transactions that are tokenized, a bridge between businesses and their customers for a better commerce relationship," Graylin said. "That's why it's called OV Loop."
Graylin believes that good relationships begin in the spirit of love, whether they are personal or commercial. That has always been OV Loop's guiding principle, he maintained, a principle that informs how we serve our customers and how we bridge relationships between consumers and merchants. "That has always been the bigger story," he said.
Building relationships
Graylin and other payments industry leaders joined a virtual panel discussion on Aug. 17, 2021, at the MPC Digital Commerce Event. In Payments after Covid: The Changing Payments Paradigm, which I moderated, Graylin joined Eric Allen, CEO of LISNR; Christopher Brunner, founder and CEO at AuthVia; and David Shackleton, CEO at OpenBack, to discuss the pandemic's impact on digital wallet adoption.
Each panelist had built on existing infrastructure to make the digital wallet a more logical extension of the customer experience. Their next-generation solutions bear little resemblance to early digital or physical wallets. Instead of being things that we reach for, these embedded technologies are integral to conversational, multichannel commerce in the following ways:
Proximity verification: LISNR uses ultrasonic data-over-sound technology to enable proximity verification and contactless transactions for merchants, financial service providers and mobility companies.

Payments by SMS: AuthVia uses SMS messaging to facilitate fast, secure payments via short message service, giving consumers a familiar, comfortable way to pay for goods and services.

Mobile engagement: OpenBack uses remote and local notifications to deliver personalized feature-rich notifications that are easy to control and work with existing push notifications.
One-to-many model
As retailers, hoteliers and restaurateurs become more adept at transacting digitally, next-gen digital solutions will continue to meet their need for secure transactions while delighting their customers. MPC panelists noted that customers who experienced digital-first commerce during the pandemic continue to transact digitally, even with many public venues now reopened.
Graylin thanked Indiegogo backers for helping launch OV Valet, a keychain fob managed by OV Wallet compatible with all smartphones and U.S. carriers and accepted at 94 percent of merchants. Financial institutions can deploy it under their own brands, he noted.
"Instead of giving their customers a card that has to be replaced and is vulnerable to skimming online and in stores, banks can give customers a device that stores multiple cards on a keychain that never has to be replaced," Graylin said. "And tokens are electronically provisioned; that's the difference between an IoT device and a manufactured card."

Dale S. Laszig, senior staff writer at The Green Sheet and managing director at DSL Direct LLC, is a payments industry journalist and content strategist. She can be reached at dale@dsldirectllc.com and on Twitter at @DSLdirect.
The Green Sheet Inc. is now a proud affiliate of Bankcard Life, a premier community that provides industry-leading training and resources for payment professionals. Click here for more information.
Notice to readers: These are archived articles. Contact names or information may be out of date. We regret any inconvenience.
Prev
Next