The Green Sheet Online Edition
March 08, 2021 • Issue 21:03:01
COVID spurs strong ACH gains, P2P big driver
By Patti Murphy
ProScribes Inc.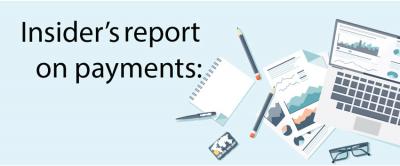 The automated clearing house payment system's business is booming. Nacha, the ACH governing body, reported a record 26.8 billion payments passed through the network in 2020, an 8.9 percent gain over 2019. At $61.9 trillion, the value of payments sent through the ACH was up 10.8 percent over 2019.
Jane Larimer, Nacha's president and CEO, said business changes and changing payment preferences ushered in by the COVID-19 pandemic are one reason for the surge in electronic payments sent through the system.
"As the world was turned upside-down by COVID-19, the modern ACH network rose to the challenge to help keep vital payments moving quickly and accurately among American consumers, businesses and government agencies," she said. "Today's ACH network is truly industrial strength, handling large volumes of Direct Deposits for economic impact payments, unemployment benefits, and assistance payments for other organizations and institutions in the U.S."
The P2P connection
Some of the biggest gains were in person-to-person transactions, which posted a 42 percent increase over 2019 to total 218 million, Nacha said.
Mobile apps for P2P payments, like PayPal's Venmo and the bank-owned Zelle network, are fast becoming go-to options for money exchanges between family members and friends. That's not all, however: each also wants to spread acceptance to businesses, particularly small businesses.
Venmo, which claims 65 million users, stated that the app can be used at any merchant locale that already accepts PayPal mobile payments. Some of the more well-known merchants already accepting PayPal mobile payments include Bed Bath & Beyond, Best Buy, Lowes and Walmart, according to PayPal.
To accept customer payments via Venmo, a small business needs to set up a "business profile," which is connected to an existing consumer Venmo account. Currently, it's free to accept payment for goods and services via Venmo, but beginning April 1, 2021, a business will pay 1.9 percent plus 10 cents for every payment made to its Venmo profile.
And here's the nifty thing: every time a consumer uses Venmo to make a payment, unless they initiate privacy settings, the transaction appears on a mobile feed for all their followers and friends to see. Research consistently shows that word of mouth is a great way to land new customers, Venmo said.
"Accepting Venmo payments allows a merchant to welcome Venmo's millions of highly engaged users who love sharing their purchase activity on Venmo's social feed, a powerful recommendation engine to other Venmo users," said a Venmo spokesman in an interview with Business News Daily.
Zelle, with 27 million users, reported huge surges in activity in 2020, with transaction volumes up 58 percent and transaction values up 62 percent. Zelle also reported that 11 financial institutions, serving about a third of small businesses in the United States, now support small business payment acceptance via the network. At least one of those institutions, U.S. Bank, parent of leading merchant acquirer Elavon, is waiving merchant acceptance fees on Zelle for the duration of the pandemic.
Zelle member Bank of the West is using a turnkey service from Fiserv to support Zelle acceptance by small businesses. Hisham Salama, the bank's executive vice president, said retail customers have been flocking to Zelle in the wake of COVID. "And we have been receiving significant customer demand from small businesses looking for similar capabilities," Salama added.
Topline ACH data
Nacha noted that additional "core" ACH payment categories also experienced significant growth in 2020, including:
Direct deposit of salaries and wages, benefits and assistance payments, and other disbursements from public- and private-sector organizations rose by 12 percent over 2019, to total eight billion payments.

Internet-initiated payments by consumers—bill payments, account transfers, etc.—grew 15 percent to top 7.7 billion payments.

B2B payments to vendors and related transfers grew by about 11 percent to 4.4 billion.
Meanwhile, use of same-day ACH for funding payroll and other types of payments rose 39 percent to 347 million payments last year; at $460 billion, the total value of same-day ACH payments was up 86 percent over 2019. Larimer said the increase reflects Nacha's increasing the same-day ACH transaction limit from $25,000 to $100,000 last March.

Patti Murphy is senior editor at The Green Sheet and self-described payments maven of the fourth estate. Follow her on Twitter @GS_PayMaven.
The Green Sheet Inc. is now a proud affiliate of Bankcard Life, a premier community that provides industry-leading training and resources for payment professionals. Click here for more information.
Notice to readers: These are archived articles. Contact names or information may be out of date. We regret any inconvenience.
Prev
Next