The Green Sheet Online Edition
February 08, 2021 • Issue 21:02:01
Payments trends for merchants' radars in 2021
By Lee Jones
Ingenico, a Worldline brand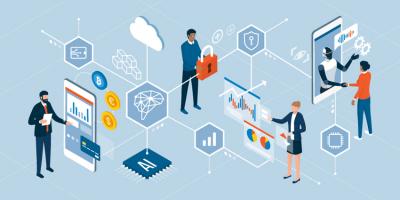 2020 has been living proof of the adaptability and changeability of the payments landscape. As the pandemic swept the scene, the shift to online and cashless payments accelerated as a result of increased social distancing and nationwide restrictions. As such, many businesses had to adapt quickly.
The biggest challenge for all businesses as we venture into 2021 will be how they continue to adapt and react to the ever changing new normal, which in the new year, will mean continued growth in omnichannel across key consumer sectors, including retail, quick service restaurants (QSR) and vending. In this article, I share the 2021 trends to watch out for.
Bridging the gap
Today's shopper switches between digital and physical shopping platforms repeatedly throughout the buying cycle. As they do so, they increasingly expect their purchases to be linked up no matter which channel they choose to shop on. It is therefore increasingly important that retailers cater to this expectation.
This omnichannel experience is also crucial in enabling the optimal in-store experience. With smart, flexible, easy-to-use mobile devices that allow store associates to combine several payment services onto one system, retailers can ensure a safe and secure socially distanced shopping experience.
Stores that get it right will continue to thrive in any foreseeable future and will be helped involving high-tech solutions and tokens such as shop-and-go, or RFID-based automatic scanning and payment, to increase convenience and consumer options. Omnichannel transactions, such as click-and-collect, will reconcile these two worlds and even boost online purchases.
Throughout 2021, we expect retail will become part of ecosystem-driven business models that achieve high levels of loyalty through enhanced assortments, services and personalization, all driven by real-time data.
Hungry for innovation
Similar to the retail industry, QSR owners have been forced to embark on a business transformation journey that includes a robust digital infrastructure. Many have turned to store or curbside pick-up, a new click-and-collect model for QSRs to limit the damage to the industry especially where restaurants closure has been imposed.
The adoption of emerging technologies has already presented plenty of growth opportunities in the sector. Some QSRs have utilized facial recognition for when customers are wearing masks to improve checkout convenience and comply with safety measures, as well as provide increased reliance on contactless, while others have harnessed QR code technology as a touchless alternative. As a result, WeChat Pay, for example, witnessed a 26 percent increase in QR code usage in the first quarter of 2021. And, according to Mastercard 75 percent of transactions are now contactless in Europe.
Loyalty is also going digital as a result of the pandemic. Nando's, Subway and Starbucks are just a few of the players that have partnered with Apple to integrate their loyalty program with Apple Pay, enabling guests to pay, earn and redeem their benefits as part of a one-tap experience.
As more QSRs realize that a digital approach meets customer demand, ensuring speed and flexibility in delivering services at highest standards even if they cannot be physically present, these trends are likely to persist after the pandemic ends.
Finishing touches
As more consumers have avoided less hygienic payment methods, vending is another sector that has turned its attention towards contactless, touchless and alternative payment methods (APMs)—so much so that 50 percent of customers think cash will disappear completely at some point in the future.
A recent report by NAMA and Michigan State University Study indicated a 37 percent increase in customer spending when paying by card, while an Oracle report suggested 86 percent of consumers said they are willing to pay more for a better customer experience. It is therefore little surprise that card-based payments, including mobile wallets and in-app payments, are on the rise and driving payments. Unattended kiosks or vending machines that do not accept all forms of card-based payments are at a disadvantage.
To offer a seamless customer experience, businesses need to expand their technology footprint to enable quick and secure transactions, accept e-wallets and reduce customer waiting time. This is crucial to ensuring customers return to make repeat sales. Multiple use cases demonstrate how this can improve the customer journey.
The opportunities do not end with the consumer either: emerging technologies can also improve the back end of vending, working with telemetry providers to offer features such as improved on-the-go stock management and maintenance notification technology. Therefore, the touchless market can not only cater to consumers' evolving needs, but also provide the flexibility and reliability consumers are relying on as the world around them is changing.
Tackling 2021 the right way
In 2021, many of the previous trends that emerged in 2020 will continue to be accelerated by the ongoing COVID-19 pandemic. I expect we will see an even greater shift toward a cashless society across all these key sectors, making the buying experience quicker and more convenient overall.
As a result, merchants and operators must make the consumer experience their top priority as trends shift toward simplicity and convenience, ensuring online and mobile payments processes are as secure as possible.

Lee Jones is director of sales – grocery, QSR and selected accounts for Northern Europe at Ingenico, a Worldline brand. As such he is the company's commercial leader in Northern Europe. Having held a variety of leadership roles with market leading technology companies over a 20-year period, Lee is passionate about driving solutions that deliver real value to his customers, and he is proud of the trust customers have placed with Ingenico and his team. Being able to help organizations reduce the cost, complexity and burden of PCI while assuring their revenues and enabling them to increase their customer satisfaction scores is at the heart of the Ingenico strategy. Worldline is the European leader in the payments and transactional services industry and No. 4 player worldwide. To find out more, please visit www.ingenico.co.uk/omnichannel.
The Green Sheet Inc. is now a proud affiliate of Bankcard Life, a premier community that provides industry-leading training and resources for payment professionals. Click here for more information.
Notice to readers: These are archived articles. Contact names or information may be out of date. We regret any inconvenience.
Prev
Next