The Green Sheet Online Edition
February 08, 2021 • Issue 21:02:01
Inspiration
Keeping morale high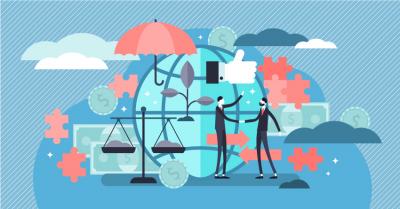 While a significant push is underway to speed up COVID-19 vaccinations, it will take several months for enough people to be protected from the virus for us to resume many activities we once took for granted.
That means life with restrictions—masks, social distancing, Zoom meetings, no indoor dining or working from home, etc.—and the feelings of isolation those restrictions often bring will continue for the time being. Many people have lost their jobs or had their hours reduced. Others have lost loved ones to the disease or have contracted the disease and recovered, but with lingering symptoms.
Faced with these extraordinary circumstances, keeping morale high can feel like an uphill battle. So what can we do to keep our spirits high while the pandemic wears on? I have some thoughts to share.
Several helpful ideas
Start with your personal morale, because if you're not looking after yourself, you won't be able to care effectively for others. "Do an inventory of the actions and settings in your life that improve your sense of morale and capability and those that lessen them," suggested Doreen Dodgen-Magee, Psy.D., in Psychology Today, May 29, 2020. "Set some boundaries around actions that bring you down. Create pre-set times each day to do a brain/feeling dump, to process with a friend, or to stretch and breathe. After doing this, redirect your attention to the things you are grateful for."
When it comes to your team, it's essential to keep two-way communication flowing. Despite not being able to meet in person, multiple modes of communication remain available to us such as virtual meeting platforms, email, text, social media, email and telephone. Use them all. Someone might be too shy to speak up at a Zoom meeting, for example, but will shine in an old-fashioned phone conversation.
Another effective step is to celebrate milestones. "Given these difficult times, it is important for company leaders to recognize company and employee wins when they occur," wrote Megan Doleweerd for the TalenLyft blog. "Aim to share business-related wins with your team on a frequent basis, even if they are small. This could include a new sale that was made, a special story or comment from a customer, or a new partnership with another company."
You can also add a touch of humor. Encouraging attendees to wear silly hats, masks or mismatched clothing to spur laughter at virtual meetings is one possibility. Reading humorous poems or excerpts from humorists like Mark Twain or Nora Ephron (making sure no content will be offensive to any participants) is another way to go.
Another option is to provide fun activities that get people moving. This could include organizing virtual teams to compete in races, relays or other physical challenges—all tracked by apps participants can download for free. Another layer of motivation can be added if contests are linked to fundraising for favorite charities, which is also a way to remain connected to the wider community.
These suggestions might not on the mark for you, but they might inspire you to incorporate actions that are ideal for your unique situation. Whatever you do, nurture your positive connections, and remember you are not alone.

The Green Sheet Inc. is now a proud affiliate of Bankcard Life, a premier community that provides industry-leading training and resources for payment professionals. Click here for more information.
Notice to readers: These are archived articles. Contact names or information may be out of date. We regret any inconvenience.
Prev
Next