The Green Sheet Online Edition
January 25, 2021 • Issue 21:01:02
Inspiration
Let's lead by example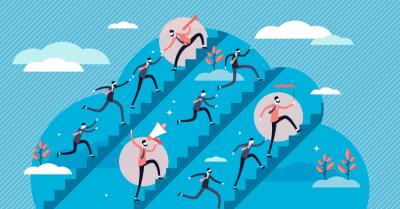 In a country divided such as ours, it is inevitable that we will have strong differences of opinion about the direction our country should take in the next four years. The fortunate thing for those of us in business is that we can follow best practices and adapt to conditions no matter what the political climate turns out to be.
Thus, now is a good time to review what best practices are for our particular businesses. We can appreciate our strong points and redouble efforts where our practices fall short. This type of review and strategizing will go a long way toward achieving our goals in the coming year, because it will help us locate blind spots we have overlooked in the past.
As far as government actions go, whether we agree with them or not, we can keep abreast of developments and take actions to protect our assets, as well as take advantage of benefits or mitigate the downside of new regulations and programs. We can also strategize about what the short- and long-term impact of government actions are likely to be and take appropriate actions in response.
Respect always makes sense
Beyond that, no matter what our personal beliefs might be, we can all take to heart the notion that being respectful of other people always makes sense. The old idiom "Before you judge a man, walk a mile in his shoes" is an apt slogan for our times. If we were to do this en masse, perhaps more of our representatives in Washington and state houses across the land would follow our lead and work together.
It's also good to remember that you never know where your next friend, business associate or client will come from. If you sit in a barber's chair and say something offhand and derogatory about someone passing by on the sidewalk, the person cutting your hair—who might benefit from the services you offer—could close off to you before you even get to know one another.
A little kindness goes a long way
Kindness is also compatible with the notion of walking in someone else's shoes. Ancient philosopher Lao Tzu once said "Kindness in words creates confidence. Kindness in thinking creates profoundness. Kindness in giving creates love." Mark Twain put it this way: "Kindness is the language which the deaf can hear and the blind can see." And our contemporary Lady Gaga said, "I've been searching for ways to heal myself, and I've found that kindness is the best way."
Our nation could use a good dose of kindness. This is something we can keep in mind no matter what our political persuasions are. Those who are happy with the direction we're taking need not gloat in public. And those who are unhappy need not disparage others while regrouping and strategizing for the next contest.
And we can all remember what Winston Churchill once said:
"Success is not final; failure is not fatal: it is the courage to continue that counts." Let's all continue with dignity.

The Green Sheet Inc. is now a proud affiliate of Bankcard Life, a premier community that provides industry-leading training and resources for payment professionals. Click here for more information.
Notice to readers: These are archived articles. Contact names or information may be out of date. We regret any inconvenience.
Prev
Next