The Green Sheet Online Edition
October 26, 2020 • Issue 20:10:02
PayPal pushes QR codes for contactless payments
By Patti Murphy
ProScribes, Inc.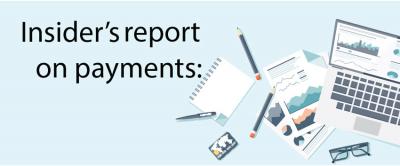 The COVID-19 pandemic has changed the way many consumers pay for goods and services. Several surveys indicate consumers are using cash less and contactless card payments more. Data recently published by The Strawhecker Group and Visa backs this up, revealing that usage of contactless Visa credit and debit cards rose 40 percent during the second quarter of 2020 compared to Q2 2019. Among consumers surveyed by Strawhecker, 60 percent believe contactless cards are safer in terms of the spread of COVID-19.
But here's the rub: just 41 percent of consumers surveyed by Strawhecker said they had a contactless credit or debit card. Now Venmo, the mobile person-to-person payments app owned by PayPal, is angling to get contactless cards in the wallets of more U.S. consumers.
Bridging the physical-digital gap
Venmo teamed up with Synchrony Financial to roll out a Visa credit card product that prominently displays QR codes on the face of cards to support contactless payments. The cards come loaded with perks, such as a dynamic personalized rewards program – cash back posted to their Venmo accounts, based on purchase categories where they spend the most each month – and the ability to track and manage card activity through the Venmo app. They're also coupled with virtual cards to support online purchases. And they incorporate popular Venmo mobile payment features, like the ability to split checks with co-purchasers.
Venmo executives said the goal is to bridge the gap between physical and digital payments. "Venmo is one of the first platforms to successfully blend payments and social experiences at scale," said Matt Dill, senior vice president and global head of digital partnerships and ventures at Visa. "We are really excited to help take that unique capability to the next level by partnering with Venmo and Synchrony to introduce a digital-first credit card that will connect the Venmo community with Visa sellers worldwide."
Venmo claims a customer base of 60 million consumers. It is making card applications available immediately to "select customers" using the latest version of the Venmo app, and to all eligible U.S. customers "in the coming months."
Eliminating contact
Some of the earliest contactless payment schemes, dating back at least 20 years, relied on QR codes. But the technology has been eclipsed in recent years by near field communication-based contactless payment schemes.
PayPal, being a disrupter, seems set on reversing that trend. In May, the company added QR code functionality to its mobile app for buyers and sellers in 28 markets, including the United States. The new feature "enables touch free, in-person payments in an era of social distancing," the company said.
"Our rollout of QR codes for buyers and sellers incorporates the safety, security and convenience of using PayPal in person and enable ongoing social distancing requirements and safety preferences for in-person commerce," said John Kunze, senior vice president of branded experiences at PayPal.
PayPal also recently arranged to install QR code technology to support mobile payment acceptance at more 8,000 CVS stores.

Patti Murphy is senior editor at The Green Sheet and self-described payments maven of the fourth estate. Follow her on Twitter @GS_PayMaven.
The Green Sheet Inc. is now a proud affiliate of Bankcard Life, a premier community that provides industry-leading training and resources for payment professionals. Click here for more information.
Notice to readers: These are archived articles. Contact names or information may be out of date. We regret any inconvenience.
Prev
Next