The Green Sheet Online Edition
June 22, 2020 • Issue 20:06:02
Improve your business with in-store mobility
By Lee Jones
Ingenico Enterprise Retail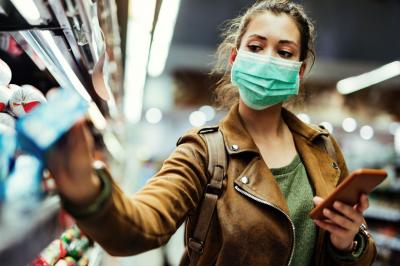 In recent years payments have gone from zero to hero on customers' agendas. Whereas once they weren't given much thought, many consumers now have a favorite payment method they expect to be provided for a good shopping experience.
Shoppers are now so used to the speed and ease that digital offers that, if merchants want to compete in-store, they need to replicate this. So, how can retailers use technology to give customers the best of both worlds? Let's take a look.
Behavior is shifting
Consumer behavior today is a far cry from the consumer behavior of yesterday. Today, switching between digital and physical shopping platforms repeatedly throughout the buying cycle is the norm—from previewing goods and services ahead of a store visit, to real-time product comparisons via mobile devices while walking the aisles.
According to a recent report by OuterBox (https://bit.ly/2zoRqGO), 80 percent of consumers reported using a mobile phone in-store to check product reviews. This shows a significant shift in the power dynamics between the consumer and sales associate—whereas once shop staff were the only fountains of knowledge, 4G internet has given customers a different insight advantage. Habits are evolving, and convenience as king. Merchants must act fast to keep up.
Digital offers speed, flexibility
Why do customers shop online? According to a recent Ingenico report (bit.ly/2MPHFV9), 78 percent of customers have abandoned checkouts due to long queues, which of course can be avoided online. Fortunately, with the right technology, queues can be reduced if not completely removed from the in-store experience.
By making use of Click & Collect and Scan&Pay technology, retailers can not only provide an instantaneous shopping experience, but also bring customers in-store to browse further products. Merchants can further enhance the shopping experience with the use of mobile payment devices, allowing customers to purchase instantly wherever they are in the shop.
Knowledge is power
Mobile payment devices aren't just useful for taking payments either. With the rise of online shopping has also come the rise of knowledge—and the power of reviews. With a simple click of a mouse, customers can compare and source a range of products online, finding the best product and the best price almost instantly.
However, this research takes time and energy. If a well-trained sales associate can provide professional insight, the product and the payment all on the spot, that is a winning strategy. In fact, 88 percent of customers surveyed reported they are more likely to make a purchase in-store if sales associates are knowledgeable, so it's more important than ever that sales staff have access to the tools that will increase their insight, expertise and mobility.
In-store mobility then, at its core, involves providing sales associates with smart connected handsets, enabling them to better respond to sales queries and take payments anywhere in the store. This returns the insight advantage to sales staff, as well as facilitating instant payments and forming a gateway to loyalty programs and their benefits.
Omnichannel serves all
The most important thing for today's consumer is a frictionless experience that suits their needs, so an omnichannel system that encompasses every touch point, accepts a range of payment methods to suit any preference and is compatible on a range of devices is the key.
Omnichannel provides an option for all customers—with the faster-paced, technologically literate consumers having the option of a quick mobile checkout with a sales associate, while others continue to use the traditional terminals they're comfortable with.

Ingenico has long been a pioneer of in-store mobility solutions. Its forthcoming generation of devices will enable retailers of all sizes and scale to create a smoother shopping experience for consumers and boost the revenue-generating potential of sales associates. With over 20 years' experience and a range of payment system offerings, Ingenico Enterprise Retail is perfectly placed to answer any questions you may have—retail, security, technical or otherwise—and help your merchant base improve their in-store mobility with a bespoke payments system. To find out more, visit www.ingenico.co.uk/omnichannel.
The Green Sheet Inc. is now a proud affiliate of Bankcard Life, a premier community that provides industry-leading training and resources for payment professionals. Click here for more information.
Notice to readers: These are archived articles. Contact names or information may be out of date. We regret any inconvenience.
Prev
Next