The Green Sheet Online Edition
June 22, 2020 • Issue 20:06:02
Industry Update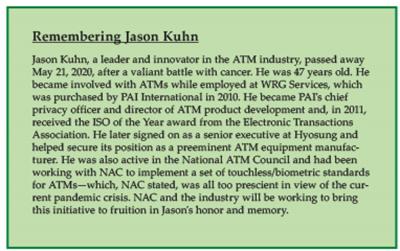 ANNOUNCEMENTS
CPI, Unifimoney repurpose ocean-bound plastic
In celebation of World Oceans Day, payment technology company CPI Card Group Inc. and Unifimoney Inc. are collaborating to produce Visa contactless credit and debit cards featuring a core made with recovered ocean-bound plastic. Named Second Wave, the card is EMV compliant and dual-interface capable. According to a CPI Card Group Consumer Insights Study, 94 percent of consumers say they are concerned about the amount of plastic waste in the oceans. Additionally, 87 percent of respondents find the idea of an ocean-plastic card appealing, with 53 percent willing to switch to another financial institution if it offered such cards with the right features and benefits. In addition, Unifimoney will contribute to The Ocean Foundation each time its customers use Second Wave cards.
Flywire improves healthcare engagement, affordability
Vertical payments company Flywire enhanced its healthcare payments platform during COVID-19 to improve patient engagement and affordability. Flywire's pre-service payment plans, developed in partnership with health systems, enable healthcare providers to offer patients personalized payment options prior to service based on their specific financial needs. To enable healthcare providers to address the concerns of patients who may be experiencing financial hardship as a result of COVID-19, Flywire also offers customizable payment solutions that adapt to patients' capacity to pay. "As patient responsibility continues to rise amidst strained personal finances, engaging patients digitally with personalized payment options that meet their ability to pay is a critical balance for providers," Flywire stated.
Ingenico launches SCA Accelerator Suite
Ingenico Group unveiled its strong customer authentication (SCA) accelerator suite to help online businesses remain compliant, innovate and better control their data. The suite will help online businesses improve their performance and facilitate the implementation of SCA, due on Dec. 31, 2020, Ingenico stated. The SCA accelerator suite utilizes the latest versions of 3D Secure, ensures businesses are compliant with The EU Second Payment Services Directive, offers authentication routing, ensures the appropriate data collection and streamlines mobile UX, the company added.
Maverick Payments launches new APIs
Fintech payments company Maverick Payments released new APIs to provide merchants and partners with different data and tools that make Maverick's payment processing more frictionless supplemented by feature-rich technology. "Our all-new API suite allows business owners to develop and track key growth elements, combining the efficacy of collaboration with the convenience of an all-in-one payments platform," said Ben Griefer, COO of Maverick Payments. "Additionally, partners and resellers can integrate things like our boarding API, pull data for their portfolio and merchants through our reporting API, augmenting the agent's offering while retaining it within their user experience."
Skrill introduces U.S. money transfer service
Paysafe reported that its Skrill Money Transfer service launched in the United States. Existing and new domestic Skrill customers can use the solution to transfer money for free to friends and family in Mexico, India and 16 other Asian and European countries, with others available shortly, Paysafe stated. To use the service, U.S. consumers pay with their personal bank account (via instant ACH), or their debit or credit card, to fund transfers from their Skrill account. Money can be transferred directly to bank accounts overseas, and the recipients are also not charged a fee by Skrill to receive funds (recipients may incur fees from their financial institution to receive or withdraw funds), Paysafe noted.
RESEARCH
ACI shares data on easing COVID-19 restrictions
ACI Worldwide reported it released May data from multiple millions of global ecommerce transactions, showing the impact of easing of COVID-19 lockdown restrictions. Among the highlights (year over year): spending shifted to jewelry (up 190.8 percent) and sporting goods (up 216.3 percent) thanks to Mothers' Day and warmer weather; retail ecommerce sales were up 81 percent in May; the average ticket price of attempted fraud increased by $18, but the fraud attempt rate was down 3.4 percent; sales of DIY supplies and home goods grew 190 percent; travel was down 73 percent. All figures are year over year.
PPRO publishes 2020 Payments Almanac
Payments platform-as-a-service PPRO launched its 2020 Payment Almanac in partnership with Edgar, Dunn & Co. "The product of thousands of hours of research, analysis, and insights from PPRO's payments experts, the third edition of the almanac contains detailed information for more than 450 local payment methods and the latest e-commerce data from 60 countries around the world," PPRO stated "In addition to updated figures, this edition reveals new data, including granular e-commerce growth rates and the top industries for cross-border shopping."
Best practices for fallback transactions
The U.S. Payments Forum published a new white paper on options for supporting fallback transactions in the petroleum environment. The resource defines fallback and covers processing mag stripe transactions for card programs that are not supported on the contact EMV interface of automatic fuel dispenser terminals. "Fallback transactions are considered a natural part of EMV migration as things get up and running," said Randy Vanderhoof, director of the U.S. Payments Forum. "It's critical that petroleum terminals can support these types of transactions, and that fuel pump owners understand what does and doesn't qualify as a fallback." The paper, "U.S. Automated Fuel Dispenser Chip Fallback Transaction Processing Best Practices" is available at https://bit.ly/30rpflS.
PARTNERSHIPS
Datacap, FOLOS team up
Datacap Systems Inc., a hardware- and processor-agnostic integrated payments provider, partnered with Food Online Ordering Systems (FOLOS), a provider of custom in-house online ordering and kiosk solutions, to offer Datacap's POS partners an option for safe, contactless payments that are integrated into existing POS processes. "Now, merchants can accept online orders and implement turnkey kiosk solutions through FOLOS utilizing the same payment processing platform they use in-store," Datacap stated, adding this means one payment processing relationship, billing statement, batching procedure and card token group between in-store and online transactions.
ESD selects PayRange for mobile payments
PayRange Inc., a network for everyday purchases, partnered with Equipment Systems & Devices, a payments technology company providing of card reader equipment for commercial laundry machines. ESD said has approximately 2 million card readers in the field and estimates its active user base at 20 million users who use those machines regularly. Under this exclusive partnership, PayRange will offer a new ESD BluKey device designed to upgrade machines equipped with ESD card readers to include mobile payment capabilities, offers, loyalty, and value-added services at no additional cost to the machine owner, the partners stated.
Ondot to provide tokenization to Visa
Ondot Systems and Visa Token Services are collaborating to enable Ondot to tokenize credential-on-file digital payments for an additional level of security. Ondot said it is now able to provide tokenization services through its Card App interface to support the use of Visa cards through digital wallets. This agreement enables cardholders to add Visa cards instantly to digital wallets and authenticate the cards during the purchase of goods and services.
APPOINTMENTS
Motie Bring joins Nuvei
Global payment technology provider Nuvei appointed Motie Bring as its chief commercial officer. Bring will oversee the commercial strategy and development of Nuvei's global unified acquiring business, while evolving its digital go-to-market channels. Bring has over 18 years of experience in payments and related industries and served the last seven years in senior management roles at Worldpay (acquired by FIS in 2019).
Jimmy Fong signs on with SEON
Fraud prevention company SEON appointed Jimmy Fong as its chief commercial officer. Based in SEON's new London offices, Fong will be responsible for the company's sales and growth strategies as well as continuing to be a vocal advocate for innovative fraud prevention. "Jimmy's experience and passion for progress makes him the ideal hire for a business like SEON that is on a mission to put the urgency back into fighting fraud," the company stated. "Having previously worked as vice president of sales for EMEA at InAuth (acquired by American Express) and enterprise sales director for Cybersource (acquired by Visa) Jimmy brings a wealth of technical and marketplace experience to his new role."
Fivestars taps Ralph L. Leung, David King
Local commerce platform Fivestars added two key members to its executive team to help the company scale its all-in-one payments and marketing platform for local small businesses. Ralph L. Leung joins Fivestars as chief financial officer. In this role, Leung will leverage his 20 plus years' experience across strategic finance, investment banking and corporate strategy to scale Fivestars' offering and optimize the company's resources against revenue and growth objectives.
David King joins as vice president of operations after four years at Cass Information Systems as vice president and general manager. Over the last 20 years, King has been responsible for overseeing operational growth and has a track-record for scaling contact center operations and managing teams with up to 4,500 team members located across multiple time zones and countries.
Tamarack hires Scott Nelson
Tamarack Consulting brought on Scott A. Nelson, Ph.D. as its chief digital officer. A well-recognized expert in technology strategy and development, including Internet of Things connectivity, Nelson will lead the company's efforts to expand its impact on the industry through innovation with new products, system-level thinking, and the application of new technologies, the company stated. Nelson joins Tamarack with more than 30 years' product development, product management and entrepreneurial business growth experience. Most recently he served as the chief product officer and vice president of product at Digi International.

The Green Sheet Inc. is now a proud affiliate of Bankcard Life, a premier community that provides industry-leading training and resources for payment professionals. Click here for more information.
Notice to readers: These are archived articles. Contact names or information may be out of date. We regret any inconvenience.
Prev
Next