The Green Sheet Online Edition
April 27, 2020 • Issue 20:04:02
Inspiration
Keep your spirits up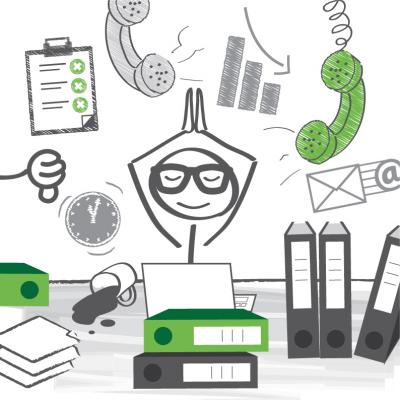 During the COVID-19 crisis, we are confronting new and sudden challenges. Many people are suffering, some extremely so. Even for those who have sufficient income and assets, as well as good health, the magnitude of what is happening in our local communities and across the globe is staggering. This puts an extra weight on our shoulders.
In addition to the obvious obstacles and nuisances that arise (where's the TP?) it can be more difficult to maintain emotional balance during times of uncertainty. Some people who are naturally energetic may find themselves dragging; others might feel a despondence that makes it difficult to get important tasks done.
Helpful hints
If you're feeling a bit out of sorts, like many are right now, here are some ideas that can help keep you on an even keel:
Move your body often. It's likely you are spending significant time at a desk these days. Set a timer to remind you to stretch for five minutes every half hour. It's surprising how invigorating that small action can be, and what a difference it can make in your energy level at day's end. Work movement into your lunch hour and other breaks, too.
Get outside. You could tend your garden, for example, or take a stroll, being sure to maintain social distance from neighbors you encounter along the way.
Appreciate what you have. Before you begin your workday, list everything and everyone in your life that you appreciate. State why you appreciate them, too. Recreate this list anew daily even if many items are the same. This will set a positive tone for the day.
Express gratitude for blessings and lessons learned. Make this a ritual as each day comes to a close. If you are living with others, you can do this during dinner or at bedtime.
Limit TV watching to specific hours. With today's multitude of streaming options, it's easy to binge watch show after show, which isn't good for anyone's health. Also, when you do watch, look for stories that warm your heart and comedies that delight you.
Post uplifting quotes and photos. Find and post uplifting quotes, short poems and photos where you will see them around the house. And change them every couple of days so they'll be fresh and more likely to grab your attention.
Participate in community actions. For example, some neighbors have put teddy bears in their windows for children to count while on walks with their parents. Some are stepping outside at a set time each evening to clap, cheer or howl to appreciate workers on the front lines who are risking their lives daily.
Reach out to friends and colleagues. Use video, phone, text, email, social media and other safe means. Some will make you feel more connected than others. Stick with the ones you enjoy.
Donate in ways that are acceptable. Share your expertise in Zoom seminar, for example, or donate funds to a food bank or other organization working to mitigate the impacts of this emergency.
Together we can and will get through this stronger than ever.

The Green Sheet Inc. is now a proud affiliate of Bankcard Life, a premier community that provides industry-leading training and resources for payment professionals. Click here for more information.
Notice to readers: These are archived articles. Contact names or information may be out of date. We regret any inconvenience.
Prev
Next