The Green Sheet Online Edition
February 10, 2020 • Issue 20:02:01
Industry Update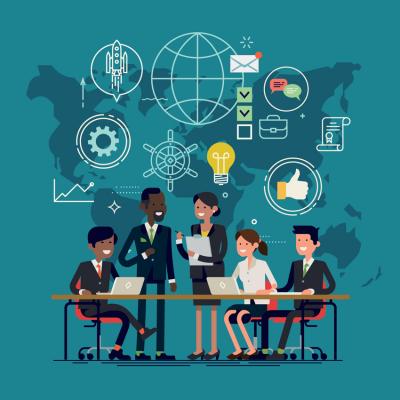 ANNOUNCEMENTS
ForwardLine opens office in Las Vegas
ForwardLine, a nationwide direct lender providing loans to small businesses, opened a new office in the Summerlin area of Las Vegas to support the organization's expanding originations and account management teams. The company stated it has helped more than 15,000 businesses by providing more than $500 million in working capital, and it has recently experienced rapid growth fueled by strategic investments in technology, analytical capabilities and its proprietary direct marketing model.
FutureFuel.io, retailers take on student debt
The FutureFuel.io platform is working with more than 450 retailers, including brands like Macy's and Harry's, in a new program designed to help crush student debt. The company launched the program, Giveback by FutureFuel.io, to help all student debt-holders take action to pay down their student debt faster. The program enables users to shop online and automate cashback to their student debt.
It integrates with users' student loan accounts to help users better visualize repayment and then automates payments to ensure the fastest, highest paydown, FutureFuel.io stated. The platform also offers gamified actions such as sweeping spare change toward debt and reassessing whether the user is on the right repayment plan.
GetVantage debuts in India
GetVantage, a Mumbai-based fintech venture launched to offer revenue-based financing for India's ecommerce sector. "The GetVantage platform is India's first and only fully operational smart alternative funding platform for business-owners to raise growth capital without diluting ownership, and for investors to now fuel India's growth story more sustainably," the company noted, adding that it offers online businesses accessible and affordable capital advances.
Ingenico accelerates OP2GO launch
Ingenico Group's Ingenico Enterprise Retail disclosed it will introduce its open payment solution, OP2GO, in North America in 2020. The company stated this puts Ingenico at the forefront of the smart city and transport revolution, having introduced the solution across Rio de Janeiro, Taiwan, Madrid and Rome in 2019.
"A year ago, Ingenico Enterprise Retail launched its solution for ticketing platforms, including validation equipment and payment environments," Ingenico said. "Since then, OP2GO has improved the speed and reliability of public transport services, reducing fare collection costs in some cases by over 30 percent." Comprised of secure contactless readers supporting closed- and open-loop cards, inspection devices, a payment gateway and acquiring services, OP2GO integrates with all ticketing platforms, Ingenico added.
Security Compass gains FTV Capital funding
Security Compass, a provider of enterprise DevSecOps software solutions, reported that it secured growth equity funding from FTV Capital to enhance its position as a global leader in empowering organizations to achieve agility at scale by streamlining software risk management. By leveraging FTV's deep expertise and access to its Global Partner Network, Security Compass will further enhance its solutions portfolio and accelerate its planned global expansion, the company noted. DevSecOps is the process of integrating secure development best practices and methodologies into development and deployment processes.
RESEARCH
Automated parking management market poised for growth
New research from Acumen Research and Consulting found that the global automated parking management systems market is expected to reach a value of approximately $3,400 million by 2026 and is anticipated to grow at a compound annual growth rate of around 14 percent in terms of revenue from 2019 to 2026. Due to their ability to promote the processing of real-time data and to assess supply, intelligent parking systems can be highly useful at this juncture, Acumen stated, adding that increasing smart building technology in the developed countries is key driving factor of the market.
Former hackers share ATM attack mindsets
A new study of ATM crime from the ATM Industry Association, titled Offences Involving ATMs: Insight into How Criminals See ATMs as Targets, offers a view from the bottom: what ATM criminals think when they plan attacks on ATMs. UK criminologist Martin Gill and his team conducted a series of interviews with eight former ATM criminals whose attack methods varied. One key observation was that criminals expressed disbelief at the lackluster manner in which the industry shares intelligence to strengthen defenses against emerging threats.
One-third of SMBs accept cryptocurrency, HSB says
At least one-third of small and midsize U.S. businesses accept cryptocurrency as payment for goods and services, with newer companies up to twice as likely to trade in digital credits, according to a survey released by HSB, part of Munich Re. The HSB nationwide survey conducted by Zogby Analytics showed that 36 percent of the SMB respondents accepted cryptocurrency; 59 percent also purchased digital currency for their own use. Timothy Zeilman, vice president for HSBC, offered a note of caution. "Cyber criminals follow the money and fraud can be a serious problem," he said. "A number of currency exchanges have been hacked or embezzled and millions of dollars were lost. Smaller businesses, especially those starting out, can't afford to be cheated."
PARTNERSHIPS
Clarus, CardMachineOutlet.com collaborate
Clarus Merchant Services and CardMachineOutlet.com stated they formed a strategic partnership that combines Clarus' agent sales programs and ISO/agent portfolio acquisitions with CardMachineOutlet.com's hardware distribution model that drives merchant services sales. "CardMachineOutlet.com's network of ISO, agent, and processor hardware deployment contracts, their remarkable sales and support team and collaborative approach is uniquely complementary to how the Clarus organization works," said Michael Jaffe, Clarus vice president of business development. "We believe this helps to generate cross-network relationships for merchant-base growth and credit card portfolio acquisitions."
Digital River, Magento partner for global expansion
Digital River, a global ecommerce enabler, is working with Magento, an Adobe company and provider of commerce innovations. "By combining Digital River's world-class global payments and risk protection services with the flexibility and control of the Magento commerce platform, brands can build a customizable ecommerce solution allowing them to expand into new global markets, while giving customers the localized experience they expect," the partners stated. This partnership comes as Digital River rolls out new API-first architecture to enable merchants to create best-of-breed solutions to meet complex shopper demands on a global scale, they added.
Pineapple Payments, OntoGolf team up
Payments technology company Pineapple Payments formed a strategic partnership with POS and technology company OntoGolf. OntoGolf specializes in ball management systems and lesson management software for golf courses and ranges. The introduction of Pineapple Payments as a partner adds more robust payment technology to OntoGolf's POS offering, driving new opportunities for revenue, the partners noted.
Pineapple Payments CEO Brian Shanahan said, "Pineapple's services align perfectly with OntoGolf's revenue-generating model. Our vision, to make commerce easy and accessible in a variety of different markets, happens through powerful collaborations. By combining our experience in payments, with their expertise in golf technology, we're able to support a stronger point-of-sale offering and target industries we hadn't been able to previously."
Synopsys, Finastra partner on app ecosystem
Synopsys Inc. and Finastra joined forces to establish an application security validation program for FusionFabric.cloud, Finastra's open platform for financial applications. The program is designed to ensure that all applications offered via the FusionFabric.cloud FusionStore have passed thorough vigorous security testing assessments.
FusionFabric.cloud is a scalable, open, and collaborative development platform that enables fintech providers to create and bring applications to market faster, Finastra noted. Synopsys will help validate the security posture of all applications onboarded to FusionFabric.cloud, using solutions that include static application security testing, software composition analysis, penetration testing and code reviews.
ACQUISITIONS
Crédit Agricole gains stake in Linxo fintech
French cooperative Crédit Agricole acquired an 85 percent stake in Linxo, a fintech that provides account aggregation, payment initiation and personal finance management solutions via a technology platform supplied by its subsidiary Oxlin. Crédit Agricole stated that Linxo is a long-time partner whose mobile app has more than 3 million users in France.
Bertrand Chevallier, CEO of the bank's payment services, said the acquisition "represents a major contribution in terms of technology that will enable the group to take full advantage of the innovation opportunities offered by changes in regulations."
Viva Wallet buys Praxia Bank
Cloud-based payment processor Viva Wallet acquired Praxia Bank, Greece's first digital banking challenger, following concerns the neobank would go out of business due to lack of sufficient funds. In December 2019, the Bank of Greece gave Praxia investor Atlas Merchant Capital Fund 12 working days to collect €30 million to ensure Praxia's continued operation. Viva Wallet's acquisition of Praxia is subject to Bank of Greece's approval. Viva Wallet said the acquisition is part of its strategic planning to expand operations and was made possible in part due to its recent Series C funding round.
APPOINTMENTS
Numerated welcomes Chris Aronis, Duncan Perry
Bank technology company Numerated appointed Chris Aronis as its senior vice president of sales and account management, and Duncan Perry as chief financial officer. Aronis brings more than 15 years of financial technology experience to Numerated, having scaled customer bases across early stage startups, growth-stage companies and public companies.
He most recently led Plaid's financial institution sales after the company acquired Quovo, where he also led sales. Perry joins Numerated from Klaviyo, an ecommerce technology company that gained a recent $150 million investment. While at Klaviyo, Perry served as vice president of finance and vice president of operations, leading the company's global expansion. He brings more than 25 years' experience managing organizations' finances, operations and compliance across a range of industries.
ComplyAdvantage taps Vasta Narasimha
Regtech company ComplyAdvantage appointed Vatsa Narasimha as chief operating officer and chief financial officer. Narasimha is the former president and CEO of OANDA Global Corp., an online foreign exchange trading platform, currency data and analytics company acquired by CVC Capital Partners in May 2018. Previously, Narasimha spent eight years as a principal at The Boston Consulting Group, working with leading financial institutions on a variety of issues. About Narasimha's appointment, Charles Delingpole, ComplyAdvantage founder and CEO, said, "I look forward to what we will accomplish together as we grow our next-generation anti-money laundering technology platform across new markets."
Scott Eddington to lead WorldRemit APAC region
Mobile payments company WorldRemit appointed seasoned digital executive Scott Eddington to lead the company's Asia Pacific business. He will be responsible for accelerating WorldRemit's mobile payments service in Asia Pacific, which enables customers to send from Australia, New Zealand, Japan, Hong Kong and Singapore. He will also lead the development of WorldRemit's send and receive network, helping deliver services into new geographies. Previously, Eddington was responsible for digital strategy at Commonwealth Bank of Australia. He has over 10 years' international expertise in a variety of roles working for McKinsey and Co. and Linklaters LLP.
Ben Feldman joins ezbob
Ben Feldman is the new chief financial officer at lending-as-a-service provider ezbob. Feldman has worked in finance and technology for nearly 20 years and has a wealth of experience with private and public companies, ezbob stated. Before joining ezbob, he was CFO at iDigital, which owns all Apple Premium Reseller stores in Israel and operates import and distribution of all Apple products in Israel. Feldman said he is proud to join ezbob, which is "widely seen as a market leader in the lending space" and is "looking to completely transform the lending experience for both financial institutions and their customers across the world."
MAC selects its first executive director
The Merchant Acquirers' Committee welcomed Dr. Mark R. Nelson as its first executive director. He comes to the organization with award-winning, international leadership experience in nonprofit member organizations, MAC stated. "After more than 20 years of successful volunteer-led efforts to grow a community focused on the integrity of the electronic payments ecosystem, we are excited to bring Mark Nelson on as our first executive director," said Georgia Stravakis, MAC president. As executive director, Nelson will work with MAC's volunteer leadership and the broader membership to develop and implement a road map to continue the organization's growth.
That plan for growth will build upon MAC's reputation for combating fraud through quality education and other means of cross-industry collaboration and engagement, MAC noted.

The Green Sheet Inc. is now a proud affiliate of Bankcard Life, a premier community that provides industry-leading training and resources for payment professionals. Click here for more information.
Notice to readers: These are archived articles. Contact names or information may be out of date. We regret any inconvenience.
Prev
Next