The Green Sheet Online Edition
December 23, 2019 • Issue 19:12:02
Industry Update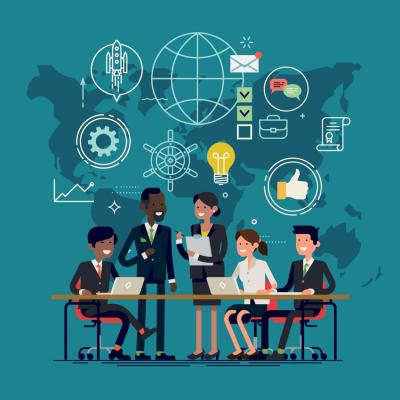 ANNOUNCEMENTS
Nominations open for ETA's 2020 Forty Under 40
The Electronic Transactions Association opened the nomination period for its Forty Under 40 2020 class, an honor that highlights the diverse game changers at the intersection of payments and technology, the ETA stated in heralding the opening. "ETA selects the Forty Under 40 on an annual basis to represent the evolving segments of the industry and highlight those whose actions and leadership are driving the payments industry forward," the organization noted. "Selected honorees will be a diverse cohort of executive leaders, entrepreneurs and thought leaders." Applications for the 2020 class will be open until Jan. 13. 2020, at www.electran.org/eta-events-awards/forty-under-40/.
Fed joins Faster Payments Council
The Federal Reserve System joined the U.S. Faster Payments Council as a founding sponsor. "Our payment system is a vital part of America's infrastructure that touches everyone," said Esther George, president and CEO at the Federal Reserve Bank of Kansas City and sponsor of the Federal Reserve's payments improvement initiative. "We can collectively achieve safe, widely available faster payments capabilities that will benefit all by working together with the U.S. Faster Payments Council and other payments stakeholders." The FPC and its members seek to facilitate faster payments in the United States, enabling Americans to securely pay anyone, anywhere, at any time with near-immediate funds availability, the FPC added.
Jack Henry adds near real-time, card-funded bill pay
Jack Henry & Associates Inc.'s JHA Payment Solutions group introduced iPay CardPay, an enhancement to its consumer bill pay product designed to allow financial institutions to provide near-real-time, card-funded bill payments using credit and debit cards as an alternative funding option. "iPay CardPay enables Jack Henry banks and credit unions to offer an expanded, relevant bill pay experience based on users' preferences for convenience and instant 'pay now' gratification, and on their desire to optimize card benefits such as rewards," Jack Henry stated.
Token to spin off digital money solution Token X
Open banking platform provider token.io formed M10 Networks, a new spin-off company focused on developing digital money solutions. M10 had been incubating under the Token X moniker. Token said will continue to consolidate its leadership in open banking infrastructure, where its popular market platform enables developers and banks to create innovative and trusted financial experiences through enhanced connectivity to global banking. M10 will focus on building out a bank-grade digital money rail designed to enable multinational banks to perform international money transfers, settlements and remittances instantly and at a low cost.
RESEARCH
Juniper projects 2 billion digital international money transfers by 2024
Juniper Research's Digital International Money Transfer: Key Trends, Player Innovation & Market Forecasts 2019-2014 report revealed that both online and mobile channels are achieving strong growth, with fintech disruptors and market incumbents rapidly gaining traffic. The research also provides a detailed evaluation of the international digital money transfer market and identifies best practices for optimal service deployments. Exploring key trends shaping the evolution of the international remittances market from 2019 through 2024, this research identifies growth opportunities, analyzes key player capabilities and provides in-depth forecasts for a range of key metrics.
Huge growth in European cross-border shopping
PPRO released its European-wide shopping rankings. Figures from PPRO and Edgar Dunn & Co. show a combined 90 percent growth in 2018 cross-border shopping, according to PPRO's annual Payment Almanac. Individually, Hungary came out on top with 11 percent growth from 2017 to 2018 among local consumers shopping cross-border; it was closely followed by Denmark and Sweden, which each boasted a 9 percent growth year-on-year, researchers noted. Britain lags behind with just 6 percent growth, they found. These findings demonstrate increasing willingness from consumers to shop further afield to get the goods they desire, PPRO stated.
PARTNERSHIPS
Fingerprint Cards, Valid collaborate
Fingerprint Cards AB and Valid, a global payment technology provider, are collaborating to bring contactless biometric payment cards to the market. The card, recently demonstrated at Money20/20 USA, features Fingerprints' T-Shape module, which is part of its 1300-series. It has ultra-low power consumption and is tailored to be integrated in smartcards using standard processes. "We are excited about this collaboration and to see our outstanding T-Shape now being integrated into all top five payment smartcard suppliers globally, said Thomas Rex, senior vice president business line smartcards at Fingerprints. "This is yet another manifest of the growing appetite for biometric payments cards across the world."
NBP signs Shari's Berries, InExpress
Two new vendors have joined the Atlanta-based National Benefit Programs fold: Shari's Berries and InExpress. Through these partnerships, customers can now receive 20 percent savings on Shari's Berries dessert berries and fruit and gift baskets, as well as up to 55 percent on InExpress global shipping and domestic freight costs, according to NBP. NBP stated it has been assisting ISOs, processors and acquirers increase "Value Beyond Processing" since 2009 and is "actively pursues new vendors to meet ever-growing market needs."
Newgen, Truevo integrate for private-label product
Payment gateway Newgen Payments partnered with fintech company Truevo to offer ISOs and PSPs a cutting-edge plug and play payment product to brand and market through their networks. Truevo is a full-service card acquirer and payment tech company that helps businesses accept card payments in over 120 currencies and receive settlements in the currency of their choice, the partners noted. Newgen Payments uses a cloud-based platform that ranks its acquirers using transactions, platform health, performance and track record, among other metrics.
It also employs a business-partner approach to help merchants optimize their ecommerce stores and increase sales. The partnership enables both companies to offer a "best of both worlds private label product" for PSPs and ISOs, the partners said.
Pineapple Payments, Paystri team up
Payment technology company Pineapple Payments and Paystri, a payment processing and strategic solutions company, signed a strategic partnership and portfolio acquisition agreement. Under the agreement, Pineapple Payments will acquire Paystri's portfolio, and the two companies will work together to unlock new integrated payment opportunities. Under the leadership of Paystri founder and CEO Jonathan Arst, Paystri will continue to serve integrated software vendors, technology companies and merchants while cultivating new relationships. The partnership will help Pineapple grow its ISV channel and provide Paystri access to Pineapple's proprietary payments platform, APIs, and omnichannel payment tools, the partners stated.
ACQUISITIONS
Hampleton advises FAST LTA on acquisition by Afnum
M&A and corporate finance advisory firm Hampleton Partners advised FAST LTA AG, a provider of zero-loss archiving and backup solutions for mission-critical data, on its acquisition by Afnum Management. Afnum is an investor with expertise in small and midsize enterprises in Germany. FAST LTA stated it has built a strong position in the German market, "particularly in the healthcare, public sector and industrial verticals, helping clients to comply with increasingly stringent regulatory data storage requirements in a secure and cost-effective manner" and believes Afnum will help the company further develop its product offering, continue its growth trajectory and enlarge its footprint in Germany and abroad."
Mastercard to purchase SessionM
Mastercard agreed to acquire SessionM, a loyalty and customer engagement company specializing in the retail, airline and restaurant sectors. Analysts stated this is part of Mastercard's focus on offering retailers improved data-driven services. The acquisition is expected to enable the card brand to help companies worldwide deliver personalized, real-time offers in addition to comprehensive campaign measurement, the card brand noted. "Consumers' expectations about their experiences with brands are changing," said Francis Hondal, president, loyalty and engagement at Mastercard. "We believe that the future of loyalty needs to be re-imagined to enable seamless digital experiences, and SessionM's consumer-centric capabilities will help us broaden our value to marketers across sectors in exciting new ways."
APPOINTMENTS
EPA taps three for advisory board
The Emerging Payment Awards appointed three fintech's experts to its advisory board for a three-year term. Jeremy Nicholds, CEO at Judopay; Anna Tsyupko, CEO at Paybase; and Muhammad Asim, CEO at Arro Money will join the current EPA advisory board as of January 2020, per a vote by EPA members. Nicholds will focus on helping the industry become more inclusive by involving a wider range of companies; Tsyupko will bring a fresh enthusiasm for diversity in fintech and foster the effective adoption of new regulations such as MLD5 in a smooth, customer-friendly manner; and Asim will help broaden EPA's range to include fintech hubs outside London, and to create a bridge with regions outside the UK and EU, the ETA said.
Edward Sander joins ThetaRay
ThetaRay, a provider of AI-based big-data analytics, appointed Edward Sander as its chief product officer. He is now responsible for all product-related activities as well as identifying and developing product/technology-related partnerships. Sander brings two decades of experience running global software enterprise organizations to his new position. He is also a recognized expert in financial crime, compliance and risk. Sander joins ThetaRay from Arachnys, where he served as president and helped triple the company's annual recurring revenue, ThetaRay stated.
PSCU selects Kevin Spear 
PSCU named Kevin Spear as its senior vice president, service delivery. In his role, Spear is responsible for driving the strategic direction, continuous improvement and operational effectiveness of PSCU's Service Delivery team. Spear's appointment marks the return to the company for Spear, a payments industry veteran who led client relations and services at PSCU from 2006 to 2012. Spear has held several executive roles in sales, service and client relations with firms including Card Management Corp., PNC Bank and UPS Capital Corp.

The Green Sheet Inc. is now a proud affiliate of Bankcard Life, a premier community that provides industry-leading training and resources for payment professionals. Click here for more information.
Notice to readers: These are archived articles. Contact names or information may be out of date. We regret any inconvenience.
Prev
Next