The Green Sheet Online Edition
May 27, 2019 • Issue 19:05:02
David can beat Goliath in the lending game
By Sam Schapiro
Fundomate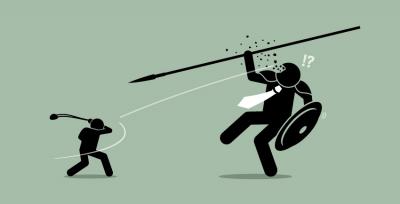 The story of David and Goliath may have biblical roots, but its core message – that the little guy can triumph – is applicable in nearly every industry. When it comes to alternative lending, for far too long giant institutions have reigned supreme. While that works for established businesses, what are small to medium-sized organizations to do when they hit a snag or need an extra bit of capital to get through rough patches?
It's no secret that big lenders – banks like Wells Fargo, Bank of America and Citibank – favor large businesses with proven track records when it comes to loans. Not only does that dissuade small to midsize businesses with good standing from even applying, but it also puts smaller lenders in an uncomfortable position as well, since they lose access to a quality customer base.
In addition, most processors have a hard time competing with behemoth processing companies because they don't have a full suite of services for their merchants or endless budgets. However, merchant financing is a missed opportunity that smaller processors can leverage, provided they find a way to streamline processes by leveraging new risk scoring models and the right technology.
Fully automated financing
Revenue-generating merchant data could be used to provide value-added services but is currently underutilized, and current merchant cash advance programs are expensive and not necessarily a fit for merchants with good standing. The way to remedy this is by leveling the playing field, providing small processors and small merchants a fully automated financing solution.
The consumer experience can be greatly enhanced by enabling smaller processors to fully leverage data they have access to, streamlining what can be a very complex process. What's more, merchant financing can be instantly available to customers, taking advantage of the full potential of said data to provide merchants access to affordable, competitive financing products with the click of a button.
To make this a reality, a third party with the existing technological infrastructure would step in to automate, underwrite, manage risk assessment and enable machine learning, but would white label the solution with the processor's branding. If done correctly, everything could be completed in a few very straightforward steps, ensuring a seamless experience for both processors and merchants.
Here are the steps:
First, the processor sends merchant data to the third party.
Second, via third-party technology, the processor can easily put pre-qualified, personalized underwritten offers in front of their merchants.
Lastly, merchants land on a white-label platform and select the best option for their needs.
Of course, for security and regulatory purposes the third party would require merchant verification, but after that, it would be as easy as connecting to their bank account, enabling an instant automated clearing house money transfer.
Though large processors have had a monopoly on reliable business loans up to this point, the advent of new technologies, like automation and artificial intelligence, is helping turn the tide. If smaller processors can learn to leverage these solutions, they will not only grow their businesses; they will also be in a position to compete with the giants of the industry, setting the pace for the future of lending, while empowering merchants to stimulate the economy and reach their business goals.

Sam Schapiro is the founder and CEO of Syndimate and Fundomate. His 10 years of alternative lending sales experience resulted in the creation of innovative cutting-edge funding platforms that benefit clients, partners and businesses alike. Being a visionary leader, Sam is currently responsible for on-boarding key investors, partners and lead sources. Sam can be reached at sam@fundomate.com.
The Green Sheet Inc. is now a proud affiliate of Bankcard Life, a premier community that provides industry-leading training and resources for payment professionals. Click here for more information.
Notice to readers: These are archived articles. Contact names or information may be out of date. We regret any inconvenience.
Prev
Next