The Green Sheet Online Edition
May 13, 2019 • Issue 19:05:01
Cash is cool but losing its luster
By Patti Murphy
ProScribes Inc.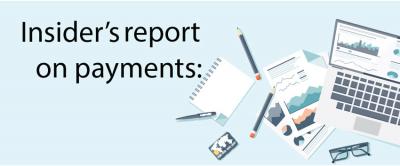 Cash is cool – I still believe that. But it's begun to lose some of its appeal. I came to this realization recently during a conversation with a young (millennial) friend. We were discussing how to split a bill, and I offered to give him a c-note. "What's a c-note?" he asked. His next query: "Why can't you just Venmo the money?"
It wasn't the first time I'd felt chasten by a friend or family member for not having a Venmo account. (I've had a PayPal account for many years, and it works just fine. I've never felt the need for its mobile sidekick.) But I decided it would be the last time. I bit loaded Venmo onto my mobile and transferred $100 to my friend. I must admit, it's a pretty slick app. But I don't see a lot of mobile wallet activity in my future. I still like cash. And I'm not alone.
According to a new report from the marketing agency Hill Holliday, most adult Americans (76 percent) still carry cash, and 50 percent use cash daily. What's more, 55 percent hate the idea of life without cash. The only payment options consumers prefer above cash are credit and debit cards. Overall, Hill Holliday said, 80 percent of consumers prefer paying with credit and debit cards; 30 percent rank checks as a preferred option.
Separately, a TSYS survey of consumers found 54 percent prefer to pay using debit cards – the highest ranking since TSYS first began surveying consumers in 2011. And those percentages hold steady across age groups, TSYS said. Twenty-six percent of consumers surveyed by TSYS said they prefer using credit cards; 14 percent said they'd rather pay with cash. The share preferring cash has been inching up steadily since 2013, when just 10 percent of consumers surveyed by TYSY said they preferred paying with cash.
The Hill Holliday report – Cashless Culture: The Marketer's Guide to the Emerging Cashless Consumer – draws on results of a survey of just over 1,000 Americans, age 18 and older. As part of its research, Hill Holliday also conducted a "deprivation study" in which 10 adults were asked to go cashless for a week and record their experiences. Every one of the 10 cheated, the company said.
"We were really surprised how attached to cash the average consumer is," said Katherine Schilling, strategy director of Hill Holliday. "The user experience isn't quite there yet for mobile and app-based payments, and many businesses still struggle with the transaction technology." In fact, 35 percent of consumers surveyed who use mobile payments said the apps frequently crash.
The merchant technology struggle was on display recently when JCPenny decided to stop accepting mobile payments because it couldn't meet a deadline for bringing its mobile payment acceptance devices into compliance with EMV security protocols.
Mobile is more of a millennial thing
So how do consumers feel about mobile payments generally? Just over 45 percent of adults surveyed by Hill Holliday said they see no reason to use mobile payments. Only 20 percent have made mobile payments, and nearly six in 10 of those consumers (58 percent) began using mobile payments within the past year.
Unsurprisingly, mobile payment adoptions skews toward younger consumers, like my millennial friend. Among surveyed consumers 88 percent of those under the age of 40 have tried mobile payments compared with just 55 percent of those over the age of 40. But even among younger users, just 22 percent use mobile payments at least once a day.
Schilling suggested retailers share much of the blame for lagging consumer interest in mobile payments. "Brands still have a lot to learn about which consumers will go cashless, and how they can help them get there," Schilling said.
More visual cues could help. Thirty-five percent of consumers said cues letting them know which stores accept mobile payments would increase their willingness to go cashless and cardless, Schilling said. Twenty-four percent of respondents said GPS-enabled phone alerts notifying them that nearby merchants accept mobile payments would do the trick. Also helpful, cues describing how mobile payments works – 29 percent said that would make them more likely to use their mobiles to make payments.
Better outlook for contactless card payments
According to TYSYS, which just released its latest study of consumer banking and payment preferences, consumers are less enamored with using their mobiles for payments than for routine banking activities. Consumers also seem more inclined to use contactless cards than mobile devices to make payments. The 2018 TSYS U.S. Consumer Payment Study queried 1,222 adults.
"Mobile's seamless integration into consumers' everyday financial lives is strongest when it comes to self-service and banking-related activities," TSYS wrote. "These activities continue to outpace mobile payments, yet payments do continue an upward climb."
The most common activities performed using mobile banking apps are: viewing balances (cited by 93 percent of users surveyed), viewing recent transactions (82 percent), transferring funds (60 percent) and bill payments (53 percent).
Just 11 percent of consumers have loaded a debit card onto a mobile wallet, TSYS reported; 10 percent have loaded a credit card. Again, age is a big influencer: 27 percent of consumers between the ages of 18 and 24 have already loaded a debit card onto a mobile device, for example, compared with just 6 percent of those between the ages of 45 and 54.
About one in four consumers indicated they definitely or likely will load a debit or credit card onto a mobile wallet. However, TSYS found nearly equal shares of consumers don't plan to ever load a debit or credit card onto a mobile wallet.
The outlook is much better for contactless cards, in part because many merchants already have the technology in place to support contactless card payments. Most of the terminals merchants installed to meet EMV requirements were designed to support both contact and contactless transactions, TSYS noted. And increasing numbers are enabling the contactless feature, which allows consumers to tap their cards on a POS device rather than insert cards in those devices.
Evidencing the widening availability of tap-and-go card payments, more than half of the 65 percent of respondents who indicated they have contactless credit and/or debit cards claimed they have used that feature to pay for purchases.

Patti Murphy is senior editor at The Green Sheet and president of ProScribes Inc. Follow her on Twitter @GS_PayMaven.
The Green Sheet Inc. is now a proud affiliate of Bankcard Life, a premier community that provides industry-leading training and resources for payment professionals. Click here for more information.
Notice to readers: These are archived articles. Contact names or information may be out of date. We regret any inconvenience.
Prev
Next