The Green Sheet Online Edition
September 10, 2018 • Issue 18:09:01
New Products
High quality, low cost SIM card management
Product: OptConnect SIM Program
Company: OptConnect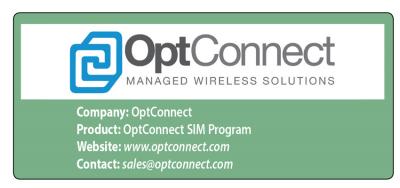 Kaysville, Utah-based OptConnect, a managed wireless solutions provider, has created a SIM card management program. The company said the solution is designed to simplify deployments and increase profitability in multiple industries, including ISOs, resellers, channel partners and third-party service providers. The high quality, low cost package is available as a standalone solution or as part of OptConnect's suite of managed end-to-end services.
"Unlike other setups that incur transaction fees and activation fees, our SIM card management service has a predictable monthly subscription fee," said Andrew DeLaMare, senior territory manager, Eastern United States, at OptConnect. "It's part of our commitment to be a one-stop shop to help ISOs and acquirers sell more connectivity solutions."
Advanced mobile technologies have led numerous operators to disconnect landlines and go wireless, DeLaMare pointed out. He has seen this trend in a number of industries that OptConnect services, which include POS and ATM providers, and digital signage and utility companies. As wireless and cellular solutions gain mainstream adoption, OptConnect helps partners and end-users enhance security, improve efficiencies and increase profit margins, he noted.
End-to-end connectivity
In addition to its cost benefits and ease of use, the OptConnect SIM card management program provides operators with resources, tools and insights to help them efficiently manage client relationships and device populations, DeLaMare stated. "OptConnect is helping to make cellular and wireless solutions the new standard for deployments," he said. "This industrywide effort is largely driven by providing flexibility, reliability, proactive alerting, and faster speeds."
OptConnect detailed the following additional features and benefits of the SIM card management program:
Security: OptConnect provides a secure, reliable, monitored wireless connection to the Internet for unattended equipment that is easy, low-risk and backed by full-service support. 
Continuous support: OptConnect service teams provide 24-hour support. Additional resources include instructional videos and downloadable reference guides. Simple installation: Wireless devices are simple to deploy and can be managed remotely from any connected device.
Seamless, easy deployments: OptConnect wireless network connectivity supports POS applications of all sizes. This provides a flexible, lower cost option for POS system deployments.
Lifetime warranty: OptConnect devices have a lifetime warranty with advance overnight replacement in the rare event of equipment failure, company representatives stated.
Consistent, competitive pricing: OptConnect is processor agnostic and does not charge per-transaction fees or activation fees for SIM cards. Channel partners and distributors receive consistent pricing and can provide their customers with predictable monthly subscription fees. 
Secure, personalized dashboard: Secure merchant and channel partner dashboards enable end-users to monitor each SIM card's location and data usage while providing upstream partners with a single-access view of their wireless clients through a dedicated customer portal.
3G, CDMA migration: OptConnect enables network operators, ISOs and POS providers to migrate to updated wireless and cellular networks without having to recertify their devices.
Communication, integrity, accountability
Matt Warner, OptConnect's director of channel management, said communication, integrity and accountability are core values that inform all of the company's operations and relationships. "We combine high-tech connectivity solutions with high-touch customer service," he added. "Our goal is to turn customers into fans."
Warner went on to say that OptConnect's suite of managed services, hardware, connectivity solutions and support includes all of North America's major carriers. ISOs, independent software vendors and system integrators can easily add OptConnect's managed, end-to-end services to their product offerings without introducing a complicated, time consuming new step in the process, he noted.
Warner believes exponential growth of the Internet of Things provides new opportunities for payments industry stakeholders. "We work with enterprise-scale companies that deploy proprietary sensors that predict and monitor data usage," he said. "OptConnect SIM cards communicate over cellular networks with data hubs, optimizing security and efficiencies."

Website: www.optconnect.com Contact: sales@optconnect.com
The Green Sheet Inc. is now a proud affiliate of Bankcard Life, a premier community that provides industry-leading training and resources for payment professionals. Click here for more information.
Notice to readers: These are archived articles. Contact names or information may be out of date. We regret any inconvenience.
Prev
Next