The Green Sheet Online Edition
September 10, 2018 • Issue 18:09:01
Street SmartsSM
Persistence pays off
By Steve Norell
US Merchant Services Inc.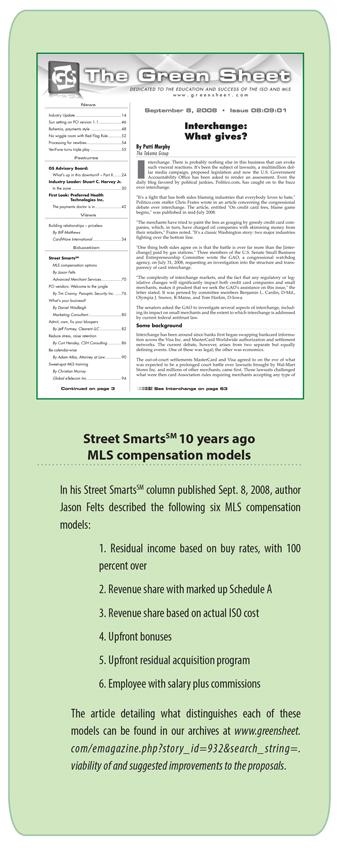 Over the years, I have had more than my share of merchant level salespeople (MLSs) either work for me, write for me or just make believe they were doing something but never did. Concerning the last group, I could never grasp – and still don't understand – how on earth anyone could get into sales and not understand the concept of persistence.
My wife and I have always been dog lovers. In fact, we have rescued so many dogs that when I die, I am certain that while I may not get into people heaven, dog heaven is covered. One quality every one of our dogs had was a 100 percent commitment to persistence. This could be for food, walks, treats or just a good belly rub. No matter what, they were going to get what they wanted and would persist until we gave in.
Many times I would remark that if I could give my MLSs a dose of those dogs' persistence, we would have the greatest sales team on the face of the earth. So how does all this translate into relationships with merchants, MLSs and ISOs? Simple: persistence.
Don't be an order taker
I have found that of the thousands of MLSs I have met over the years, very few come across as professional, smart and well educated regarding what they do or how they do it. So if 80 percent of all MLSs are basically functioning as order takers, how are you, as a competing MLS learning the ins and outs of the payments biz, going to rise above them? Or, if you are an ISO, how are you going to get them to produce? Simple: persistence. This business has a learning curve, but it is not that difficult for most people. If you have a modicum of knowledge, you will be miles ahead of the person you are selling to, not to mention your competition.
So if you are going to use persistence as your model to success, here is what I suggest:
Make a list of the top 100 merchants that you want to land.
Find out who the decision makers are.
Visit them to determine what they are using to process payments.
Have a presentation package for all of them.
Then persistently call on them. Sounds simple doesn't it? It is, and do you know why? Because persistence pays off. And it does not require that you be particularly smart. Just emulate my dogs' tenacity. When they wanted something, they annoyed us relentlessly until we gave in.
Use a proven method while you learn
I want to make one thing clear: this is not a model that I suggest you use forever, but if you are new and haven't mastered the business yet, the persistence method will work. I had a friend who was in the industry many years ago. He boasted the highest success rate in the industry. I asked him how he had achieved this, and he told me the following.
He called on 100 merchants a day, which sounds like a lot, but when you hear the rest of the story it is possible. He would walk in the door and ask for the owner. Sometimes the owners were in, other times they were not; hence the reason for the 100 per day. He would say the following.
"My name is John Smith and I'm from XYZ Merchant Services. Are you happy with your current processor? A yes or no answer is all I'm looking for so we don't waste each other's time." If the owners said they were happy, he said, "Great. Here is my card. Call me when or if things change." If owners said they were not happy, then he persisted in selling them.
He boarded approximately five out of every 100 merchants he approached. Keep in mind that not all of the ones he boarded were home runs with huge processing volume, but a deal is a deal. The bottom line is persistence pays off. He persistently called on 100 merchants four days a week, and before he knew it, he had quite a few merchants in his book.
So remember what my old friend and my many dogs had in common: persistence. If you are tenacious enough – regardless of your message or how you deliver it – most merchants will work with you. This is not necessarily because you are the best salespersons but because you are persistent.

Steve Norell is director of sales at US Merchant Services Inc. Based in Port St. Lucie, Fla., he oversees the USMS sales force and maintains the company's bank and processor relationships. You can reach him by email at steven@usmsllc.com or by phone at 772-220-7515.
The Green Sheet Inc. is now a proud affiliate of Bankcard Life, a premier community that provides industry-leading training and resources for payment professionals. Click here for more information.
Notice to readers: These are archived articles. Contact names or information may be out of date. We regret any inconvenience.
Prev
Next