Fed publishes interchange fee analysis
The Federal Reserve Board recently published a comparative analysis of debit card interchange fees collected before and after the Oct. 1, 2011, implementation of the Durbin Amendment to the Dodd-Frank Act of 2010. Both exempt and nonexempt issuers were studied.
Nonexempt issuers, those with assets of $10 billion or more, now must assess an interchange fee of no more than 21 cents, plus 0.05 percent of the value of the transaction, plus a 1-cent fraud-prevention adjustment, if applicable.
Data collected by the Fed indicate the average interchange fee for all issuers prior to regulation was 43 cents. In the fourth quarter of 2011, interchange fees averaged 24 cents per transaction for nonexempt issues, and 43 cents per transaction for exempt issuers. Further details follow: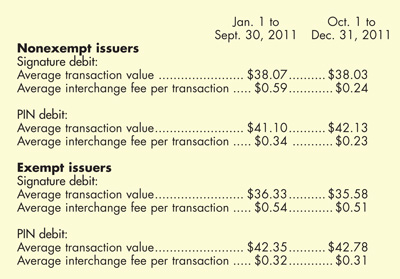 For more information about this analysis, please visit
www.federalreserve.gov/newsevents/press/bcreg/20120501a.htm.
Mobile payments readiness index
MasterCard Worldwide's first Mobile Payments Readiness Index offers a ranking of 34 global markets in terms of readiness to implement mobile payments based on six components: consumer readiness, environment, financial services, infrastructure, mobile commerce clusters and regulation.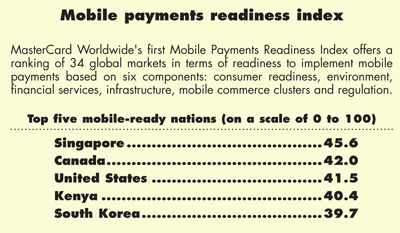 Source: MasterCard, Mobile Payments Readiness Index
First Data reports PIN debit up
First Data Corp.'s April 2012 SpendTrend analysis showed PIN debit leading all payment types with dollar volume up 7.4 percent, followed by credit cards at 5.8 percent. Silvio Tavares, Senior Vice President and Division Manager of First Data Global Information and Analytics Solutions, said, "April card spending was impacted by an earlier Easter, plus the unseasonably warm weather in February and March, which pulled forward seasonal demand."
Compass Plus examines EMV migration
A Compass Plus white paper, Making EMV Work Across New Markets, discusses the growth of Europay/MasterCard/Visa (EMV) as a global payment standard and offers best practices for making the switch as financial institutions in the United States begin migration under mandates from the major card brands. According to the paper, 42 percent of all global payment cards and nearly 76 percent of all terminals use the EMV payment standard.