The Green Sheet Online Edition
February 14, 2022 • Issue 22:02:01
Blockchain, cryptocurrency moving into mainstream
By Patti Murphy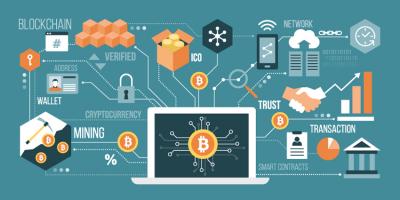 Cryptocurrency, once the domain of tech-savvy speculators and black-market hustlers, is going mainstream. A survey fielded in November 2021 by the Pew Research Center found nearly nine in 10 adult Americans have heard at least a little about cryptocurrency, and 16 percent have invested in, traded or used a cryptocurrency such as Bitcoin or Ether.
Research by the website Payments.com and the crypto payment service provider BitPay found 18 percent of the adult population, or 46 million consumers, are keen on the idea of purchasing items with cryptocurrency.
"We're in the early days of paying with crypto, both online and in-stores," said Jeremy Belostock, head of advanced payment methods at Verifone.
As with all things digital, however, crypto is more likely to vault than meander into the mainstream. "Five years from now you can expect to see wide-scale adoption," predicted Eric Brown, founder and CEO of CryptoBucks, a payment processor that supports crypto as well as traditional card payments.
In this, the first of a two-part series, we provide an overview of cryptocurrency, the underlying technology, blockchain, and crypto payments. Part two will detail crypto's journey to the retail POS.
Crypto is just one blockchain use case
Cryptocurrency is a medium of exchange that is digital, encrypted, decentralized and based on blockchain technology. A blockchain is an open, distributed database (or ledger) that records information in code; the ledger is collectively maintained by all participants.
While blockchain technology underpins cryptocurrency, its uses are not limited to payments. A blockchain can be used to transfer any type of information, including property ownership rights, insurance claims, and securities and payment transactions. The decentralized nature of blockchain technology is expected to have a huge impact on financial services, which historically have been centralized. "Beyond payments, blockchain provides banks the opportunity to streamline complex workflows and optimize internal processes," Frank Sorrentino, chairman and CEO at New Jersey-based ConnectOne Bank, wrote in an article posted by Forbes. "Ultimately, the future of blockchain banking has not quite taken shape, but there's never been a more exciting time to build a blueprint."
A new report from FTI Consulting revealed that at most of the largest financial services companies in the United States a high priority is being placed on investments in blockchain and cryptocurrencies. Ninety-two percent of executives surveyed by FTI believe financial institutions will fully adopt blockchain within the next three years.
Mining the ether for digital bucks
The decentralized nature of blockchain—no central bank controls the value—is what sets it apart from traditional currencies like the U.S. dollar or Japanese yen. Cryptocurrencies are "mined" by solving complex cryptographic equations using sophisticated computers. Think of miners as high-tech auditors, as they are confirming the legitimacy of cryptographic transactions for recording to a blockchain. The miner who solves a problem first is rewarded with cryptocurrency, and thus new cryptocurrency is put into circulation.
Bitcoin was the first cryptocurrency, introduced in 2009, and despite bitcoin not being legal tender in most parts of the world, it has triggered an avalanche of new cryptocurrencies. As of mid-January, there are more than 5,000 cryptocurrencies in digital circulation, worldwide. The combined value: $2.2 trillion, according to the website Statista.
In the early days, crypto was seen as an investment strategy, not unlike gold. Cryptocurrency values can fluctuate wildly, however—more than gold ever has. In early November 2021, a single bitcoin was worth more than $67,500; by late January that single bitcoin had lost nearly half its value. The factors contributing to this volatility are much the same as for other investments: news headlines and investor speculation. But because the crypto market is dominated by retail (not institutional) investors, it is more susceptible to wild speculative swings, experts have observed.
Stablecoins are cryptocurrencies structured to minimize price volatility, and are typically pegged to fiat currency. USD Coin, for example, is a stablecoin pegged to the U.S. dollar. The stable value of these crypto assets began attracting a lot of investors in 2021, according to McKinsey & Co., which estimated $3 trillion in stablecoins were traded just in the first half of last year. Prior to then, stablecoins in circulation totaled under $300 billion.
Several central banks, including the U.S. Federal Reserve, have been exploring the idea of creating their own stablecoins, known collectively as central bank digital currencies (CBDCs). Some of this activity has been "born out of reservations about the impact of privately issued stablecoins on financial stability and traditional monetary policy," McKinsey noted recently. CBDCs are also seen as a means of improving financial inclusion and reducing payments friction, the consultancy explained.
Card brands take notice
Last March, Visa became the first card network to settle transactions in USD Coin. And in December, Visa launched a global crypto advisory practice to help clients and partners "advance their crypto journey."
Not to be left out, Mastercard also supports cryptocurrencies on its network. It has a partnership with the crypto-wallet platform Bakkt Holdings Inc. to support issuance of crypto cards by participating financial institutions. "Mastercard isn't here to recommend you start using cryptocurrencies. But we are here to enable customers, merchants and businesses to move digital value – traditional or crypto – however they want," Raj Dhamodharan, executive vice president, blockchain/digital asset products and digital partnerships at Mastercard, wrote in a blog post.
Payments consultant Richard Crone characterizes these moves as "a greenfield opportunity to pump more volumes through their processing pipes." Others have characterized it as a survival tactic. Patti Wubbels, senior vice president of the crypto advisory team at consultancy Strategic Resource Management, said cryptocurrency has the potential to do to card networks what Uber did to the taxicab industry. "It's a very disruptive technology that's turning everything upside down," she said.
The disruptive nature of cryptocurrency also has raised concerns with policymakers. Presently, there is no overarching or centralized regulatory framework for cryptocurrency markets in the United States. Some cryptocurrency exchanges and stablecoin issuers have obtained state money transmitter licenses, and at least one crypto platform, Paxos, received conditional approval last year from the Office of the Comptroller of the Currency for a national bank charter.
Gary Gensler, chairman of the Securities and Exchange Commission, stated publicly that he believes cryptocurrencies should be registered as securities and regulated as such. The Commodity Futures Trading Commission also has pushed for regulatory jurisdiction over cryptocurrencies. Both the U.S. House and Senate have held fact-finding hearings on cryptocurrency regulation.
Marwan Forzley, co-founder and CEO of payments provider Veem, believes some type of regulation is needed to foster a robust crypto market. "The more regulated crypto is, the more likely it is to achieve scale," he said. "It [regulation] provides cover for banks and networks that want to get involved."
A new era in payments
"The technology that crypto has introduced into the payments sphere is unparalleled," said industry attorney Adam Atlas. Payments professionals ignore it at their peril, he suggested. "Everyone in the payments sphere should get a [crypto] wallet and buy at least some crypto," to gain better understanding, Atlas added. "If you don't, you're rendering yourself ignorant of this important trend."
Crypto has taken several forms in the payments space. There are crypto-backed credit and debit cards. "This is the most similar to traditional card payments," Wubbels said.
Both Visa and Mastercard support crypto card issuance. Visa reported in 2021 that it was working with 50 crypto platforms, and that while penetration is low—only 10 percent of cryptocurrency owners report having crypto-linked cards—"the issuance of crypto-linked cards presents an opportunity to start participating in crypto."
It's what Brown describes as FOMO (fear of missing out). "Crypto has a lot of FOMO," he said. "That's what's going to drive us into it."
Payments upstart, New York-based Flexa, uses blockchain rather than the card network rails to settle purely digital payments. Flexa offers an app that integrates with existing POS systems and digital wallets.
The app generates unique barcodes (flexcodes) participating merchants scan to authorize and guarantee payments. Flexa then pays merchants their choice of crypto or fiat money, and deducts equivalent amounts of crypto from customers' digital wallets. "On the Flexa crypto network, payments are made quickly, securely and with the lowest fees," wrote Tyler Spalding, co-founder and CEO. Some legacy payments companies are forging partnerships with crypto companies to support similar arrangements where merchants accept crypto on the front end for settlement in dollars. The solutions eliminate volatility risk by instantly converting crypto to dollars as soon as payment is initiated.
Verifone partnered with BitPay to support cryptocurrency acceptance by merchants using one of the company's Engage devices or an Android phone connected to Verifone cloud services. Customers initiate payments using digital wallets to scan on-screen QR codes. Customers can choose from any one of 15 cryptocurrencies, and more will be added, Belostock said. The official rollout is planned for spring, he noted.
"What merchants are really interested in is letting consumers pay them however they want to pay," Belostock said, adding that crypto is just another new payment option, like buy now pay later and mobile P2P payment apps.

Patti Murphy is senior editor at The Green Sheet and self-described payments maven of the fourth estate. Follow her on Twitter @GS_PayMaven.
The Green Sheet Inc. is now a proud affiliate of Bankcard Life, a premier community that provides industry-leading training and resources for payment professionals. Click here for more information.
Notice to readers: These are archived articles. Contact names or information may be out of date. We regret any inconvenience.
Prev
Next