The Green Sheet Online Edition
January 11, 2021 • Issue 21:01:01
Industry Update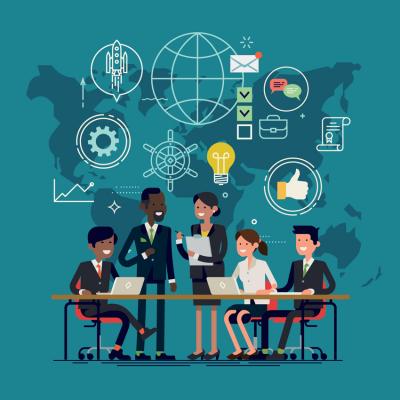 ANNOUNCEMENTS
ClearSale wins three Comparably Awards
ClearSale, a global ecommerce fraud prevention specialist, was recognized with awards in three categories on the business ranking site Comparably. The company was recognized as a Best Company for Culture, Best Company for Women and Best Company for Diversity, based on anonymous feedback from employees. "Receiving so much recognition from our employees on Comparably this year confirms that our teams feel the importance we place on their happiness and satisfaction," said Rafael Lourenco, ClearSale executive vice president. "That's a tough thing to do in a global company, but our people are crucial to our success, and it's essential that we all succeed together."
Digital.com names best POS systems for 2021
Digital.com, an independent review website for small business online tools, products, and services, selected the best POS systems of 2021. The top solutions were evaluated based on several core features and customer feedback. Software companies were required to offer pricing transparency about additional fees associated with setup assistance, customer support, credit card processing or other services. Reviewers also examined platforms that support main features like PCI-compliance, contactless payments, online ordering, and integrations with third-party software. To access the complete list of best POS systems, visit https://digital.com/pos-software/.
IDC recognizes Imagia for AR automation
Imagia, a provider of AI-powered fintech software-as-a-service (SaaS) platforms for receivables and treasury, was positioned as a leader in IDC MarketScape: Worldwide SaaS and Cloud-Enabled Accounts Receivable Automation Applications for Enterprise 2020-2021 Vendor Assessments. IDC's MarketScape provides an in-depth review of vendors providing SaaS and cloud-enabled accounts receivable automation solutions for enterprises and discusses the criteria that are important for companies to consider when selecting a vendor.
NFC Forum launches contactless standards certification program
NFC Forum released its product certification program, CR12. For the first time, the program enables smartphone manufacturers and suppliers of other devices using contactless technologies to prove conformance to NFC technical standards that are now harmonized with other industry contactless standards, the forum noted. Smartphones and other NFC-enabled devices that conform to CR12 can support the wide variety of NFC implementations while also improving the user experience in use cases such as, but not limited to, public transport, contactless payment, access control, automotive, proof of ID and eDriver's licenses, the forum added. There is no cost for the certificate from the NFC Forum with a valid test report from an authorized test lab.
RESEARCH
Mercator researches debit card trends in Asia Pacific
Mercator Advisory Group released Debit Card Trends in the Asia-Pacific Region, which found that countries such as Australia and Japan have similarities to the North American debit market, with a high degree of financial inclusion and a long history of card use, and in contrast, countries such as China, India and Indonesia have relied primarily on cash until very recently. "Those nations that have been primarily cash based societies are moving towards mobile based solutions supported by QR codes at the point of sale at an incredible pace," stated Sarah Grotta, director, debit and alternative products advisory service at Mercator and author of the report. Another trend Grotta noted is a preference for local networks with technology and data that never leave the country.
SilverCloud reports on conversational banking
SilverCloud LLC released SilverCloud Labs: Conversational Banking Trends, a report that examines employee usage of conversational banking, including virtual assistants and bots. The study analyzes real-time usage data collected from more than 200 financial institutions and 11.9 million end-user sessions, researchers stated. Key findings include that employees focus 90 percent more on service than sales, need help with wires and ACH, are supporting businesses, and field few requests that pertain to digital banking.
PARTNERSHIPS
Century, BT Partners to process within Sage Intacct
Century Business Solutions is partnering with technology consultants BT Partners and Sage Intacct Premier to allow credit card processing directly within Sage Intacct. Century's development team built a payment integration for Sage Intacct that uses Century's proprietary payment gateway, EBizCharge, to provide credit card processing for thousands of merchants across the country, the partners stated, adding that Century's credit card integration allows merchants to process credit cards from directly within Sage Intacct. The EBizCharge payment gateway is designed to lower processing fees by submitting line-item details directly to the bank.
Chalice Network, cleverDome team up
Chalice Network added cleverDome as an enterprise partner of recently launched ChalicePay, a streamlined billing and payment platform designed for independent small business owners. ChalicePay eliminates the complexities and time associated with traditional invoicing, account reckoning and custom billing, empowering users with an efficient, cost-effective online solution, the partners noted, adding that with simple setup and integration, ChalicePay offers flexible billing formats from retainer-based to one-time invoicing to subscription models and is safe and secure with PCI Service Provider Level 1 certification.
Payroc, pVerify form integrated partnership
Payroc WorldAccess LLC, a merchant acquirer and global payment processing organization, formed a partnership with pVerify Software to provide a streamlined integrated payments solution for businesses in the healthcare sector. Jared Poulson, executive vice president of integrated payments at Payroc, said the integration "will support contactless, card-on-file billing, offering the ultimate flexibility for the patient and easing providers' accounts receivable load. Combining pVerify's eligibility offering with the automation of collecting patient payments will not only save practices money but more importantly time from improved workflow improvements."
Paysafe, Microsoft partner for online cash payments
Paysafe extended its longstanding relationship with Microsoft that will provide an online cash payment option to millions of Microsoft customers by enabling paysafecard as a payment option in Microsoft Store in 22 countries across Europe. paysafecard enables consumers to use cash to shop for goods and services online. Payment transactions are completed simply and securely, using a 16-digit code, Paysafe stated. Via an online 'my paysafecard' account, consumers also have the option to combine credit balances; sensitive financial data such as bank account or credit card details are not required, the company added.
ACQUISITIONS
Fiserv acquires Ondot Systems
Fiserv Inc., a global provider of financial services technology solutions, signed a definitive agreement to acquire Ondot Systems Inc., a digital experience platform for financial institutions. The transaction will further expand Fiserv digital capabilities, enhancing its suite of integrated solutions to enable clients of all sizes to deliver frictionless, digital-first and personalized experiences to their consumers, Fiserv stated, adding that it plans to further develop the Ondot platform's unique interplay between real-time authorization, user context, and artificial intelligence to engage users in-the-moment—before, during and after transactions.
PDI gains Cybera, ControlScan MSS
PDI, a global provider of enterprise software solutions to the convenience retail and petroleum wholesale industries, acquired Cybera Inc. and ControlScan Managed Security Services (MSS), both of which provide managed security solutions to protect customers against cybersecurity threats. PDI said this acquisition complements its existing industry-focused cloud product strategy, bringing customers a fully managed, cloud-based network security solution.
"Security is becoming increasingly important in our industry as many businesses embrace their own digital transformation and deploy more in-store applications and edge devices," said Jimmy Frangis, CEO at PDI. "We are excited to add these industry-leading solutions from Cybera and ControlScan MSS to our portfolio."
Sphere acquires Health iPASS
Sphere, a provider of end-to-end integrated payments and security software, acquired Health iPASS, a provider of cloud-based patient engagement software and revenue cycle management technology designed to enhance provider revenue collections and deliver a streamlined healthcare consumer experience from appointment to final payment. "Recent events have accelerated healthcare providers' need for virtual interactions with their patients throughout the patient experience," said Andrew Rueff, executive chairman of Sphere. "The Health iPASS software platform addresses those needs by streamlining the check-in and financial engagement workflow to increase provider revenue and improve patient communications."
APPOINTMENTS
Steve Eazell joins AMP
Steve Eazell, a sales executive with more than 25 years of payments industry experience, joined Advanced Mobile Payment Inc. as vice president of sales in the United States. Eazell will help bring AMP's mission of Paying Well With Others to life while providing great payments experiences to partners and merchants alike, the company stated. Eazell, a founder and past president of the Western States Acquirers Association, joins AMP from ES Solo, where he was executive vice president of acquiring, leading his team to grow and scale their mobile fintech infrastructure platform. In addition, he has served on multiple committees for the Electronic Transactions Associations, as well as served on the advisory boards of The Green Sheet and ISO & Agent magazines.
Cyber Defense Group recruits Remington Winters
Cyber Defense Group, a cybersecurity company that provides trusted services to cloud-reliant companies, hired Remington Winters as senior vice president of security engineering. In this role, he will lead the organization's efforts to further develop and build next-generation solutions for security-conscious clients. Before joining CDG, Winters was vice president, head of information security at Ticketmaster, where he built the department from scratch and worked closely with colleagues to develop the initial design for mobile ticketing platform SafeTix. Winters also served as director of security at Warner Brothers.

The Green Sheet Inc. is now a proud affiliate of Bankcard Life, a premier community that provides industry-leading training and resources for payment professionals. Click here for more information.
Notice to readers: These are archived articles. Contact names or information may be out of date. We regret any inconvenience.
Prev
Next