The Green Sheet Online Edition
April 22, 2019 • Issue 19:04:02
The MLS hero's journey
By Dale S. Laszig
DSL Direct LLC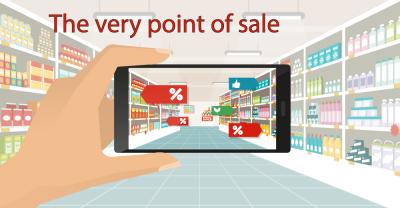 Homer described Ulysses' hero's journey in The Odyssey; Sylvester Stallone chose screenplays to depict Rocky's. These stories resonate with merchant level salespeople (MLSs) who embark on their own heroes' journeys every day. Joseph Campbell's The Hero with a Thousand Faces celebrates heroes in myth, folklore and religion. Published in 1949, the book has been reissued in multiple languages and editions and is still considered a leading reference.
Campbell, a world-renowned author, speaker and thought leader, believed that heroes are deeply embedded in our collective consciousness. Stories handed down from generation to generation reflect spiritual principles, he noted. They are as native to us as our hair and skin.
While hero stories vary, three phases – departure, initiation and return – are present in every tale. Campbell depicts a dreamlike landscape populated by helpers, adversaries and people who laugh at the hero and say give up, walk away, take it behind the barn and shoot it. Sound familiar?
Departure
Every hero receives a call to adventure, Campbell noted. The call doesn't have to be loud; sometimes it's only a whisper. And as Noah and Moses demonstrate, it may take more than one call to wake up a hero. Let's face it, it's not easy to leave a warm bed or safe cubicle or resume a daily round of "smilin' and dialin'" through serial rejection.
The journey begins when the hero can no longer ignore the situation and "dares to heed the call," Campbell stated. The popular saying that it's easier to ask for forgiveness than approval holds true. Modern heroes must go it alone, without waiting for community support or understanding.
Suneera Madhani, CEO at Fattmerchant, told The Green Sheet that being an MLS in 2012 was the hardest job she ever had. Not only was it a grind, it seemed that no one was listening to merchants. Her call to adventure was born out of her need to make a difference.
Initiation
Calling the departure "just the beginning," Campbell described an arduous initiation process, filled with dangers, conquests and moments of illumination. Dragons have to be slain and barriers crossed. Throughout the process, the hero perseveres and celebrates small victories.
Along the way, the hero will face a series of tests and hardships. Mentors occasionally appear, providing advice, amulets and supernatural powers. "This is a favorite phase of the myth adventure," Campbell wrote. "It has produced a world literature of miraculous tests and ordeals."
Madhani took a leap of faith and founded Fattmerchant in 2014. Together with her team, she set out to build a "frictionless, fun, affordable transaction technology company." Their initiation involved trial and error, deep learning and little wins that encouraged them to stay the course.
Return
In the final phase, the adventurer returns with a hard-won prize. That's when the real selling begins. Campbell warned that homecomings may present the greatest challenges of all. "As dreams that were momentous by night may seem simply silly in the light of day, so the poet and the prophet can discover themselves playing the idiot before a jury of sober eyes," he wrote.
In these situations, helpers and mentors may once again come to the hero's aid, armed with support, resources and tools to help them build a case. Campbell suggested these helpers may show up in our dreams. The subconscious realms are filled with symbolic figures, secret helpers and instructive teachers, he wrote, "and in their forms we may see reflected not only the whole picture of our present case, but also the clue to what we must do to be saved."
Heroes who challenge the status quo must be prepared to defend their visions. Madhani recalled that her former bosses "laughed in my face" at the concept of subscription-based payment processing. But she prevailed, and with the right helpers, made merchants services transparent, fair and fun. Their service model disrupted payments and empowered merchants, she stated.
Foster innovation
Meenaz Sunderji, senior vice president, partner growth and sales at Zafin, would like to see more heroes in financial services, an industry he describes as ripe for disruption. Financial institutions focus on getting commercial customers while remaining silo'd and separating banking from payments, he stated. They rely on old networks and infrastructure to achieve new objectives.
"If you look at banking in general, it is not innovative," Sunderji said. "Solutions that claim to be innovative are really just iterative. Products that are digitalized are still the same products."
Hiding behind the mantle of digital transformation, banks and service providers update products and services from the safety of their comfort zones, Sunderji noted. Apple Card, for example, is not innovative. Apple may have technical prowess and access to customer data, but it still relies on Mastercard's network. PayPal and Alipay also run on existing rails.
Sunderji pointed out that legacy players need to harness the power of blockchain and other emerging technologies to compete with challenger banks and big tech and remain relevant to their customers. If they add these capabilities by acquiring tech startups, they should give the startups the autonomy to keep on dreaming and innovating, he stated.
Dream big
Do you ever dream about your job? Today I woke up feeling as if I'd spent a full day at the office. But I felt more inspired than tired, because a helper showed up with a message of hope.
In the dream, I'm reviewing a document draft with four executives. As we trace the narrative arc, someone suggests introducing the CEO earlier in the story. This would show how one person's vision transformed a business plan into a company and mobilizing force in the payments industry. This simple change brings the story to life. It becomes a hero's journey.
"Draft copy doesn't have to be perfect or even on point," the helper said. "The simple act of putting words on paper will help you frame the story and figure out what you really want to say."
That's encouraging, because in this business, sales quotas and deadlines wait for no one. Whether our hero-journeys begin by picking up a phone or putting words on paper, we gain confidence with every small win.

Dale S. Laszig, senior staff writer at The Green Sheet and managing director at DSL Direct LLC, is a payments industry journalist and content development specialist. She can be reached at dale@dsldirectllc.com and on Twitter at @DSLdirect.
The Green Sheet Inc. is now a proud affiliate of Bankcard Life, a premier community that provides industry-leading training and resources for payment professionals. Click here for more information.
Notice to readers: These are archived articles. Contact names or information may be out of date. We regret any inconvenience.
Prev
Next