The Green Sheet Online Edition
July 23, 2018 • Issue 18:07:02
Industry Update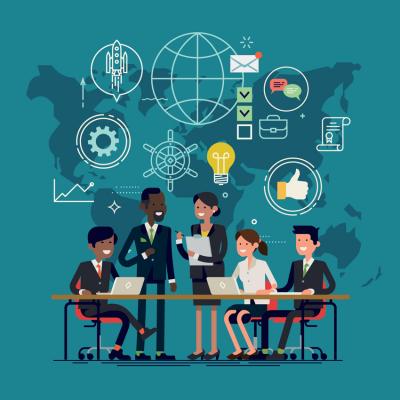 ANNOUNCEMENTS
Century Business launches agent, ISO program
Century Business Solutions launched an agent and ISO program designed to provide payment professionals a business opportunity with long-term income potential and increase its footprint in the integrated payment space. Scott McEwing, the company's vice president of sales, said, "As a leader in the B2B and card-not-present environment, we're excited to partner with highly successful and motivated sales professionals across the country to give small businesses access to the efficiency and cost-savings of our integrated payment solutions."
ChannelGrabber opens N.Y. office
ChannelGrabber opened a New York office in Brooklyn Heights to expand its reach beyond the United Kingdom and Europe. The company also added one-click omnichannel listings capability for retailers. "[R]etailers routinely struggle to manage the complex and time-consuming tasks associated with listing items, managing inventory, processing orders, billing, shipping and customer communication," the company said. "ChannelGrabber allows online retailers to handle these tasks in one place saving time, increasing productivity and maximizing sales."
HBMS refreshes visual branding
Humboldt Merchant Services (HBMS), a payments provider targeting specialty merchants, refreshed its visual branding with an updated logo and revised website, hbms.com. The new branding features a stylized redwood tree and outdoor imagery to communicate strength, security and calm. "We wanted our branding and website to not only reflect the company's legacy within the industry, but to also give assurance that Humboldt provides cutting-edge payment solutions while maintaining the highest levels of service," said Adam McDonald, president of Humboldt.
i3 Verticals closes IPO
i3 Verticals Inc., a provider of integrated payment and software solutions to small and midsize businesses in strategic verticals, closed its initial public offering of 7,647,500 shares of Class A common stock at a price of $13 per share. The company estimated net proceeds from the offering to be approximately $92.5 million after deducting underwriting discounts and commissions.
PAI's Leehy recognized by EY
John J. Leehy III, president and CEO of ATM provider Payment Alliance International was named EY Entrepreneur Of The Year 2018 East Central Region, which encompasses Kentucky, Ohio, Pennsylvania and West Virginia. The awards program recognizes visionary entrepreneurial leaders excelling in innovation, financial performance and personal commitment to their businesses and communities. Leehy was selected by an independent judging panel comprised of previous award winners, leading CEOs, investors and other regional business leaders.
Maltese Parliament approves blockchain bills
The Maltese Parliament unanimously approved three blockchain bills: the MDIA bill to establish the Malta Digital Innovation Authority; Innovative Technology Arrangements and Services Act to regulate designated innovative technology arrangements; and Virtual Financial Assets bill to be used as the framework for initial coin offerings, cryptocurrency exchanges and the regulatory regime for services relating to virtual currencies. Malta authorities stated this approval will allow Malta to achieve its goal in becoming a blockchain hub.
Merchant Consulting Group now Paystri
Payment technology and merchant services provider Merchant Consulting Group rebranded as Paystri. The company noted that with the shift in branding, the firm will focus on delivering unparalleled technology, support and customer experience. Paystri founder and CEO Jonathan Arst said, "We are excited to launch Paystri to offer customized payment processing with a level of service that's unique to Paystri and crafted to meet our clients' specific payments needs."
Risk Ident recognized by Retail Systems Awards
Risk Ident GmbH, a provider of fraud prevention software, was named Online Technology Vendor of the Year at the Retail Systems Awards 2018, which recognize technology excellence and innovation within the retail sector. Winning entries came from retailers and technology suppliers in mobile, online, payments, loyalty and personalization. Risk Ident noted that the company was recognized for its results-driven anti-fraud solutions in the large ecommerce space.
RESEARCH
ControlScan aids with PCI QSA prep
ControlScan, a managed security and compliance solutions provider, published Preparing for Your First PCI QSA Assessment: 7 Steps to Uncomplicated Compliance, aimed at helping IT leaders save time and money when engaging a Payment Card Industry Qualified Security Assessor (PCI QSA). It covers common reasons companies fail to achieve PCI compliance, how QSAs approach assessment engagements, and seven steps to a PCI compliant QSA assessment.
One in four European merchants breached
According to the 2018 Global Payments Insight Survey: Merchants, published by ACI Worldwide Inc. and Ovum, one in four (26 percent) of European merchants in the retail, travel and hospitality and digital goods sector have experienced data theft, and a majority (61 percent) believe they are at greater risk of a data breach today than a year ago. While the need to manage fraud, and protect customer data remains a top issue, achieving sales via digital channels was equally important to merchants and retailers surveyed across all sectors.
Foley finds cryptocurrency regulation wanted
Based on a survey conducted by Foley & Lardner LLP, stakeholders in the cryptocurrency industry are seeking greater regulatory certainty. Foley's 2018 Cryptocurrency Survey found the majority of respondents believe their industry should be regulated in the United States at the federal level and that there is insufficient understanding of how existing regulation of financial markets or services might apply to their sphere.
NAPCP, Accenture find p-card, epayable usage up
A new report from NAPCP and Accenture revealed a steady increase in supplier acceptance of card payments since 2009 across spend categories, with significant growth since 2013 in major categories, such as professional services and utilities. According to the joint report, Supplier Acceptance of P-Card and ePayables Payments and Related Topics, driving this growth is the ongoing education of suppliers by end-user organizations with card payment programs.
ACQUISITIONS
SensThys gains Digame
SensThys Inc., a designer and manufacturer of networked RFID solutions, acquired Dígame Systems, which specializes in IoT systems that help companies rapidly create business-critical solutions. Dígame employs smart sensors, mobile technology and cloud technologies to deliver real-time visibility into the physical world. John Price, CEO of Dígame, said, "Combining our software tools and expertise with the innovative SensThys platform will provide customers with a level of software and hardware integration that has never been achieved in a cost-effective way in the RFID world."
TouchSuite acquires Alpine
TouchSuite acquired the assets of IQ Payment Systems, dba Alpine Payment Systems, through a newly formed subsidiary. Vancouver, Wash.-based Alpine, a merchant acquirer serving the restaurant, hospitality and retail verticals, has built an integrated payments business with a highly scalable distribution platform. Utilizing TouchSuite's collection of technology products, strong capital base and expertise in advising ISOs, Alpine expects to expand rapidly over the next year.
PARTNERSHIPS
Bluefin, NCR join forces
Bluefin Payment Systems LLC and NCR Corp. collaborated to provide Bluefin's PCI-validated point-to-point encryption security solution to merchants and retailers utilizing NCR's Counterpoint Retail Solution to process payments through NCR Secure Pay. The joint offering will enable NCR clients to offer a higher level of security to their customers, Bluefin said. The NCR Secure Pay payment gateway service allows clients to process credit, debit, and gift cards over the Internet through a variety of supported processors.
TSYS, ECL team up
According to TSYS, over 8,000 ophthalmologists and optometrists now have access to its integrated payment solutions through a partnership with Eye Care Leaders, which provides performance-based management solutions to eye care practices. The partnership will enable ECL's network of U.S. optometry and ophthalmology clients to utilize TSYS' secure processing solutions and services, TSYS added.
Shift4, Megasys partner for hospitality
Shift4 Payments LLC and Megasys Hospitality Solutions jointly released an EMV-certified payment solution for full-service, multiproperty hotels, resorts, conference and retreat centers; as well as park lodges, cabins and campgrounds. "Shift4's secure payment gateway integrates with Megasys' Portfolio HMS to deliver a flexible, cost-effective and highly secure hospitality property management and payment solution, including full merchant services," the partners stated.
APPOINTMENTS
Hernandez joins Payveris board
Payveris, creator of the cloud-based MoveMoney Platform, appointed Louis Hernandez Jr. to its board of directors. Hernandez is the founder, managing director and CEO of private equity fund Black Dragon Capital LLC. He has founded and advised technology organizations ranging from startups to large publicly traded companies, and served as chairman and CEO for 14 years at Open Solutions, a startup company that achieved revenues above $400 million, Payveris noted.
Nigul joins Elastic Path
Elastic Path, a provider of enterprise API commerce solutions, hired former IBM digital commerce development lead and master inventor Leho Nigul as its new vice president of product development. Harry Chemko, CEO of Elastic Path, stated that Nigul's depth of commerce industry knowledge, product architecture and development experience will be instrumental to advancing the company's product vision.
Novak hired by BillGO
BillGO Inc., developer of a bill payments engine that integrates with existing payment systems, appointed Jim Novak as vice president of business development. Novak brings extensive leadership experience, having established hundreds of bill connections for Intuit's Mint. As vice president of sales at First Billing Services, he helped accelerate the company's revenue growth and business development programs, BillGO noted.

The Green Sheet Inc. is now a proud affiliate of Bankcard Life, a premier community that provides industry-leading training and resources for payment professionals. Click here for more information.
Notice to readers: These are archived articles. Contact names or information may be out of date. We regret any inconvenience.
Prev
Next