The Green Sheet Online Edition
February 12, 2018 • Issue 18:02:01
New Products
360-degree virtual, guided shopping experience
Product: Virtual Store
Company: VirtualAPT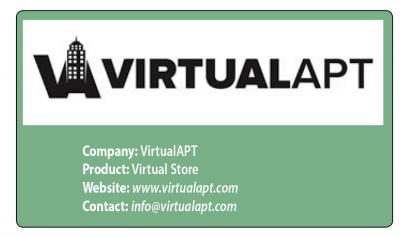 Virtual reality (VR) technology company VirtualAPT created Virtual Store, a VR video solution designed to enhance online shopping. As viewers move through a 360 x 180-degree virtual store, they can click on hotspots to learn more about a product or complete a sale. The video works across multiple languages, browsers and devices, without requiring a VR headset or proprietary app, company representatives stated.
"We wanted to create a realistic, immersive video experience," said Bryan Colin, co-founder and CEO at VirtualAPT. "We designed and built robots with advanced lenses and sensors that move around and capture 360-degree video. Using the same kind of technology as self-driving cars, they capture, edit and compress frame-by-frame data for web-based platforms."
Colin said the robots are part of an end-to-end technology suite that can be customized and branded. The proprietary platform features an array of high-quality video, interactive hotspots and other digital tools; clients can selectively implement VR and AR (augmented reality) elements to create guided tours, marketing videos and all types of entertainment, he noted.
One-of-a-kind storytelling
Every merchant brings a unique set of requirements and brand story to VirtualAPT and works with the company's programmers and staff to create a one-of-a-kind experience, Colin noted. "Rather than focusing on our platform's features and benefits, we evaluate each client's target audience, product or service and brand messaging," he said. "Then we build from scratch."
"VirtualApt's technology provides a one-of-a-kind shopping experience for our customers," said Jason Schott, Chief Operating Officer at Schott NYC, a clothing retailer. "Integrating the technology as a sales tool has allowed us to give our customers an intimate, one-on-one presentation of our products."
Christopher Sander, co-founder and CEO at Eye Hunee, added, "When I met with VirtualAPT programmers, I rattled off a million questions, and all the things I could have imagined, they were able to do." Sander, a fashion retailer who markets celebrity brands, wanted to plant a music video inside a VR video, to cross promote bestselling items.
"We displayed bestsellers as spinning, clickable items inside an augmented video, with rich graphics and a 360-degree view of the store," he said. "Then we started building games inside fresh music videos by known artists. We'd stage virtual scavenger hunts by placing free and deeply discounted items around the store. It had a cool feel that no one had seen in a retail and fashion setting."
Sander said Eye Hunee continues to produce VR videos, learning from each experience and finding the videos simple to update on the fly – without requiring a lot of time or money. "We can change direction and add things without starting over, because the platform is very friendly," he said. "Unlike the past, when video editing was slow and painful, you can make unlimited tweaks to an existing video and create something totally new."
Boost conversions
Eye Hunee experienced a 600 percent increase in web traffic on the first day the video aired, and a 300 percent increase in sales the following month, Sander noted. He also found viewers who typically spent one and a half minutes on the website were spending five times longer on the site, measurably increasing brand engagement.
Shoppers find the Eye Hunee VR experience comparable to being in a real retail store, Sander said, because they can look around in 360 degrees and choose items off the rack or from models. AR elements enable viewers to interact with clickable items within the video that direct them to shopping carts, inventory information and product details.
"Today's customer deserves a new and better way to shop online," Sander stated. "Eye Hunee is ecstatic to collaborate and partner with VirtualAPT, a premier virtual and augmented reality technology company."

Website: www.virtualapt.com Contact: info@virtualapt.com
The Green Sheet Inc. is now a proud affiliate of Bankcard Life, a premier community that provides industry-leading training and resources for payment professionals. Click here for more information.
Notice to readers: These are archived articles. Contact names or information may be out of date. We regret any inconvenience.
Prev
Next