The Green Sheet Online Edition
September 13, 2010 • Issue 10:09:01
ISOMetrics
Breaches across America
Installment three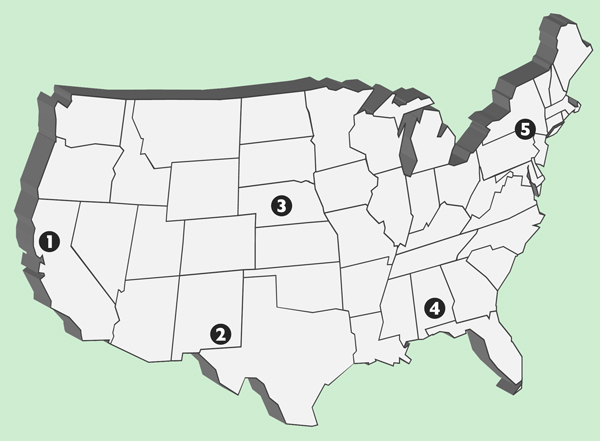 Here is a compilation of major data breaches that have occurred since our last report in The Green Sheet, April 13, 2009, issue 09:04:01.
1. West
California
Los Gatos, Jan. 1, 2010 - A class action lawsuit was filed against Netflix Inc., claiming the company voluntarily disclosed sensitive and personal information of nearly 480,000 subscribers in an online contest.
Cupertino, June 9, 2010 - A security breach exposed potentially confidential information of an estimated 114,000 Apple Inc. iPad 3G subscribers in the AT&T network, creating vulnerabilities to spam and malicious hacking.
Colorado
Englewood, June 21, 2010 - Credit card information on orders placed with the Sony Style Telesales Department from May 23 to June 3, 2010, may have been illegally copied and sent to parties outside Sony Corp.'s third-party TeleTech network.
Englewood, June 29, 2010 - Destination Hotels & Resorts uncovered malicious software inserted into its credit card processing system from a remote source, compromising the card data of nearly 700 hotel guests.
Washington
Alexandria, March 24, 2010 - A skimming device was used at the Wachovia King Street Bank ATM to capture data and withdraw $60,000 from bank customer accounts.
2. Southwest:
Texas
Dallas, Feb. 28, 2010 - Hackers broke into up to 31 computer systems at Wyndham Hotels and Resorts, stealing an unknown number of hotel customer names, along with their payment card information.
Fort Worth, July 4, 2010 - A hard drive was stolen from American Airlines Corp. headquarters, exposing personal and limited bank account information on nearly 79,000 American Airlines retirees, as well as former and current employees.
San Antonio, July 9, 2010 - Thieves confiscated credit card receipts of 17,000 hotel guests from a storage room in the Emily Morgan Hotel in 2006 and subsequently charged hundreds of thousands of dollars in fraudulent transactions in three states.
3. Midwest:
Indiana
West Lafayette, July 4, 2010 - Hackers infiltrated restaurant franchise developer Beautiful Brands International's credit card processing system, affecting an unknown number of credit card accounts.
Iowa
Des Moines, Jan. 31, 2010 - An external account was used to gain access to the Iowa Racing and Gaming Commission's server, which holds 80,000 casino employee records containing names, birth dates and Social Security numbers.
Minnesota
Eden Prairie, June 4, 2010 - A data theft involving 200,000 personal records from e-commerce company Digital River Inc. led investigators to hackers in India and a 19-year-old in New York, who allegedly tried to sell stolen information to a Colorado marketer for $500,000.
Ohio
Miamisburg, May 1, 2009 - LexisNexis and Investigative Professionals notified 40,000 cardholders that unauthorized individuals gained access to names, birth dates, and possibly Social Security numbers; some were used by a Nigerian scam artist to obtain fraudulent cards.
4. South:
Arkansas
Bentonville, June 7, 2010 - A credit card scheme totaling $781,581.80 in losses occurred at Sam's Club and Wal-Mart Stores Inc. locations in Connecticut, New Jersey, Massachusetts, Rhode Island, New Hampshire, New York, Pennsylvania, Maryland, Delaware and Puerto Rico.
Florida
Gainesville, Feb. 6, 2010 - Nearly 1.1 million records containing data on current and former AvMed Health Plans subscribers and their dependents was compromised in the theft of two company laptop computers.
Georgia
Atlanta, Jan. 6, 2009 - Criminals seized control of multiple CheckFree Corp. Internet domains, redirecting customer traffic to a Ukraine-based website, impacting 160,000 customers and 5 million records.
5. Northeast:
New York
New York, May 11, 2009 - Thieves used ATM skimming devices and pinhole cameras at multiple financial institutions to steal account and password information from an unknown number of bank customers and created phony ATM cards to access bank accounts.
New York, Sept. 5, 2009 - A Mitsubishi Corp. Internet shopping unit lost credit card details on 52,000 customers after overseas hackers breached the company's computer servers.
New York, July 27, 2010 - Citigroup Inc's mobile banking iPhone application was found to have a security flaw that saves account numbers, bill payments and security access codes in a hidden file on the user's phone and computer. An upgrade to fix the problem is available for its 117,600 users.
Virginia
Richmond, May 4, 2009 - The FBI was called in when hackers demanded $10 million for records stolen from the Virginia Prescription Monitoring Program database containing data for over 35 million prescriptions dispensed since 2006 for federally controlled drugs with a high risk for abuse.
(Source: Privacy Rights Clearinghouse)

The Green Sheet Inc. is now a proud affiliate of Bankcard Life, a premier community that provides industry-leading training and resources for payment professionals. Click here for more information.
Notice to readers: These are archived articles. Contact names or information may be out of date. We regret any inconvenience.
Prev
Next