The Green Sheet Online Edition
December 26, 2022 • Issue 22:12:02
Industry Update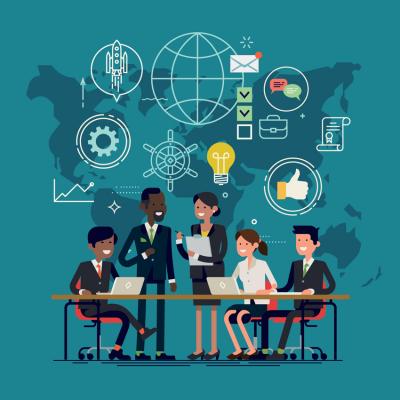 ANNOUNCEMENTS
American Express launches B2B solution
American Express launched Amex Business Link, a new business-to-business (B2B) payments ecosystem for network issuing and acquiring participants to offer to their business customers. Amex Business Link makes managing payments easier for buyers and suppliers of all sizes by accepting card and non-card payments and supporting domestic and cross-border transactions, the company stated.
The new digital ecosystem is equipped with reporting and reconciliation tools and connects to all customer relationship management and enterprise resource planning systems that use APIs, AmEx added.
Fluid Pay named a 2022 top payment processor
Fluid Pay was named one of the Top 10 Payment Processing Companies by Banking CIO Magazine and was also featured on the cover for the magazine's November "Payment Processing Edition" issue. Fluid Pay representatives stated the company is honored by the recognition, adding that Fluid Pay's goal has always been to create a suite of products that function inside a completely cloud-based environment while being scalable for any size merchant both small and enterprise-level businesses.
"This is a testament to our ISOs and their merchants," said Ted Cucci, Fluid Pay president and CEO. "They have placed us at the forefront and enabled us to develop industry-leading products."
Forrester names Cinchy a top 15 dataware provider
Forrester, a global advisory, research and industry analyst firm, cited Cinchy as one of the 15 top enterprise data fabric providers. In the report, The Forrester WaveTM: Enterprise Data Fabric, Q2 2022, Cinchy received the highest score possible in the Product Vision category. Describing the Cinchy offering as an "easy-to-use fabric solution," the Forrester Wave report noted that the company "focuses on collaborative intelligence, leveraging data as an adaptive network to accelerate digital transformation.
Cinchy has demonstrated the ability to innovate by delivering an integrated end-to-end data fabric with a high degree of automation to simplify fabric development and deployment."
Nacha releases new guide on voice payments
Nacha's Payments Innovation Alliance created a new resource aimed at financial institutions, billers and payment processors. Voice Payments: Guide to Nacha's Operating Rules identifies the most common conversational payments use cases, offers answers to frequently asked questions and assists in determining the Standard Entry Class (SEC) Codes for consumer bill payment use cases using voice-assisted devices or smart speakers for ACH payments.
Written by members of the Alliance's Conversational Payments and Cybersecurity Response Project Teams, the guide completes a series of conversational payments-focused Executive Briefings, including Voice Payments: An Introduction and Overview; A Deep Dive into the Technology Behind Voice Payments; and Voice Payments: Contractual Considerations for Financial Institutions.
VizyPay cash discount honored in Biz Awards
VizyPay, a payment processing fintech company, won bronze in the Most Innovative Product of the Year for Small or Medium Business category in the 2022 Best in Biz Awards, an independent business awards program judged annually by prominent editors and reporters from top-tier publications in North America. VizyPay earned this honor for its cash discount program (CDP). Focused on bringing robust yet simple payment processing technology to small businesses in rural areas traditionally underserved by industry giants, VizyPay's CDP provides unlimited monthly credit card processing for a low month-to-month subscription, VizyPay stated.
RESEARCH
Giving away reward points has appeal, study finds
New research released by Forbes Advisor disclosed that of 1,000 U.S. adults surveyed, 53 percent with a rewards credit card would consider giving points or rewards as a gift to someone else. Sixty-four percent of Gen Zers would consider giving credit card points or rewards as a gift, compared to just 26 percent of millennials. Male respondents indicated they are more likely than women to consider giving credit card points or rewards as a gift—61 percent of male respondents versus 50 percent of female respondents. And for 25 percent of participants, plane tickets are the most desirable travel-related gift, followed closely by hotel stays (17 percent) and cash (16 percent). 
MaaS to grow by more than 350 percent in five years
A new study from Juniper Research, Mobility-as-a-Service: Business Models, Vendor Strategies & Market Forecasts 2022-2027, found that mobility‑as‑a‑service (MaaS) will generate revenue of $92 billion globally by 2027, up from $20 billion in 2022. Growing by 357 percent over the period, the main drivers will be the cost and convenience of MaaS solutions and the increased investment into MaaS infrastructure, researchers found.
The report also predicted that, by 2027, 65 percent of global MaaS revenue will be generated through subscriptions. MaaS platforms provide consumer urban transport solutions, such as bus, metro and ride hailing, all integrated into a single platform, enabling users to organize a multimodal journey through one billing relationship, they added.
LexisNexis Risk Solutions assesses global state of fraud, ID
LexisNexis Risk Solutions released the results of its first Global State of Fraud and Identity Report, exploring research and insights from industry experts on recent statistics and trends from the research firm's studies on the global true cost of fraud and transaction data from over 39 billion transactions from the LexisNexis Digital Identity Network from January 2022 to June 2022.
The report demonstrates how digital transactions dominated the global marketplace as the pandemic-driven trend of consumers migrating to online interactions became commonplace behavior, researchers noted, adding that digital transactions in the LexisNexis Digital Identity Network rose by 37 percent year-over-year for the period.
X9 study demystifies quantum computing risks
The Accredited Standards Committee X9 Inc. (X9) published an updated version of Quantum Computing Risks to the Financial Services Industry, denoted X9.IR-F01-2022. The 120-page document, available for download at no charge at www.X9.org, delivers a broad background on quantum computing and the security risks it is expected to pose to cryptography—specifically, the cryptography the financial services industry depends on. The financial industry could be particularly hard hit should the potential computational power posed by quantum computing become a reality, according to researchers. It is predicted that large-scale, stable quantum computers will be able to quickly solve the mathematical problems upon which today's widely deployed cryptographic systems are based, systems now in use to protect sensitive information on the internet and throughout the industry, X9 noted.
PARTERSHIPS
Blackhawk, The Container Store expand partnership
Blackhawk Network expanded its partnership with The Container Store to include the retailer in Blackhawk's SaaS-based rewards and incentives platform. The platform, Blackhawk stated, allows any company to easily stand up a program to reward or incentivize customers, partners or employees.
Recent research conducted by Blackhawk found that Americans want rewards from the companies they interact with. In addition to its gift card portfolio options, Blackhawk's B2B offering provides end-to-end program management that solves many of the pain points merchants see today, including technology-first solutions and scalability, Blackhawk noted.
I2c, QNB power digital issuance at World Cup
i2c Inc., a provider of digital payment and banking technology, partnered with QNB Group, the official Middle East and Africa supporter of the FIFA World Cup 2022, to power digital issuance of the Visa FIFA World Cup Qatar 2022 prepaid card. "We are honored to support such an innovative and impactful use case in support of one of the world's most beloved events," said Amir Wain, founder and CEO of i2c. By leveraging i2c's agile banking and payments platform, QNB Group is issuing virtual Visa prepaid cards to end users' mobiles, securely enabling digital and NFC-based contactless digital payments as well as Apple Pay, the partners stated.
Ontop to deploy ThetaRay AI-powered AML
ThetaRay, a provider of AI-powered transaction monitoring technology, disclosed that fintech platform Ontop selected ThetaRay's advanced SONAR anti-money laundering (AML) solution to monitor and detect known and unknown financial crime threats. Ontop was founded in 2020 to solve complications with cross-border payments for workers who went remote during the COVID-19 pandemic, as well as to open new opportunities for companies to tap into global talent.
The Ontop platform is used in 67 countries and is currently processing payments worldwide, the partner stated, adding that ThetaRay's SONAR is based on a proprietary form of artificial intelligence (AI) that replaces human bias, giving the system the power to recognize anomalies and find unknowns outside of normal behavior, including completely new typologies.
ACQUISITIONS
Perwyn agrees to acquire VIXIO
Private equity investor Perwyn agreed to acquire VIXIO Regulatory Intelligence, a provider of regulatory and business intelligence to the global payments and gambling industries, from Kester Capital. Through its PaymentsCompliance and GamblingCompliance subscription products, Perwyn noted, VIXIO enables regulatory and legal teams around the world to manage risk confidently and discover new market opportunities by providing in-depth information, data and analysis. Perwyn added it will invest behind the VIXIO management team to further expand the depth of the intelligence platforms within these fast-moving markets, increase geographic penetration, widen the product set and move into adjacent markets.
Wolfe acquires GiveInKind
Wolfe LLC, a provider of gift card fulfillment, acquired (through a wholly owned subsidiary) Give InKind, a social giving platform. Give InKind was founded in 2016 to allow customers to organize support for anyone, from anywhere. Wolfe stated that this acquisition will enable Give InKind to utilize Wolfe's cutting-edge, card-to-card gifting platform, print-on-demand fulfillment center, as well as marketing expertise, to provide an even better solution to help those in need with gift cards, meaningful gifts and funds in times of crisis. Wolfe added that its mission is to provide a more beautiful, faster, personalized and fraud-free gift card.
WPP to acquire Diff
WPP stated it is acquiring Diff, an award-winning developer of tailor-made commerce solutions with specialized capabilities that address the rapidly growing Shopify commerce ecosystem. Founded in 2011 by Benjamin Crudo, the 115-strong company will join the Wunderman Thompson global network, complementing its world-class commerce and marketing services teams in North America, WPP added.
Diff specializes in growth strategy, front-end design, site optimization and system integrations that have enabled the agency to create some of the most innovative, complex and high-performing online stores on the Shopify platform, which now accounts for 10 percent of the U.S. ecommerce market share, WPP said.
APPOINTMENTS
J.P. Morgan Payments taps Pat Brolly
Pat Brolly joined J.P. Morgan Payments as EMEA head of acquiring platforms and rails in the company's Payments and Commerce solutions franchise. Brolly has 25 years' experience in financial services, having held a variety of product and commercial roles at Capital One, Morgan Stanley, Barclaycard and Visa.
Most recently she led product for Visa Europe and the UK, which included the end-to-end commercialization and delivery of Visa's core, digital, and risk and identity solutions to its issuing and acquiring clients and partners across 38 markets. This included deep involvement in developing Visa's digital payments capabilities.
Six leaders join The Payments Association Advisory Board
The Payments Association, which celebrates innovation and collaboration across the payments industry, added six executives to its Advisory Board. The new members are from a payments scheme, two banks, two technology companies and a blockchain business. The board is voted for by the 182 member organizations and now comprises one-third women, almost 30 percent people of color and almost 30 percent from smaller companies
The new members are Darren Deal, senior vice president – fintech, government & digital partnerships, UK&I at Mastercard; Ian Povey, CIO payments services & technology, group payments COE at NatWest; Paul Horlock, chief payments officer at Santander UK; Noyan Nihat, COO of Privat 3 Money; Laura McCracken, managing director, ecommerce & payments at Accenture; and Sendi Young, managing director UK and Europe at Ripple.
VizyPay promotes Alex Schaeffer, Marj Chaffin
VizyPay promoted from within to build its new Learning & Development Department. Alex Schaeffer took on the role of director of the department. Marj Chaffin joined him as principal trainer. They will train new hires, create educational materials and build out VizyPay's employee development processes ahead of the company's upcoming hiring blitz in 2023, VizyPay stated.
Schaeffer's duties will primarily consist of building out VizyPay's learning management system, which will house courses and future Learning for Geniuses educational training. Chaffin will serve as the primary instructor for new hire orientations. In addition to Vizonian University sessions, she will work one-on-one with new hires to ensure they are comfortable with the basics of the industry and VizyPay's products before their specific department training.

The Green Sheet Inc. is now a proud affiliate of Bankcard Life, a premier community that provides industry-leading training and resources for payment professionals. Click here for more information.
Notice to readers: These are archived articles. Contact names or information may be out of date. We regret any inconvenience.
Prev
Next