The Green Sheet Online Edition
February 25, 2019 • Issue 19:02:02
Industry Update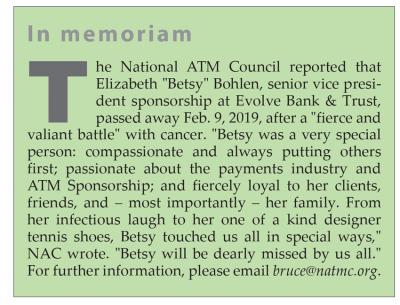 ANNOUNCEMENTS
ControlScan certified as Verifone MNSP
ControlScan, a managed security and compliance provider, was certified by Verifone as a Managed Network Service Provider (MNSP). Under the new MNSP partner program, convenience retailers utilizing Verifone Commander and RubyCi POS systems are approved to use ControlScan for managed security and other network-related services. The Verifone certified MNSP partner program provides visibility and control by ensuring that the service provider connecting to Verifone is properly vetted as secure and PCI compliant, ControlScan noted.
Elavon expands presence in Atlanta
Elavon, a global payment processing provider, expanded its presence in Atlanta with a build-out at the Concourse campus in Sandy Springs. Elavon has also hired 120 new employees in the past year, and to support future growth, it plans to hire approximately 500 employees globally over the next three years. It currently employs more than 730 people in Atlanta and more than 4,500 worldwide.
Homburger honored at Woman in Payments symposium
Carolyn Homberger, group president at ACI Worldwide, was recognized at the U.S. Women in Payment Symposium, receiving the Rising Star Under 40 award for her leadership and professional excellence in the payments industry. "Since joining ACI in 2006, Carolyn has held several key roles across different business divisions and has led significant transformation projects," ACI noted, adding that she is a key decision-maker at the company and a "strong advocate for the leadership and growth of women in the payments industry, launching ACI's own Women's Initiative."
Paysafe innovates iGaming payments
Global payments provider Paysafe Group introduced a new single point of integration to its range of payment solutions using a software API. The unified platform is available to iGaming operators in the United States as the market opens up to online sports betting. Using Paysafe's single integration, operators and the developers they work with, can access the full extent of Paysafe's core, alternative and future differentiated payments services, Paysafe stated.
RESEARCH
CCW Digital reports on automation impacts
According the CCW Digital study Augmenting Contact Center Automation, 88 percent of customer contact leaders expect automation to either improve agent workflow or elevate agent performance. Only 2 percent believe automation will replace human labor; the other 8 percent are uncertain of automation's impact.
Canadian payments analyzed
ResearchAndMarkets.com published Payments Landscape in Canada: Opportunities and Risks to 2022 to present detailed analysis of market trends in the Canadian cards and payments industry. It provides values and volumes for a number of key performance indicators in the industry, including cash, cards, credit transfers, direct debits and checks from 2014 through 2018. The report also analyzes various payment card markets and provides data on number of cards in circulation and transaction values and volumes.
ETA examines fintech impacts on underserved
The Electronic Transactions Association released a white paper exploring how financial technology (fintech) innovation broadens access to financial products and services. How FinTech is Addressing the Needs of the Underserved highlights the financial institutions, payments companies and fintech companies transforming the marketplace through the introduction of new technologies that are expanding accessibility, lowering costs, empowering financial management, and driving a more secure ecosystem.
PARTNERSHIPS
AmEx, Bill.com introduce Vendor Pay
American Express Co. and Bill.com formed a strategic partnership offering American Express "Vendor Pay" by Bill.com. Vendor Pay couples automating accounts payable process with the ability for businesses to seamlessly pay vendors with American Express Business or Corporate cards, without setting up a new card account, the partners said, adding that the solution improves working capital and cash conversion cycles, and provides better data for payment reconciliation, all while helping businesses earn rewards.
ATMIA, ASA join forces permanently
The ATM Security Association and the ATM Industry Association signed a final agreement to join forces and work together permanently. ASA will retain its name and logo and will now fall under the governance and ownership of ATMIA. The agreement, which comes into immediate effect, is the culmination of the successful aligned work achieved under the earlier Memorandum of Understanding signed in March last year, the partners said.
NBP adds Banner Season Marketing
National Benefit Programs added Banner Season Marketing LLC to its offerings. Banner Season enables clients to send greeting cards and branded, personalized gifts to their customers. "This discounted program gives our customers access to the Design Studio for free (normally $9.95 per month)," NBP stated. "Merchants can turn their prospects and clients into your biggest fans."
ACQUISITIONS
DiscoverOrg acquires ZoomInfo
DiscoverOrg stated it acquired Zoom Information Inc, to provide sales, marketing, and recruiting professionals access to the most trusted, comprehensive B2B data available in the market. "High-quality data is the fundamental go-to-market requirement for growth," said DiscoverOrg co-founder and CEO Henry Schuck. "CRM and marketing automation systems will be defined not by their empty-box capabilities but by the data that is housed inside them."
SpotOn gains Lifeyo
Payments and software company SpotOn Transact LLC acquired Lifeyo, a website development platform that will be rebranded as SpotOn Website. This will enable SpotOn merchants to create a professional and functional website quickly, SpotOn stated, adding that its platform and suite of tools also includes payment processing, customer engagement and business solutions to help small and midsize businesses grow.
TouchSuite invests in Grubbrr
TouchSuite made a strategic investment in Grubbrr, a disruptive technology platform that enables a variety of businesses to rapidly implement a suite of self-service kiosks, provided by Zivelco and facilitating POS systems, mobile orders and online ordering. Grubbrr serves businesses ranging from the independent, single location operator to enterprise chains operating thousands of locations, TouchSuite stated.
APPOINTMENTS
Sarah Adams joins FAPS
Sarah L. Adams joined the First American Payments leadership team as vice president, global product. In this role, Adams will lead First American's comprehensive product strategy, inclusive of all subsidiaries that comprise the First American family of companies. She brings extensive strategic product planning and project development experience, underscored by certifications and proven expertise in lean and agile business management, FAPS said, adding that Adams previously worked with PaySafe, POS Portal, Capital One and Aperia Solutions.
Orfei, Farmer to advise Bluefin
Stephen W. Orfei, a former general manager of the PCI Security Standards Council (PCI SSC) and Mastercard executive, will serve as chairman of Bluefin's Product Advisory Board. Additionally, Rodney Farmer, member of the PCI SSC Board of Advisors and board member of the European Payment Service Providers for Merchants joined Bluefin's Product Advisory Board.
NBP welcomes Bill Pirtle
National Benefit Programs welcomed Bill Pirtle, an author, industry expert and frequent contributor to The Green Sheet, to help open doors and create new partnership opportunities for the company. His responsibilities will include "large scale portfolio management relationships within the payment acquiring industry, as well as complementary industries with organizations that have the ability to manage a portfolio and create organic growth," NBP said.

The Green Sheet Inc. is now a proud affiliate of Bankcard Life, a premier community that provides industry-leading training and resources for payment professionals. Click here for more information.
Notice to readers: These are archived articles. Contact names or information may be out of date. We regret any inconvenience.
Prev
Next