We can't wait to see you!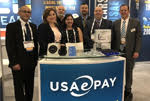 It's that time of year, when people from companies across the entire payments ecosystem get ready to gather together at the annual Electronic Transactions Association (ETA) conference. Aptly named Transact, this year's event is being held April 30-May 2 at the Mandalay Bay Event Center in Las Vegas.
The theme for the 2019 conference is "From Start to FinTech," and as usual, there is a power-packed agenda with everything from new trends in payments to the latest security technologies, showcasing what is relevant now in the industry and providing a forecast of things to come.
"The ETA Transact event is always a great place to learn, connect with our partners, and feature the latest technologies and upgrades our company is introducing to the industry," said Martin Drake, USAePay President.
Please visit our exhibit
Like every year before, the Transact showroom floor will be abuzz with company displays, product demonstrations, new business conversations, and industry reunions between peers.
Of course, USAePay will be proudly exhibiting once again at the annual ETA event, and our company leaders are looking forward to the once-a-year chance to visit with current and future partners in person about USAePay news and technology updates.
"We always have a great deal in development at USAePay, and we're excited for this annual opportunity to share our progress and new releases with friends and colleagues," Drake continued. "We invite everyone attending Transact to come by our exhibit booth #3012 to say hello, catch up, and learn more about what's been keeping our development team busy this past year."
Partnerships, new and old, welcomed
If you're already a USAePay partner, you understand the benefits of working with one of the industry's oldest and most widely acclaimed payment gateway service providers. If you plan to attend the Transact event this year, we hope you will drop by to see your USAePay representatives and our latest gateway, integration, reporting, and security enhancements.
If you aren't currently working with USAePay, this year's Transact event would be a great time to come by our exhibit, introduce yourself, and see at what we can offer you. You'll learn USAePay is committed to staying at the forefront of the industry's ever-changing technology environment to ensure our solutions not only meet compliance standards but are also providing our partners, and their merchant customers, with topline, state-of-the-art functionality and security.
"It is critical that we keep our technologies as high performing as they can be to meet the current demands of our dynamic industry," said Vlad Galyuz, Vice President of Product Development. "We are constantly enhancing our products and want to provide our partners with the best gateway functionality available to them in the marketplace."
Not going to Transact this year?
If you don't plan to attend the Transact event this year, your friends at USAePay would still like to talk with you. If you're interested in seeing what we have on deck for new releases, or just want to know more about our robust payment gateway product suite, we urge you to visit our website at usaepay.com or reach out to us directly via phone or email.
---
Featured content specifically for USAePay:
Automation for large retailers
Diversifying the payment gateway
Simplifying large-scale EMV management
Mobile POS integrity you can count on
The coding behind your USAePay integration
Superb card-not-present strength and security
New and improved iOS app for POS