Automation for large retailers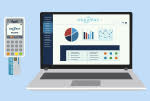 If you're a software-as-a-service provider or payment services company that supports enterprise-level businesses with multiple storefront locations, you know firsthand how complex payments networks can be in these large retail businesses.
Transaction information from every location must be routinely gathered, batched and aggregated, with ongoing activity monitored consistently for fraud and integrity. Moreover, on the hardware side, managing everything from terminal maintenance, to deployment and system-wide upgrades, is a major undertaking.
In fact, these systems are so complicated to manage, many enterprise retailers hire third-party Information Technology (IT) vendors to do the job remotely, or they employ developers to work inside the IT department to keep the payments system running like a well-oiled machine.
"The payments system inside a large retail enterprise is made up of a large network of devices, software and data management tools," explained Vlad Galyuz, Vice President of Product Development at USAePay. "It is generally managed through a master control location and is a critical IT function for any large retailer."
Simplifying device management
One of the hardest parts of stewarding a large retail payments network can be the deployment and management of devices used by storefronts across multiple state or country lines.
As a provider of enterprise-level payment management tools through its partner network, USAePay concentrates on providing value-added resellers (VARs) and independent software vendors (ISVs) innovations that will continually add efficiency to the merchant.
In this spirit, USAePay is proud to announce they have been piloting a new tool dubbed Connection Manager Pro that will make management of multiple hardware devices easier.
"A year ago, USAePay began piloting the new Connection Manager Pro tool with a retail mattress merchant with thousands of storefront locations," Galyuz said. "We staged the rollout, starting with 200 stores, and are now up to several thousand and three enhanced generations of the product."
Throughout this time, USAePay gathered formal feedback from the customer to prepare the tool for its full rollout to USAePay's entire VAR and ISV partner network.
"Our goal is to make our customers happy and feedback means everything to us," stated Galyuz, confirming USAePay's dedication to following standard piloting practices and releasing only fully-vetted products. "We have weekly calls with our pilot partner to go over issues, process flow and other topics," he added.
All the bells and whistles
How does the Connection Manager Pro tool work?
For starters, it doesn't require a license. The system administrator can simply adjust permissions in the control panel and the functionality is available to anyone responsible for managing that merchant's payment network. Even third parties with a login can access the Connection Manager Pro tool through USAePay's device manager portal.
Also included:
Every payment device is seen, whether online or offline
Built-in alerts for independent device firmware upgrades
Multiple IT administrators and/or developers have access with one login
Searchable tags for device brand, model number, region, etc.
Additionally, "deployment keys" were recently added, enabling the administrator to create preset deployment templates for service regions or device types. When a location is opened, the merchant simply texts the deployment settings to an onsite employee for remote set up. "It's a way to scale the stores very quickly, which is an important efficiency feature," Gayuz said.
More good news!
USAePay is also making the Connection Manager Pro tool standardly available as part of the enterprise version of its payment gateway. Meaning, there is no additional fee to enterprise merchants that already use the gateway suite or new adopters.
As far as next steps, Galyuz confirmed the company is in the process of isolating one more pilot case to test the product with. Then, they will roll it out as part of the standard enterprise suite.
Additional features are also afoot, with reports and analytics at the top of the list. The company estimates this enhancement to go live sometime during third quarter 2019, including stats and reports measuring down time, transactions and alerts by device.
Another feature in development will enable merchants to display important customer messages through the terminal screen. Examples include promotions, purchase agreements, credit approvals, etc., and merchant will also be able to bundle these messages by service area.
"We believe Connection Manager Pro will give reseller partners a differentiator," Galyuz concluded. "Everyone wants to serve enterprise-level merchants and this product will give our partners a new way to attract big retailers into their portfolios."
Need a new gateway partner?
If you are interested in learning more about a reseller partnership with USAePay or tools such as the new Connection Manager Pro, you are invited to visit www.usaepay.com or contact a company representative directly at (866) 872-3729.
---
Featured content specifically for USAePay:
Automation for large retailers
Diversifying the payment gateway
Simplifying large-scale EMV management
Mobile POS integrity you can count on
The coding behind your USAePay integration
Superb card-not-present strength and security
New and improved iOS app for POS