Diversifying the payment gateway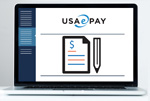 Historically, merchants have used the payment gateway exclusively to track electronic payment data. In most scenarios, this data is accessed online through a portal account or an integrated POS program, giving the merchant access and insight to transaction activity during a specified period of time.
Since many merchants handle over-the-counter or online sales in a business-to-consumer (B2C) setting, they routinely turn to the gateway dashboard to see daily transaction totals, keep an eye on cash flow trends and determine whether any debits have been charged back against the bottom line. Though invoicing isn't a common practice for these B2C merchants, they do occasionally need to bill customers for outstanding purchase balances, support fees or remote sales. Of course, business-to-business (B2B) merchants also send invoices to clients for services. However, the management of invoicing activity has generally been handled outside of the gateway portal.
"Invoicing was not a standard feature in the early payment gateway models," said Vlad Galyuz, Vice President of Product Development at USAePay. "The initial purpose of the gateway was only to track real-time transactions coming to the merchant through frontline electronic payment channels."
Serving today's business model
Fast forward, and the world of business has changed dramatically. Customers of all types are using mobile devices to purchase both online and in the store. Businesses are also issuing less paper checks to pay B2B vendors and are now paying many invoices electronically. Consequently, the landscape of electronic payments and the gateway technologies that are used to support them, have also evolved.
"For over twenty years, USAePay has worked diligently to ensure its payment technologies keep pace with present-day merchant business needs," stated Ben Goretsky, USAePay co-founder and Chief Executive Officer. "Our gateway has now evolved into a powerful financial engine that not only facilitates and secures merchant transactions, but also manages the entire lifecycle of the transaction including front-end billing."
As Goretsky confirms, USAePay recently added a robust invoicing component to its gateway portal, enabling merchant users to initiate, track and manage invoice-based payments directly through the USAePay merchant portal. As part of the recent gateway update, the new invoicing module is now accessible as a menu option to all USAePay users through the merchant dashboard they already use to manage other transaction activity.
Electronic invoicing made easy
Through the intuitive invoicing screens, USAePay merchants are able to create, edit and manage electronic invoices. In addition, the merchant's customer can easily make a payment by clicking on a link that opens to a seamless and PCI-compliant online payment screen.
The invoicing feature in the USAePay portal also equips the merchant with an aggregated list feature. This list is filtered by the merchant to show all invoices during a designated period, pairing them with the customer, current status, amounts due, and corresponding dates. The user interface is also graphically enhanced and color coded to make on-the-fly perusal and quick management easy for any merchant user.
Perhaps, the most agile feature of the new USAePay invoicing module is the functionality that powers the building of an online invoice.
First, the merchant portal automatically builds customer profiles for any merchant that already has a merchant profile set up in the gateway. For new customers or those that don't already have a merchant profile, there is a convenient "customer profile" interface where a merchant enters unique identifiers about the customer being invoiced, as well as shipping information and standard payment terms. This area is also used to search for customers by name to view and track activity on an independent basis.
Merchants can build new invoices by identifying the customer and profiling the sale information, including the invoice number, invoice date, due date, and any unique payment terms and/or purchase order detail needed for that transaction.
Merchant products are also pre-built into the system so they can auto-populate through drop-down menus during an invoice build. The merchant is able to click the icon to the left of each item name to expand the product information and show additional fields such as SKU, Commodity Code, Tax Rate, Unit of Measure, and Description. The Commodity Code and Unit of Measure fields will also display in the line items on all invoice pages when a merchant is enabled for Level 3 processing. Custom products can also be added to the invoice.
Once an invoice is populated, the merchant is still able to edit it during a review process that follows the build prior to releasing it to the customer. If edits are required after a customer has received the invoice, there is also a feature that enables the merchant to force a late edit.
"We scoped the USAePay invoicing module to include the latest online invoicing features incorporated into the gateway portal our merchants already know," explained Galyuz. "This functionality pays tribute to USAePay's commitment to provide its customers with progressive financial tools that are conveniently accessible through the USAePay interface."
Give your merchants the best
The new invoicing module is just one of many groundbreaking steps USAePay is taking to ensure users of its gateway and financial management technologies have access to state-of-the-art payment management products. If you are interested in learning more about what USAePay can offer you and your merchants, or you would like to explore a new partnership with USAePay, please visit www.usaepay.com.
---
Featured content specifically for USAePay:
Diversifying the payment gateway
Simplifying large-scale EMV management
Mobile POS integrity you can count on
The coding behind your USAePay integration
Superb card-not-present strength and security
New and improved iOS app for POS