The Green Sheet Online Edition
June 27, 2022 • Issue 22:06:02
How technology is reshaping the finance industry
By Rohan Kapil
Jedox Inc.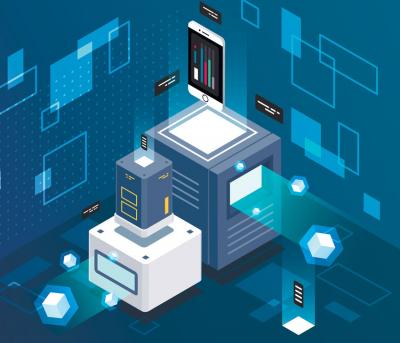 Digital transformation has been an upward business trend for some time, but lately its importance has risen significantly. For years, it simmered in the background, somewhere in dark corners of the IT department, with no real connection to the payments department, HR, controlling or even the office of finance.
Today, digital transformation is an enterprise-wide endeavor, connecting and affecting all business units. It's not just about "going digital"; it's also about the transformation and the mindset behind it.
According to the "The Essential Components of Digital Transformation," by Tomas Chamorro-Premuzic in Harvard Business Review, Nov. 23, 2021, organizations are predicted to have invested upward of $6.8 trillion in digital transformation efforts by 2023. Smart payments industry organizations will consider it part of their overall strategy this year, not the next.
Transformative tools such as artificial intelligence make it easier than ever to make powerful predictions that were either extremely difficult or nearly impossible to do in the past. Those predictions can not only help avoid potential obstacles, but they also can shine a light on the places in which the strategy needs to pivot to counteract them.
An important step in this process is to unify the data upon which finance professionals rely to ensure a solid foundation for an effective transformation.
The three levels of digital maturity
Digital transformation does not happen overnight. It can happen gradually or quickly, depending on the systems already in place. To determine a company's digital maturity, a few basic levels apply:
Low maturity: Nearly all finance-related tasks are done manually.

Intermediate maturity: Some reporting is based on manual input and some processes are automated.

Full-blown maturity: All planning and reporting processes that can be automated have been and offer real-time insights with a few clicks. Forecasting is robust because it incorporates predictive analytics, AI and/or machine learning.
How finance is changing
The pandemic sped up business innovation and stress-tested the concept of 100 percent remote work for many companies. Changes in the business world are nothing new, but today's realities are based on even more uncertainty than ever before. With so much new technology flooding the market and so much left uncertain, CFOs are scrambling to make sense of it all and determine how to effectively optimize value creation from within finance. Recent market conditions have changed, assumptions have been modified and geopolitical tensions with their ensuing sanctions have given rise to several finance trends:
The finance factory: Transactions will become touchless as automation and blockchain reach deeper into finance operations.

The role of finance: With operations largely automated, finance will double down on business insights and service. Success is not assured. The skills required by finance professionals will change, likely dramatically, as new combinations of technology and human workforces permeate the workplace.

Finance cycles: Finance has gone real time, meaning periodic reporting will no longer drive operations and decisions, if it ever did.

Self-service: Self-service will become the norm. Finance will need time to adjust to this new reality.

Operating models: With a widely dispersed workforce, finance will gain access to global talent pools and more specialized resources. It also will make greater use of freelancers. As businesses prize new capabilities, some CFOs will adopt the "center office" model, which emphasizes end-to-end processes, capabilities on demand and coordination of external partner networks.

ERP: Finance applications and microservices will challenge traditional ERP. Big vendors will be prepared.

Data: Having bad data flow into automated AI systems won't create efficiencies or result in practical business insights. To realize its digital transformation goals, finance will need an enterprise data strategy with a strong leader overseeing it. It will also need to sharpen its process and change management skills.

Workforce and workplace: Finance organizations will still need traditional finance and accounting skills. But they will also need workers with capabilities drawn from such areas as operations, technology and engineering. Finance will need to further sharpen its value proposition as a strategic business partner. People with business acumen, a service mindset and digital savvy will be in great demand.
Digitalization will continue to escalate. Finance professionals are no longer just generating reports, but also generating value across the entire enterprise as strategic business partners. The finance industry is being reshaped at this very moment and must keep pace with ever-changing market demands to ensure digital transformation is more than just a buzzword and can support cross-organizational planning that mirrors the unique contours of your business.

Rohan Kapil is the director of customer success for Jedox Inc, www.jedox.com/en, a leading EPM software solution provider. He holds a Master of Business Administration in Strategy and Finance and a Bachelor of Engineering in Computer Science. He has 14 years of experience in the enterprise performance management space solving critical financial planning and budgeting problems and executing complex projects to enable ambitious growth. Skilled at translating granular financial and non-financial information into actionable intelligence, he helps companies of all sizes enhance executive decision making and mitigate potential risks to improve business performance. Find him on LinkedIn at linkedin.com/in/rohankapil.
The Green Sheet Inc. is now a proud affiliate of Bankcard Life, a premier community that provides industry-leading training and resources for payment professionals. Click here for more information.
Notice to readers: These are archived articles. Contact names or information may be out of date. We regret any inconvenience.
Prev
Next