The Green Sheet Online Edition
May 24, 2021 • Issue 21:05:02
Inspiration
Make the most of each new day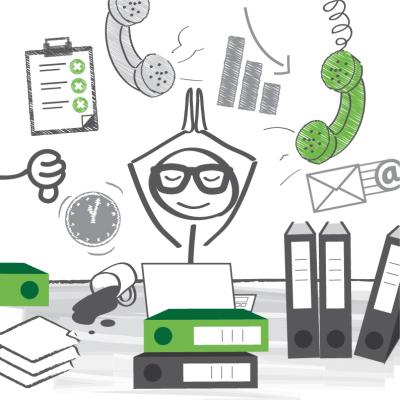 With COVID-19 case numbers declining and schools and businesses opening up in the United States, spring is once again a hopeful time. People are on the move, creating new routines, and thinking about how to get the most out of life personally and professionally.
After a year when many of us have watched an embarrassing amount of streaming content, and perhaps gained a few unwanted pounds, it is an ideal time to regroup to take best advantage of the time we have. Managing time well is essential, because, as Idowu Koyenikan, author of Wealth for All, said, "Time management is about life management."
If life management sounds like a huge undertaking, don't worry. Consistent, small steps can lead to transformational results. And a big part of making the most of each day is your state of mind. "Don't waste your time in anger, regrets, worries and grudges," Roy T. Bennett, author of The Light in the Heart, said. "Life is too short to be unhappy." So put a smile on your face every morning even if you wake up feeling grumpy. Research has found this helps program your brain to think positively throughout the day.
Also, go into each day expecting to achieve great things, and visualize what you want. And if negativity creeps in, counter it with positive thoughts. Posting motivational quotes where you'll see them during the day will help. So will reading passages from inspirational books or blogs. Also keep in mind what you're grateful for.
Take care of yourself
Self-care is related to mindset, because the better you care for yourself, the better your state of mind will be. This means following Benjamin Franklin's "early to be and early to rise" advice. Go to bed early so you can get a good night's sleep. And arise early, so you can enjoy your morning routine instead of being rushed.
Updating your goals periodically is another form of self-care. Without clear, realistic goals you are rudderless, forced to wing it too often and more easily distracted than you otherwise would be. This adds stress and wastes time. Set up an environment that is conducive to productivity. That means turning off alerts on your devices for periods of concentrated work. And devote time to planning daily. For example, set aside 15 minutes at the start of each day and the same amount at the end. In the morning, identify your priorities; in the evening, evaluate results and set goals for the next day.
Eat a healthy, well-balanced diet, and exercise regularly so you're not sitting at a computer or on the phone hour after hour. Spend some of your exercise time outside to refresh your body and mind. And create a routine to help you transition from work to personal time.
Throughout the day, make a point to interact with others. Appreciate their efforts—and your own. And before you nod off at night, think of what you love about how you spent your day's time. William Penn said, "Time is what we want most, but ... what we use worst." Prove him wrong.

The Green Sheet Inc. is now a proud affiliate of Bankcard Life, a premier community that provides industry-leading training and resources for payment professionals. Click here for more information.
Notice to readers: These are archived articles. Contact names or information may be out of date. We regret any inconvenience.
Prev
Next