The Green Sheet Online Edition
April 12, 2021 • Issue 21:04:01
Banging a square peg into a round hole
By Roger McNamara
Guide2Interchange LLC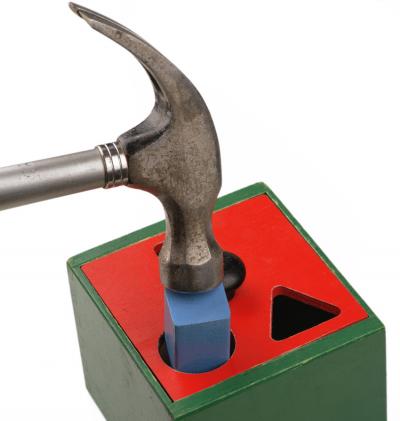 The image of trying to bang a square peg into a round hole conjures up several thoughts. First, it is probably not the most effective strategy. If the peg doesn't fit, why are you banging it into the hole? Second, if you have a big enough hammer and use enough strength, you probably can get some of the peg through the hole—but will be messy, probably with bits of the peg scattered everywhere, leaving you a little sweaty and tired.
This process reminds me of the current credit card offering in the B2B payments space. The hole is clear. It is only so big, and only so much can fit through it, meaning there is only so much cost a business will tolerate. Right now, the round pegs that are fitting better in the hole are check, ACH, and wire. The square pegs are all credit. The competitive forces are check, ACH, andwire payments versus plastic of all sorts. It's easy to see the general cost differentials; this is part of the issue with credit cards not being universally accepted for payment in B2B.
SquarePegRoundHold_Image1
If we dive in further to depict total cost by payment type, we'll have to add a scenario involving an average transaction/invoice type. It would be the same for all payment types, as there is no evidence to suggest one payment type over another drives a difference in the transaction size. In the same way, as the average transaction size rises or falls, the pricing will stay relative to the cost. A buyer will buy the same number of supplies needed for a job regardless of the payment type they use to settle their invoice.
Given a $1,000 transaction, we can see that ACH, with an average cost of $0.30 per transaction, runs about .03 bp of cost on the transaction on the low end versus credit, with a cost on the same transaction of 250 bp. On the face of it, that's a massive 247 bp premium for a supplier to absorb on straight payment cost comparisons.
SquarePegRoundHold_Image2
ACH, check, and to some extent wire are more popular because of cost. But does that mean credit and debit have no place at the payments table. Absolutely not. If a business can realize a combination of value and cost reduction in the payment, credit acceptance can become part of the payment solution and a large customer satisfaction tool for any business.
To present credit as a cost-effective solution to a supplier, ISOs should look deep into the transaction and beyond price. They need to look far deeper than services and even deeper than Level II and III data. Why? With the cost of funds at the low end of the scale today for borrowing, why would any business want to pay 2.50% - 3% for a transaction they believe they can settle for less?
The simple answer is they would not.The deeper dive will reveal that through a mix of items, the seller can be more successful in positioning credit as a collection tool rather than an overhead. Ask yourself this: How many times in selling a B2B merchant have you asked about the terms the supplier offers? If you haven't been doing this, you've been missing the key opportunity that credit delivers.
The path to open acceptance in B2B is far greater than price when suppliers believe they can settle invoices for far less than our cost. Can they?

Roger McNamara, President, Guide2Interchange LLC is a 25+-year veteran of the payments industry, most recently as the director of business development with American Express in the United States. He has sold more than $200 billion worth of card processing and now leads a B2B merchant sales training organization. Contact him by email at Guide2Interchange@gmail.com or by phone at 561-379-3151.
The Green Sheet Inc. is now a proud affiliate of Bankcard Life, a premier community that provides industry-leading training and resources for payment professionals. Click here for more information.
Notice to readers: These are archived articles. Contact names or information may be out of date. We regret any inconvenience.
Prev
Next