The Green Sheet Online Edition
June 22, 2020 • Issue 20:06:02
Working together to harness AI's power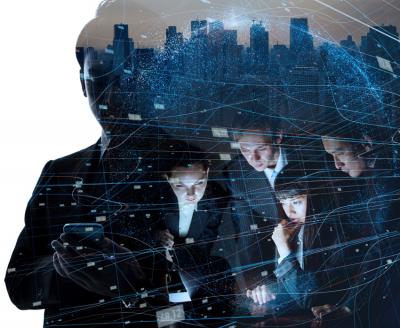 Fee Navigator Inc., a leading AI-powered service provider, is now working with The Green Sheet Inc. on a new educational initiative. Designed to improve awareness and use of automation and artificial intelligence, the multimedia campaign will offer helpful tools, resources and thought-provoking content that reflects the partners' alignment of values and desire to give back to the merchant services community, according to the companies.
"The Green Sheet was one of the earliest media companies that realized the power of the innovation we are bringing to the payments industry," said Adrian Talapan, co-founder and CEO of Fee Navigator. "As our solution was taking shape, they had a front-row seat watching it come together, and working with Kate, Danni and Dale has been nothing but a breath of fresh air."
"We've enjoyed sharing Fee Navigator's pipeline of innovations with our readers," added Kate Gillespie, CEO of The Green Sheet. "We look forward to working together to help processors, acquirers, merchant level salespeople and third-party service providers leverage Fee Navigator's platform to improve profitability and accelerate growth."
Shared values
Gillespie further noted that The Green Sheet has been empowering and connecting companies and individuals in the payments sphere for more than 30 years. As a lean organization and digital-first company, we understand our partners and celebrate their thought leadership and success, she stated.
"As entrepreneurs and marketers, we understand your journey and where you need to go," Gillespie said. "We're excited to share new approaches to leveraging AI and automating mundane tasks to free up more time for high-value activities."
"We are living in an exciting time where AI can begin to support the tedious functions of work that many people don't enjoy and find monotonous," Talapan added. "With Fee Navigator's AI at your side, helping you build the foundations to attract and retain merchants, you can spend more time building your business, proliferating your brand and nurturing relationships."
Award-winning solutions
Talapan and Fee Navigator co-founder Ion Craciun, a former financial forensics investigator, joined forces to build trust and improve efficiencies in the merchant payments industry. Their solutions use leading-edge technology, machine learning and AI to provide instant statement analysis and data-driven insights.
"In today's fast-moving marketplace, no one can afford to take a few days to analyze a statement," Craciun said, adding that instant analysis saves time and money and enables subscribers to close deals on the spot. Seconds after submitting a statement, ISOs and MLSs receive a detailed one-page spreadsheet they can customize with their proposed pricing, he added.
Talapan noted that AI technology is entering many industries in ways you might not expect, and some of the processes performed by fictional AI's are already here, helping humans make difficult processes simpler and faster. This new initiative is primed to provide valuable insights into this promising sphere, examining how AI technology is quietly enhancing the world we live in, how each of these technologies will shape the future of merchant services, and how payments companies can leverage them to further their merchants' success, as well as their own.
Noting that Fee Navigator and The Green Sheet share the same goal of spreading innovation and growth throughout the payments industry, Talapan said he is looking forward to working with companies and individuals across the payments value chain, to drive third-party neutrality, efficiency and transparency. Additional information about the partnership can be found at www.feenavigator.com/partnerships-media.

The Green Sheet Inc. is now a proud affiliate of Bankcard Life, a premier community that provides industry-leading training and resources for payment professionals. Click here for more information.
Notice to readers: These are archived articles. Contact names or information may be out of date. We regret any inconvenience.
Prev
Next