The Green Sheet Online Edition
January 13, 2020 • Issue 20:01:01
Don't sell the same way you shop
By Jeff Fortney
TouchSuite LLC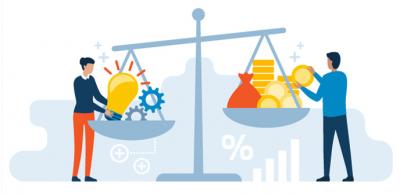 The year-end shopping season is when merchants find out if the year will be profitable. It's also a time I find frustrating. You see, my wife's and my shopping styles are at opposite ends of the spectrum. When I shop, I first identify the need, locate the solution and buy it. For presents, I identify the person's likes, find something that fits and buy it.
I will try to find the best price, but that research is what the internet is for, right?
When my wife shops, she may identify the need, but at that point, our paths differ, especially when it comes to nonessential purchases and gifts. It begins with how she defines what is needed. She starts with a statements like, "I wonder whether we should decorate this wall" or "What are we going to buy as presents this year?"
She will spend hours mulling over her answers, then days going from store to store looking for just the right ideas. She will find many that may fit, but there must be something better at the next store, right? Shopping in this fashion invigorates her. If I go with her, I become exhausted and frustrated. As a result, for my own health and sanity, I don't accompany her.
The right sales approach
Her approach also means she wouldn't be a good salesperson. Here's why:
Years ago, I heard a story about a sales consultant's experience evaluating a client's sales force. She had been tasked to identify why a small portion of the sales force was far exceeding the production of the majority. She began by asking them their sales practices. After hearing the process from the first person interviewed, she realized she had asked the wrong question. He was explaining the company's required approach, but halfheartedly with no commitment.
She then asked, "What was the last major purchase you made, and how did you go about making that purchase?" The response told her everything she needed to know about his effectiveness, or lack thereof. His last purchase was an engagement ring. He listed each store that sold the ring his girlfriend wanted, searched the internet for additional options, and visited all the stores to determine their support level and confirm the correct ring was there. At that point, he went home, evaluated all the information he'd obtained and spent additional time considering the options. Finally, he made the purchase. Total time: two months.
When he finished, she felt she'd clearly identified the problem. She then asked, "When a customer wants to think about your offer, what do you do?" He responded, "I tell him I understand and will come back later." His failure at selling corresponded to the way he would buy.
She began each subsequent conversation with the "last major purchase question" and discovered a disturbing trend. Interviewees were allowing their way of buying to direct their sales efforts. Since they would want to consider any purchase, it seemed logical that a prospective buyer would want to as well. They knew how to overcome objections, but because they could relate to the attitude of their prospects, they willingly walked away.
The company subsequently incorporated the sales consultant's question into its interview process, and sales results improved because they found people who were a better fit.
Three acceptable results
If you see yourself in this story, you may be sabotaging potentially successful sales without realizing you are doing so. No matter how you buy, recognize the potential impact your habits can have on your sales approach. Then go back to the beginning, and focus on what results from a sales call are acceptable.
There are three acceptable results for any sales effort: yes, no or a firm next step. A sale is not over until you receive one of these responses. Yes and no are easy to understand; a firm next step is very specific, and doesn't entail letting a prospect think over the offer. It's also not leaving information behind for the prospect to review. A firm next step is, for example, learning the prospects partner needs to be involved and will return in an hour, and making an appointment to return at that time. It's specific with a specific, scheduled purpose.
Never accept a "leave behind" request unless you probe deeper. One effective response is to say, "You must be a very nice person." Pause for a reaction; then say, "I say this because when I hear that request it's normally because I haven't given you reason to continue the conversation. If that's the case, it's okay to tell me. Otherwise, I'll be coming back and wasting both your time and mine." No matter what you do, don't allow your way of buying to become your way of selling.

Jeff Fortney is senior vice president of business development and partnerships for TouchSuite LLC, a fintech company providing POS systems, payment processing, SEO solutions, working capital and marketing services to small and midsize businesses. A long-time payments industry professional and mentor, Jeff focuses on strengthening and developing corporate partnerships and evaluating new business to drive strategic growth. He can be reached at jfortney@touchsuite.com.
The Green Sheet Inc. is now a proud affiliate of Bankcard Life, a premier community that provides industry-leading training and resources for payment professionals. Click here for more information.
Notice to readers: These are archived articles. Contact names or information may be out of date. We regret any inconvenience.
Prev
Next