The Green Sheet Online Edition
December 09, 2019 • Issue 19:12:01
Mobile payments made great strides in 2019
By Patti Murphy
ProScribes Inc.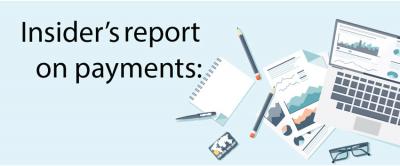 As 2019 draws to a close and we look to what's in store for 2020, mobile payments appear to be hitting their stride, with notable gains in terms of both the number of consumers using and number of mobile payments made.
A new report from Mercator Advisory Group – Mobile Payments: Making a Comeback – revealed that 60 percent of consumers used some form of mobile payment in 2019, a whopping 25 percent increase over 2018, when fewer than five in 10 consumers (48 percent) made mobile payments.
Much of the growth is being driven by online service providers with built-in payments, like Uber and Airbnb, Mercator's research indicated. The use of conversational interfaces remains relatively low. Just 22 percent use this feature on their smartphones, and 12 percent use smart speakers (like Alexa) to initiate payments.
Mobile has become a major part of the American consumer shopping experience, Mercator reported, with 60 percent of adults either browsing or shopping using a mobile device in 2019. Not surprisingly, mobile shopping popularity skews toward younger consumers. For example, 57 percent of consumers between the ages of 18 and 34 have purchased products or services using their smartphones compared to just 19 percent of those 65 and older. Mercator's findings are based on a survey of 3,000 adults conducted in June.
"There was a lot of hype around the release of mobile wallets a few years ago, and once people started using them, they may have encountered spotty acceptance of mobile payments and app difficulties and stopped using them," said Peter Reville, director of primary data services at Mercator. "We are seeing a resurgence of usage in 2019 with increased acceptance at the point of sale, increased online usage and increased consumer comfort."
Meanwhile, a new report from eMarketer predicted mobile payments in the United States will total nearly $310 billion in 2019, a whopping 41 percent increase over 2018 totals. Next year the growth rate will slow to just 28 percent, with mobile payments topping $396 billion, according to eMarketer.
Both companies' data reflects the use of mobiles to initiate person-to-person payments as well as payments for products and services. eMarketer reported especially significant growth in U.S. users of P2P payments, with an estimated 69.2 million users (about 29 percent of total smartphone users) this year rising to 73.8 million next year.
Venmo, which is owned by PayPal, saw total payment volume increase by 70 percent to 24 billion transactions in the second quarter, compared to the same quarter in 2018. PayPal is projecting a total of $100 billion in Venmo payments this year. Zelle reported it handled 171 million transactions totaling $44 billion in this year's second quarter, which represented 71 percent increase in transaction volume and 56 percent increase in the total value of payments moved across the network compared to 2018.
Putting data into perspective
When I first read about the Mercator and eMarketer reports, I was skeptical. Then I opened my monthly Venmo transaction statement and realized how many times I had sent money through that platform the previous month. So, OK, when you count P2P payments initiated through smartphone apps, mobile adoption is picking up.
But in terms of sheer numbers, the transaction totals pale in comparison to overall debit and credit card usage (of which these numbers are technically a subset). By most accounts, Americans made payments totaling more than $7 trillion last year using credit, debit and prepaid cards. If that total remains stagnant for 2019 (not likely) mobile payments (for P2P and purchase transactions, combined) will account for just a 4.4 percent slice of the payments pie.
Overcoming perceptions
The most confounding problem facing mobile payments isn't the technology; it's consumer perceptions. I confess I'm guilty of feeling less than secure using a smartphone to make payments, and feeling that paying with cash or card is faster than taking out the device, pulling up the app and making a payment.
A survey released this year by Cardtronics shows most Americans (65 percent) perceive cash as the fastest way to pay; EMV cards come in at a close second with 62 percent perceiving these transactions as fast. Fewer than half (49 percent) said mobile is a fast way to pay.
Force of habit is probably the biggest deterrent to mobile payment usage. People don't change payment habits overnight. If that were the case, checks would've disappeared a generation ago. I'm old enough to remember when checks were a preferred payment method at merchant checkouts. And when workers queued up every Friday in grocery stores to cash paychecks, grocers would do it for free since check cashing customers were apt to spend some of that money at their stores. Now, most workers are getting paid via direct deposit and using debit cards in place of checks at the POS.
A study by Simon-Kucher & Partners suggested psychological biases are the key impediment to mobile payment adoption. "In designing mobile payment features, we have neglected to consider the behavioral-based forces shaping the U.S. consumer's payment choices and habits," said Wei Ke, Ph.D., managing partner in the global banking division at the consultancy.
Among Americans surveyed by Simon-Kucher, 40 percent cited concerns over fraud and identity theft as reasons for not using mobile payments. An even greater share of reasons given involved a lack of confidence in their ability to properly use mobile payments. For example, 22 percent claimed they weren't tech savvy, 17.7 percent said they're fearful of losing their mobile devices and 9.3 percent cited frustration setting up a new payment feature (count me among this group).
The Simon-Kucher survey results contained these warnings for mobile payments providers: don't count on peer pressure and don't discount the power of banking relationships; three quarters of consumers would prefer using a mobile payment app offered by their primary bank. "Social pressure has minimal influence on mobile payment adoption," the firm added.

Patti Murphy is senior editor at The Green Sheet and self-described payments maven of the Fourth Estate. Follow her on Twitter @GS_PayMaven.
The Green Sheet Inc. is now a proud affiliate of Bankcard Life, a premier community that provides industry-leading training and resources for payment professionals. Click here for more information.
Notice to readers: These are archived articles. Contact names or information may be out of date. We regret any inconvenience.
Prev
Next