The Green Sheet Online Edition
October 28, 2019 • Issue 19:10:02
Cash dethroned? When accessible, inclusive options exist
By O.B. Rawls IV
Paysafe Group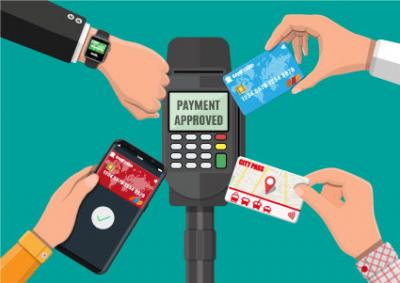 The U.S. market has been slow to embrace contactless payments, and biometric and even voice-activated payments are far from widespread. Indeed, less than half of Americans (45 percent) are comfortable with even the idea of using a smart speaker to buy goods or services by voice, according to Paysafe's first quarter 2019 research. However, there's no question that payment choice – at the checkout, in-store and online – is top of mind for consumers.
This brings us to the bigger question around the most prevalent U.S. payment method – cash, which dates back to the early years of the republic. Is cash heading down the path of extinction? It's true that Americans are carrying less – $42 in 2018 versus $50 in 2017, according to our research. When, and even whether, the United States will finally go cashless requires further analysis.
Cashless benefits
Consumers and merchants share the same essential payments preference: they favor payment methods that are frictionless – simple and easy to action. For in-person payments, whether it's in a restaurant or hardware store, cash's principle benefit is that it involves less friction than cards when contactless points of sale (POS) are not available, only EMV.
The United States is behind the global curve when it comes to contactless. Our 2018 consumer report revealed that only 3 percent of Americans had made a contactless card payment in-store in the last month compared to 54 percent of British consumers. Also last year, only 3.4 percent of American cards in circulation were enabled with near field communication (NFC), the technology allowing contactless payment, according to research from A. T. Kearney.
However, that was then, and this is now. And 2019 is already looking to be the year of contactless' American rollout. Visa CEO Alfred F. Kelly forecast that there will be over 100 million Visa NFC-enabled cards issued by year-end. In addition, in May the New York City subway unveiled tap-to-pay turnstiles for contactless cards across the system. When the UK's London Underground made a similar move in 2014, it proved to be a major catalyst for contactless' wider adoption.
In tandem, U.S. consumers are becoming more used to frictionless mobile commerce through apps like Uber and even Starbucks' cashless Mobile Order & Pay. Close to a quarter (23 percent) of consumers we surveyed in 2018 had used a frictionless app regularly or at least occasionally.
Rising frictionless app usage will likely support the growth of contactless in the United States. Consumers will be able to enjoy contactless' comparatively frictionless payments experience, including the convenience of being able to literally "tap" their debit or credit card without being dependent on an ATM visit.
The end of cash would also allow retailers and restaurants to save themselves time and, by extension, money. The advent of a cashless society would end labor-intensive cash processing for merchants as well as trips to physically deposit cash at banks and financial institutions. With diminishing numbers of consumers using cash as a payment method in restaurants and stores, the ROI relating to this investment of labor and time resources continues to trend ever lower. For merchants and payment service providers (PSPs) alike, cash is more difficult to track than digital payment methods in the retail space such as cards and mobile wallets. A move away from cash towards contactless and Apple Pay and other mobile wallets would provide merchants, PSPs, issuers, the card networks and the wider economy with more accurate data.
Significant players in the payments industry would also benefit financially from a shift from cash to cards. Indeed, the current growth in contactless cards in the U.S. market is expected to drive an estimated $2.4 billion in incremental sales, according to A.T. Kearney. Much of this increased revenue for acquirers, issuers and card companies would relate to card processing fees. However, research suggests consumers tend to spend more liberally when using cards than they do with cash: spending as much as 83 percent more, according to 2018 research from ValuePenguin.
Downsides of cashless
Certain benefits are obviously a question of perspective. The shift from cash to cards will see retail merchants incurring increased processing expenses. However, if a merchant were to become completely cashless, this spend would almost certainly be more than offset by the loss of labor and time costs associated with cash processing and depositing. Philadelphia's move to ban cashless retail in July was mostly driven by high-end cafés and restaurants seeing no business need to support America's oldest payment method.
It is revealing that more exclusive retailers choose to dispense with cash. After all, lower income demographic segments tend to favor this payment method because of their limited access to credit cards and other mainstream financial products. Indeed, a significant cohort of U.S. consumers have no bank account: 6.5 percent of households are completely unbanked, according to the FDIC's most recent survey (2017). A cashless ban would exclude and alienate these Americans from the economy – and would also be ethically problematic.
While the numbers of unbanked Americans is lower than at any time since the FDIC began reporting (in 2009), the levels remain significant. The issue of incorporating these consumers into the banking system is unlikely to be resolved anytime soon. Furthermore, an even larger tranche of Americans may have a bank account but rely heavily on financial services outside the banking system (payday loans, check cashing and pawn stores). According to the FDIC, close to a fifth (18.7 percent) of American households are underbanked and commonly favor cash over payment methods affiliated with financial institutions.
Aside from underbanked and unbanked Americans, a range of other consumers favor cash for diverse reasons. For some, concerns over privacy or merchant card fraud can see them reaching for the greenbacks in their purse or wallet, while others may use cash as a budgeting technique, as it allows them to only spend what they withdraw from an ATM.
Overall, if a small, albeit shrinking, minority of American consumers can't or don't want to fully embrace cashless consumption, merchants and payments companies should accommodate them. By practicing financial inclusion, they will service all U.S. consumers – and maximize their revenue and profits by not neglecting any consumer demographics.
Of course, the in-person retail space is today only one area in the American payment ecosystem. Online payments will likely one day rival traditional retail. U.S. ecommerce retail sales are expected to rise for their 10th consecutive year in 2019 to cap $586 billion, according to eMarketer. This growth twinned with the FDIC data on the unbanked and underbanked suggests that a significant number of Americans want to spend online yet favor cash as a payment method.
Fortunately, prepaid online vouchers, online cash and other cash replacement products allow such consumers to purchase products and services online. These products are used by a small but significant minority (6 percent) of Americans, according to Paysafe's 2018 data. Other alternative payment methods like the digital wallets Skrill and PayPal (used by 39 percent of Americans online in 2018) and, to a lesser extent, mobile wallets such as Apple Pay (used by 10 percent) also allow U.S. consumers who can't, or don't want to use cards to engage in ecommerce.
The end of cash in the physical world would, by extension, limit the online financial mobility of such Americans. And as a direct result, ecommerce merchants no longer offering prepaid online payment vouchers and other cash replacement products would see their revenue opportunities limited by an overlooked consumer demographic.
However, concerns about financial inclusion are already driving the protection of cash in the American market. San Francisco is just the latest city to emulate Philadelphia with a ban on cashless retail from August. While U.S. consumers gradually embrace the convenience of contactless cards as they belatedly become available, cash will continue to be relevant in both online and offline retail for years to come – or at least until a new or existing payment method is truly accessible to all Americans.

Well-respected executive O.B. Rawls has a demonstrated record of success in the payments, fintech and banking sectors. As CEO and president of iPayment, he was responsible for setting the vision and strategy for the organization to achieve annual growth and exceed revenue objectives. He was also critical in positioning iPayment for its sale to Paysafe in June 2018, at which point he transitioned into a strategic advisory role and then to president of the company's North American Payment Processing. Previously, O.B. served as senior vice president and general manager, partner solutions, First Data. His distinguished career also includes executive leadership roles with Hypercom, Caredata, Unified Merchant Services and Bank of America. Contact him at communications@paysafe.com.
The Green Sheet Inc. is now a proud affiliate of Bankcard Life, a premier community that provides industry-leading training and resources for payment professionals. Click here for more information.
Notice to readers: These are archived articles. Contact names or information may be out of date. We regret any inconvenience.
Prev
Next