The Green Sheet Online Edition
January 28, 2019 • Issue 19:01:02
New Products
3D defense to secure, authenticate payment transactions
Product: Rainbow Password
Company: GeoAcl LLC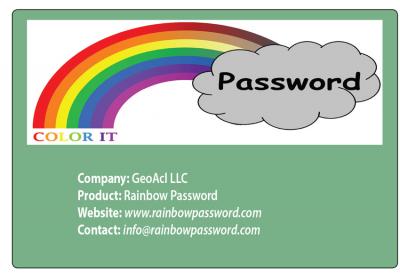 GeoAcl LLC, a security solutions provider, launched Rainbow Password, a cybersecurity solution that uses color and text modifiers to create one-of-a-kind passwords. Designed for simplicity and ease of use, the technology-based solution keeps individuals and businesses compliant while protecting against hacking, security data breaches and data leakages, company representatives stated.
"Strong credentials are the best defense against online traps and phishing attacks," said Nehal Mehta, President at GeoAcl LLC and Rainbow Password. "However, the process of creating complex passwords should not be stressful or burdensome." For example, a large password may be difficult for a hacker to guess but can also be difficult for a user to manage and remember, Mehta said, adding, "We believe in simplicity and what we call password hygiene."
Myriad possibilities
Rainbow Password's patented technology is simple for users to implement and for software developers to integrate into proprietary applications using the company's SDK and API library. The company said the solution is compatible with numerous vertical industries, including payments, banking, healthcare, cryptocurrencies, cloud-based solutions and digital service domains,
Mehta noted that the ability to add up to 64 colors and bold and italic text can create up to 600 options for each character in a password. This adds levels of complexity to create passwords that are truly one of a kind, she stated.
"Our core values are simplicity, reliability and ease of use," Mehta said. "We invented Rainbow Password and GeoAcl technology with these goals in mind. We wanted individuals to access the technology with minimal training and bring added value to business owners."
Rainbow Password's numerous formatting options include choice of font, font style, font size, font color, and font shading to enhance and reinforce PINs and passwords, Mehta noted.
3-D security, e-signature
Rainbow Password, combined with GeoAcl's other security solutions, such as user-controlled location-based authentication and authorization services, can deliver a 3-D approach to security, Mehta stated. Users can create unique passwords using any physical or virtual form factor and add them to any authentication or verification solution to create a multilayered security solution. The GeoAcl technology suite includes the following security product offerings:
Rainbow password verification
Rainbow picture password verification
Location-based security
Rainbow pattern verification
Rainbow Password and other GeoAcl solutions use pseudonymization, which Mehta described as a data management and de-identification procedure that transforms personally identifiable information fields through one or more artificial identifiers or pseudonyms.
Industry compliant
The GeoAcl technology suite is compliant with password credential and signature regulations, standards and global practices, the company noted. Additional support is available through the company's compliance team and 24/7 support services. GeoAcl offers a pre-designed toolkit and custom cybersecurity evaluations and solutions.
The technologies provide strong, smart and stylish passwords that are a welcome replacement for long and cryptic passwords and protect against brute-force attacks, Mehta said.
Rainbow Password was recently awarded the 2018 Editor's Choice Authentication Solution by Cyber Defense Magazine. The trade publication had spent six months searching the globe for the most innovative, cutting-edge cyber security solutions. Gary S. Miliefsky, executive producer at the magazine said, "GeoAcl LLC won this award for Editor's Choice Authentication Solution for Rainbow Password because it is an innovator on a mission to help stop breaches and get one step ahead of the next threat, proactively."

Website: www.rainbowpassword.com Contact: info@rainbowpassword.com
The Green Sheet Inc. is now a proud affiliate of Bankcard Life, a premier community that provides industry-leading training and resources for payment professionals. Click here for more information.
Notice to readers: These are archived articles. Contact names or information may be out of date. We regret any inconvenience.
Prev
Next