The Green Sheet Online Edition
November 26, 2018 • Issue 18:11:02
Are you a good storyteller?
By Dale S. Laszig
DSL Direct LLC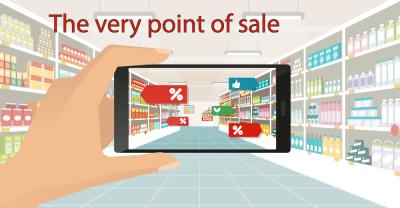 We may live in a digital age, but I never leave home without pen and paper. My favorite notebooks are skinny hardcovers that fit in my bag and support my high-speed notetaking. The other day, as I sorted through a year's worth of notebooks, a slim volume caught my eye. Dated March 18, 2017, it describes a flight from Newark to Charlotte, where I meet a colleague and share a ride to the Southeast Acquirers Association's conference.
"As we walked through the airport, we reminisced about the old days," I wrote. "My friend's company had just celebrated its 29th anniversary. He said they are selling more integrated POS than countertop terminals, and a POS partner deploys and installs the systems."
Besides making me glad that I'm no longer selling terminals, the story served a slice of life in a fresh, immediate way. Like a good screenplay, it held my attention by constantly moving forward. Years ago, in a screenwriting course, I learned to keep things moving and to use every gesture and prop to advance the story. Following this logic, it makes sense to show two people moving quickly through an airport to portray a fast-paced, ever-changing payments industry.
Show, not tell
When I sold countertop terminals, a sales manager challenged us to be unique and authentic. "Our products may look the same, but you don't have to act like you rolled off an assembly line," he said. "If your customers aren't calling you back, it's because you're boring."
The way you tell a story makes a difference, said Konstantinos Papakonstantinou, founder and CEO of Board Studios Inc., a full-service video solutions company. Replace static content with dynamic action, he advised, stating, "Don't be the 'text' version of your industry's story."
In writing and in selling, a good story can pull people in and get their full attention. Set a strong opening scene and people will tune in to see what happens next. Following are different types of business storytelling, with recommendations from experts on how to bring the stories to life.
Brand story
Many people equate brand stories with company histories, but they are not really the same thing. ECHO Storytelling Agency, a Vancouver, B.C.-based content marketing company, says brand stories are less about company milestones and more about how people think and talk about your company. The agency believes "your purpose and values are the heart of your story"; its master storytellers craft narratives designed to enhance customer, employee and family relationships.
In a March 2018 post titled "What's a brand story and why does my company need one?" ECHO blogger Jane Hope wrote, "A brand story is a cohesive narrative that encompasses the facts and feelings that are created by your brand (or business, if you prefer)."
In contrast with yesterday's one-way flow of information from brand to customer, today's interactive media has shifted control of brand stories from companies to their Facebook followers, customers and staff, Hope noted. However, companies can use their voices and personalities to clarify their mission and build emotional engagement, she explained.
Customer success story
Bill McCue, executive consultant and founder at McCuenications, a public relations firm, believes the best customer success stories elicit strong emotional responses. McCue's client, 6th Avenue Capital, helps owners of small and midsize businesses obtain working capital. These businesses have similar needs, but each has a unique story, he said.
"Some haven't been in business long enough to qualify for traditional financing," McCue stated. "Others may have maxed out their lines of credit and need funding right away."
McCue recalled when an oven went down in a busy pizza shop. The owner couldn't afford to stay closed for a few days. 6th Avenue Capital got the business funded quickly and back to serving slices and pies. This and similar stories put a human face on a common dilemma. Entrepreneurs can relate, he said, because cash flow is a familiar challenge.
Your story
Christine Chang, CEO at 6th Avenue Capital, was raised by small business owners who came to the United States to lead a better life, McCue said. A daughter of Chinese immigrants, Chang had first-hand knowledge of the challenges they faced as new U.S. citizens and restaurateurs, which makes her relatable to customers.
Chang is active in her community, serving as chair at Bottomless Closet, a not-for-profit association, and as a mentor at Columbia Business School's Nonprofit Board Leadership program and Cornell's Alumni-Student Mentoring program. She is also a member of High Water Women and the Trust and Estates Committee of SUNY College of Optometry.
As merchant level salespeople (MLSs), it's easy to get wrapped up in the technical aspects of our jobs and forget to humanize our discussions. If you have overcome challenges, built a merchant portfolio or actively support your community, you, like Chang, have meaningful stories to share. And these one-of-a-kind stories would fascinate your customers and peers. In this age of social media, personal anecdotes and community volunteerism are valuable ways to bond with customers and build lasting professional relationships.
Analogy, imagery
McCue pointed out that technical solutions can be difficult to explain. He encourages clients to break complex concepts into manageable bites and use analogies whenever possible. Movies can provide an effective way to illustrate a point, he said.
"There's a scene in the movie 'Castaway' where Tom Hanks is explaining his situation to a volleyball he named Wilson," McCue recalled. "He draws a picture in the cave, illustrating the crash site, estimating that its square mile radius is twice the size of Texas. Everyone knows Texas is huge; twice the size means 'they're never going to find us.'"
You can't assume the person on the other end of the phone is well-informed about your business, McCue added. Compelling images will get you noticed and convey your message and value proposition in a unique and memorable way.
I kept a notebook because I was drawn to its images and personal narrative. I recycled others that had facts and data I will never need to revisit. A good story, with sights and sounds, can provide an experience that readers and customers will want to return to again and again.

Dale S. Laszig, senior staff writer at The Green Sheet and managing director at DSL Direct LLC, is a payments industry journalist and content provider. She can be reached at dale@dsldirectllc.com and on Twitter at @DSLdirect.
The Green Sheet Inc. is now a proud affiliate of Bankcard Life, a premier community that provides industry-leading training and resources for payment professionals. Click here for more information.
Notice to readers: These are archived articles. Contact names or information may be out of date. We regret any inconvenience.
Prev
Next