The Green Sheet Online Edition
September 10, 2018 • Issue 18:09:01
New Products
Control and monitor devices with modular IoT gateway
Product: SL-600
Company: Systech Corp.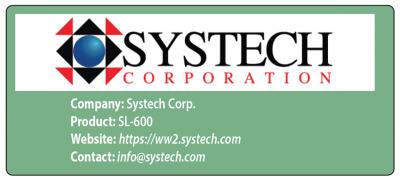 San Diego-based Systech Corp. added the SL-600 to its family of SysLINK modular IoT gateway solutions. The device's reduced size and cost and advanced communications capabilities enable business owners to monitor devices from anywhere, company representatives stated.
"One of the key benefits of the SL-600 is its flexibility, from both a hardware and software perspective," said Robert Lutz, vice president of marketing and business development at Systech. "It has a small footprint, modular design and uses a Linux operating system, which makes it easy for merchants to brand and configure according to their individual requirements."
Lutz mentioned the SL-600 is equipped with USB and Ethernet ports and supports multiple communication protocols, including cellular, Wi-Fi and Bluetooth wireless communications. Optional expansion slots for Zigbee and Z-Wave are also available. Its built-in network failover capability helps business networks stay up and running by seamlessly transitioning between landline and cellular networks, he added.
Brandable, configurable
Retailers can access and modify the SL-600 gateway from a browser or phone to create custom notifications and enable devices to operate remotely or locally. The standard Linux software is easy for system integrators and VARs to adapt, overlay or integrate into other systems, Lutz pointed out.
For example, retailers can use the SL-600 IoT gateway to detect when consumers remove items from store shelves, taking inventory management to a whole new level, he noted, adding that they could also use the device to create dynamic price tags that can be updated wirelessly in real time to track a pricing strategy's effectiveness.
"You don't need an engineering degree to program and brand these commercial grade solutions," Lutz said. "A secure dashboard and drag and drop tools make it easy for business owners to create a script and remotely manage their stores from anywhere in the world."
Multiple use cases
Systech manufactures hardware and software products for the Internet of Things (IoT), a rapidly expanding market, Lutz noted. The company's modular IoT gateways and networking products are designed to adapt to a variety of environments, including retail and commercial settings, access and control, healthcare, financial networks, ATMs and self-attended kiosks, he said.
Following are additional examples of vertical market applications the company provided:
Video surveillance: Security devices such as door locks, motion sensors and sirens may be monitored and controlled. A local rules engine can detect triggerable events to secure locations in real time and generate local alerts without depending on Internet availability.
POS: The retail market requires innovative IoT solutions to remain competitive. Systech solutions can address inventory management, location tracking and network failover to help optimize retail operations and maximize sales margins. IoT solutions also address retail signage, lighting,and environmental controls.
Digital signage: Systech IoT solutions can generate the right message at the right time. Local sensors will detect customer behavior and other external conditions to allow the local rules engine to optimize digital content being displayed. IoT digital signage solutions build a bridge between displays and the rest of the world.
Kiosks and ATMs: Kiosks and ATMs include many components such as screens, card readers and batteries that need monitoring and maintenance. A Systech IoT solution can reduce downtime by detecting and reporting conditions that can often be solved remotely. Software updates can be remotely managed, as well. And kiosk location can be tracked if necessary.
Resellers welcome
Systech noted that since its inception in 1981, the company has delivered over 1 million gateways, facilitating mission-critical applications worldwide. Channel partners and resellers can use the company's technology suite, resources and application programming interfaces to customize, brand and distribute high quality, cost-effective network solutions, Lutz noted.
"These new tools allow you to enhance your business with a solution designed for your specific requirements," he said. "This could give you the competitive edge you are looking for."

Website: https://ww2.systech.com Contact: info@systech.com
The Green Sheet Inc. is now a proud affiliate of Bankcard Life, a premier community that provides industry-leading training and resources for payment professionals. Click here for more information.
Notice to readers: These are archived articles. Contact names or information may be out of date. We regret any inconvenience.
Prev
Next