The Green Sheet Online Edition
March 13, 2023 • Issue 23:03:01
Latin America, awakening ecommerce giant
By Dale S. Laszig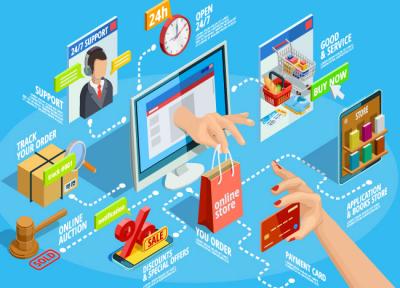 Latin America has emerged as a global ecommerce leader, according to recent reports. Statista expects the region's ecommerce sales to reach $700 billion by 2025. A June 2022 Paysafe study, Lost in Translation: Consumer Payment Trends 2022: Navigating online payments in the age of uncertainty, found 63.5 million Brazilian consumers use neobanks.
To further understand this fast-growing market, The Green Sheet interviewed payments leaders whose enterprises are shaping Latin American commerce, cybersecurity, paytech and financial services.
Agile digital transformation
Emerging markets may be late to digital commerce, but some experts see this timing as a virtue. Jason Howard, CEO at Caf, a digital identity solutions provider, noted developing countries, unburdened by legacy infrastructure, are free to innovate.
"In markets where the financial infrastructure is many decades or even centuries old, it can be hard to promote change," he said. "But here most financial institutions are working with newer technology and can embrace digital innovation."
Daniel Passarelli, executive managing director for LATAM at Worldline Digital Commerce, noted that online shopping was siphoning customers away from physical stores even before the pandemic, but COVID-19 pushed consumers to ecommerce, which is scaling in Argentina, Brazil, Chile and Mexico.
"Factors fueling this growth include increased domestic and cross-border spending, greater market penetration of digital goods and a wider acceptance of digital payments with particular emphasis on investment from retail banks in digital technologies such as mobile apps and eWallets," he said. "For example, the adoption of the instant payment system, Pix, has brought enhanced levels of digital access and inclusion to Brazil, enjoying a user base of over 130 million, and a penetration rate of 75 percent, almost double that of credit cards."
Alexandre Gomes, director of operations for Sensedia in Latin America, pointed out that the pandemic helped accelerate digital channels and integrate them with traditional channels.
"This integration involves API platforms that protect enterprise systems, bring security to application transactions, perform real-time monitoring work, track customer and partner transactions and bring scalability by having the ability to process around 1,000 transactions per second," he said, adding that enterprises can leverage API-driven technologies to react quickly to market demands and create a consistent customer experience across channels.
Next-gen commerce, banking
Howard has seen digital commerce replace cash with support of regulators and private/public sector partnerships aimed at promoting responsible innovation. "In many ways, Latin America is undergoing digital transformation at a more rapid pace than some more mature markets," he said. "There is a very high adoption of digital payments; cash is rarely used."
Indeed, Paysafe researchers found Latin American neobanks are thriving. "The likes of Nubank in Brazil, Ligo in Peru, and Mach in Chile have successfully positioned themselves as viable alternatives to traditional banking for vast swathes of customers," they wrote, questioning why consumers prefer neobanks to traditional financial institutions.
Gustavo Ruiz Moya, senior vice president & CEO Latin America & ​Global Head of Open Banking at Paysafe, suggested Latin American consumers like neobanking's accessibility and customer-facing technology. He noted that 41 percent of Paysafe survey respondents said neobanks provide a better digital user experience.
"Also, customers enjoy neobanks' lower fees (41 percent globally) and advanced features that help them control their spending (40 percent globally)," he said. "The preference for neobanks is particularly higher in Latin America, with consumers agreeing that they prefer banking with neobanks in Peru (55 percent), Chile (45 percent) and Brazil (63 percent)."
Gomes described Latin America as a hub of innovation for open banking and finance, reflected in both government and private sector initiatives. "Brazil, Mexico, Colombia and Chile already have a regulatory framework for Open Banking," he said. "The implementation of Open Finance in Brazil has become a global benchmark. Colombia is also on the right track, and the national government has highlighted the open data scheme as a priority for achieving greater financial inclusion."
Speed to market
Passarelli saw digital solutions rolled out in weeks or even days, as opposed to years, as Latin ecommerce soared between 2019 and 2021, which was helped by decades of investment in telecommunications infrastructure and flexible government oversight during the pandemic.
"Specific ecommerce related trends that have emerged in Latin America in recent years include the rise in retail and digital goods," he said. "Between 2019 and 2020, these areas grew significantly with a large majority emanating from Brazil alone. Digital goods growth was driven mainly by elements such as streaming, online gaming and online education, which became important for the millions of people doing both work and leisure at home."
From his vantage point at Caf's Sao Paolo headquarters, Howard has seen his company grow alongside a thriving middle class and healthy consumer spending. "There is a lot of untapped potential here and an opportunity to serve a massive customer base," he said. "Brazil is one of the largest countries in the world; when you add in the whole region it makes for a massive opportunity."
Passarelli pointed out that Latin Americans are purchasing more types of products, a trend he attributed to the pandemic, when demand increased for exercise, healthcare, food and groceries, home office facilities, and much more. While this trend is not specifically Latin American, he mentioned other geographic factors shaping ecommerce growth. Shopping holidays, for example, are popular in the region, such as Brazil's Lover's Day, Mexico's El Buen Fin and Hot Sale, Peru's Cyber Monday, and Chile's CyberDay.
Meeting, defeating challenges
Passarelli went on to say Worldline has invested in Latin America for many years to serve the company's growing network of international sellers. Worldline helps enterprises process cross-border transactions locally and settle abroad, while dealing with market complexities, he stated.
"Given the complicated and fast‑changing cross‑border trade policies and regulations in Latin America, historically, payments have presented significant obstacles, but the tide is beginning to turn," he said. "The embracing of digital payments since the pandemic is helping to transform traditional methods of payment and overcome many of the barriers faced." Passarelli further noted the historically low levels of account ownership, in which nearly half of the population does not hold bank accounts, have consistently hampered growth in the region. Even today, he said, a large percentage of consumers remain unbanked or underbanked in countries that rely on cash transactions.
"Fraud is also prevalent in the region," Passarelli said. "To be successful, a secure, trustworthy, smooth payment experience is essential, with a range of payment options."
Howard noted Latin America's digital transformation has created new opportunities for fraudsters. "There is a need for more global, unified cybersecurity solutions here," he said. "Often, companies are using a hodgepodge of different solutions to fight cybercrime, which can be ineffective."
Gomes agreed Latin America is among the regions that suffer the most from online attacks. Technology, he added, is becoming a determining factor in preventing attacks and managing cybersecurity risks. "Due to being a region undergoing digital transformation, it is also more susceptible to cyberattacks," he said. "The challenges range from creating cybersecurity laws to cooperation initiatives between governments and businesses."
Mastering cultural preferences
Reflecting on Latin America's diversity of cultures, Passarelli stated that each country has its own geographical nuances regarding consumer behavior, ecommerce and payment trends. Argentina, for instance, is notable for being hesitant when it comes to accepting new payment methods such as ewallets or cryptocurrency. And Brazil still leverages cash for many transactions whereas mobile commerce is king in Mexico.
"More generally, most Latin American consumers prefer domestic payment methods, including when they shop online," he said. "Across the region, the use of domestic credit and debit cards, prepaid cards, bank transfer solutions and merchant wallets, account for the vast majority of transactions."
Language barriers are prevalent across the region, he added, noting the EF English Proficiency Index found English skills improving at a slow rate compared to other regions, with young Latin Americans no more confident in English than their elders.
"Whilst we are becoming more internationalized in many ways, the pandemic has, in some cases, sparked evidence of economic deglobalization," Passarelli said. "And ultimately, cultural setups that motivate human or buyer behavior have not disappeared."
Failing to incorporate cultural diversity into a company's sales strategy can severely impact a brand, Passarelli noted, adding there are multiple factors to consider when it comes to cultural nuances and tailoring sales approaches accordingly, including communication, security, trust and localization.
Howard advised service providers to assess each Latin American market on its own merits. "As with entering any market, it is always advisable to know what your customers' needs are and meet them," he said. "Latin America is a diverse region; companies should have a tailored approach to serve each country within that region."
Gomes encouraged enterprises to research each country's context, needs and environmental behavior and personalize their service offerings and commercial approaches accordingly. "Keep in mind what works in one country may not work in another," he said.
Leveraging investment, business opportunities
Passarelli mentioned investors sometimes associate Latin America with "old economy" industries such as oil production and basic materials, rather than ecommerce, private entrepreneurship and internet-related businesses, which also have a strong presence in the region. Despite accelerating digitalization, he noted, there is still room for investments in optimizing the consumer journey and finding new ways to intersect technology platforms with ecommerce offerings.
Gomes agreed increased IT infrastructure investments and business-friendly regulators have helped digital-native industries scale in Latin America. "This undoubtedly sets an important trend for those who wish to invest in the region and contribute with ideas, expertise, and advancements," he said.
Passarelli said he expects the massive offline-to-online migration to continue long-term. "Consumers who started buying online more frequently and across a broader set of categories during the pandemic are likely to maintain their habits, especially as fulfillment and user experience continue to improve," he said. "This is particularly true for Latin America's growing young population, whose interest in online shopping and digital commerce has continued to boom since 2019, giving rise to substantial momentum for growth as the 21st century progresses."

Dale S. Laszig, senior staff writer at The Green Sheet and managing director at DSL Direct LLC, is a payments industry journalist and content strategist. Connect via email dale@dsldirectllc.com, LinkedIn www.linkedin.com/in/dalelaszig and Twitte @DSLdirect.
The Green Sheet Inc. is now a proud affiliate of Bankcard Life, a premier community that provides industry-leading training and resources for payment professionals. Click here for more information.
Notice to readers: These are archived articles. Contact names or information may be out of date. We regret any inconvenience.
Prev
Next