The Green Sheet Online Edition
March 14, 2022 • Issue 22:03:01
Journey to the center of commerce
By Dale S. Laszig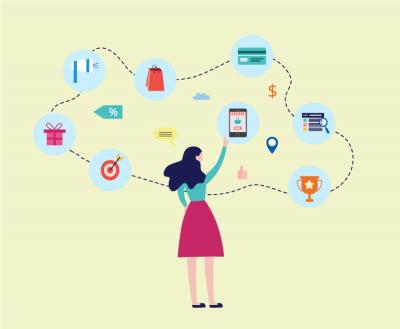 We've come a long way from auth and settlement. Hidden behind the many faces of digital commerce are next-generation technologies, platforms and APIs that facilitate real-time payments, virtual and fiat currencies, and networked payments applications for physical, virtual and hybrid environments.
Payment flows, buoyed by flexible, scalable infrastructures, have shifted from bidirectional to omnidirectional. And financial technologies optimize transactions from point of entry to checkout. This article shares insights from payments industry experts who shine a light on the commerce journey from inside out, outside in, and from physical to virtual perspectives.
Open architectures
Paolo Sironi, banking and financial markets global research leader at the IBM Institute for Business Value, referenced 2022 Global Outlook for Banking and Financial Markets, published by the institute in February 2022. He cited the following takeaways from the study:
Extreme digitization: End-to-end digitization of enterprise-wide operations enables new customer-centric business models, new products and services, new ways of working, and an ecosystem of partners. Digitization is critical to meeting customer expectations and powering financial performance across revenue, costs and capital.

Unlocking the value of data and AI: Transforming the core data environment drives efficiency and flexibility and leverages the collaborative use of deep analytics and AI at scale. This includes building an ethical framework around how data is captured, stored and used.

Flexible technology architecture: A modern architecture delivers optimal interoperability and portability to support the deployment and management of workloads across multiple computing environments, while helping financial services organizations meet security and compliance requirements.
A copy of IBM's report is available at www.ibm.com/thought-leadership/institute-business-value/report/2022-banking-financial-markets-outlook?
Open organizations
IBM researchers found banking-as-a-service (BaaS) and other new ecosystem architectures enable banks and financial institutions to quickly adapt to changing client needs, Sironi noted.
"The open organization is based on technology architectures that facilitate blurring the dividing lines between internal business units and ecosystem partners in order to trust end-to-end digitization of bank processes with AI-based automation," he said. "Extreme digitization grants banks new opportunities to operate at lower costs and engage with clients more openly--staying relevant whenever and wherever it matters for clients."
Sironi further noted that hybrid cloud computing platforms support BaaS and other partner-driven ecosystems. However, researchers found transitioning hybrid cloud environments may yield unintended consequences by exposing organizations to new threats. Built-in compliance products can help detect and mitigate these risks, he added.
"Boards rightly view cloud technology as a strategic driver and enabler of further business performance and shareholder returns," IBM researchers wrote. "But when considering cloud migration and digital transformation, CROs, in partnership with technology and compliance leadership teams, can help keep a sharp focus on resiliency by identifying attendant risks and potential remediations."
Inside-out security
Shaun Smith-Taylor, global head of solutions at ThetaRay, agreed compliance is essential to bank transformation, especially given quickly changing geopolitical environments. To build secure, compliant systems, banks need security solutions that protect against tomorrow's threats, not just today's, he stated, recommending artificial intelligence as a way to identify and protect against known and unknown threats.
"Banks and processors need to leverage third-party services to protect their hybrid cloud environments," Smith-Taylor said. "Banks and processors should outsource key controls to ensure data security and regulatory compliance. Partnering with market leaders, who have implemented live, next-generation technology solutions is key to success, security and scale."
Mario Galatovic, vice president, products and alliances at Utimaco, pointed out that having a strong security posture is nothing new for financial institutions. "The previous generation's dominant paradigm of having all of an organization's assets under one roof had a number of disadvantages when it came to flexibility and scaling, but its major advantage was that security professionals had visibility of their entire infrastructure," he said. "If a piece of this infrastructure needed to be updated to remove a vulnerability, they could do it, and if it remained a liability, it could be taken offline."
Galatovic suggested banks need abundant trust and transparency to navigate the new interoperable paradigm: trust that partners and partners' partners are not exposing them to risk, transparency in the cloud, and a supply chain that gives companies more than one pair of eyes to spot problems and keep components secure, compliant and up to date.
Outside-in transactions
According to payments analysts, when it comes to scaling digital commerce, discussions have mostly focused on growth, overlooking how commerce scales down to infinitesimal. Fintechs are enriching the tiniest parts of transactions, they noted, with feel-good moments at checkout that replace generic messages and throwaway receipts. Security service providers are detecting anomalies in nanoseconds using AI, machine learning and advanced automated technologies, analysts pointed out.
Rob Hanlon, CEO at CyberMoney, characterized his digital payments app's dynamic checkout screen as an outside-in approach that leverages a valuable piece of real estate. "The last thing a merchant's customer sees after transacting can be used for anything," he said. "When your customers complete a transaction, you can show them a customized landing window with an instant offer or compelling brand story instead of a generic thank you message."
Chris Boncimino, CEO at Flow Networks, called his company's digital receipt an engagement engine designed to help card issuers and merchants reach and retain customers. "A receipt is a legal document that can end up at the bottom of a trash can," he said. "The Flow platform, triggered during payment, connects the unconnected points in the payments journey while providing secure and private digital receipts back to the originating payment source."
Mark Gazit, CEO at ThetaRay, described real-time fraud detection as a proportionate response to automated attacks. "Nobody sits at a computer and attacks thousands of computers; it's software doing it," he said. "Programmed AI systematically scans and attacks organizations. Perpetrators have been using AI for quite some time and we have an obligation to create even stronger AI-based systems to protect ourselves. It is the only way to remain effective."
Kevin Gosschalk, CEO and co-founder at Arkose Labs, emphasized the need for smart, digitized, agile fraud detection. His company uses AI and advanced technologies to get into the mindset of fraudsters and bankrupt the business model of fraud, he stated. "As the world becomes more digital and economic turmoil continues, heightened attack levels are here to stay," he said. "Businesses need long-term strategies to defend against high velocity fraud and abuse."
Blurring physical, virtual
As any engineer will tell you, innovation can be a messy process and digitization is not always neat or linear. New payment solutions do not always replace incumbent technologies; instead, they find ways to coexist. However, solutions that combine physical and digital attributes or extend compliance to commercial off-the-shelf (COTS) devices, provide more choices in apps, currencies, payment schemes and authentication methods, experts have noted.
Colin Greene, payments consultant and operating partner at Praetura Ventures, called PCI SPoC (Software-based PIN entry on COTS) and CPoC (Contactless Payments on COTS) standards revolutionary developments that allow smartphones and tablets to stand in for traditional POS and mPOS solutions. "This revolutionary capability not only reduces the cost of the entire face-to-face payment value chain but allows the ever-increasing PCI security standards to be met by software updates alone," Greene said. "Compared to an aging hardware-centric POS estate, this approach delivers best-in-class security, protecting both customer and merchant payment data."
Mark Bunney, head of go to market strategy and professional services, North America at Ingenico, a Worldline brand, described Ingenico's Terminal as a Service (TaaS), introduced in 2020, as a next-generation solution that combines commercial hardware with recurring software and services. "TaaS helps resellers make money throughout the life of a solution," he said. "It's a simplified, cost-effective way for estate owners and service providers to upgrade and manage device estates, cloud services and even terminal application software."
Transferable capabilities
Having seen technology's impact on digital commerce, payment technology leaders are exploring adjacent opportunities in other verticals, including the Internet of Things, healthcare, logistics and beyond, applying advanced capabilities to fresh new use cases.
Vaden Landers, a payments veteran, disclosed his new role as CEO of S2 Cognition on Feb. 22, 2022, stating he looks forward to leading the "science-meets-tech-meets-sports" company. "We use the most precise set of tools to measure and quantify information the brain receives from the eyes, how the brain processes that information, and ultimately the instructions the brain sends out to the body that leads to action – all within milliseconds," he said.
Marc Real Garcia, CEO at Barcelona-based Minnim Design, saw a need for intelligent coolers in healthcare and collaborated with Groenlandia on Nuuk, a cold chain solution designed to securely transport biological samples while uploading real-time data to the cloud. "Currently biological samples are transported in consumer-grade coolers without controlling who accesses samples or containers," he said. "Nuuk is UN3373 and ADR compliant, protects against theft and monitors temperature transparently in real time in the cloud."
Asaf Adi, senior manager, IoT, blockchain and AI at IBM Research, Haifa, views technology as a catalyst for innovation. "Our team innovates at the intersection of IoT, blockchain and AI," he said. "We leverage technology responsibly with the goal of maximizing opportunities for workers and businesses - helping people work better."

Dale S. Laszig, senior staff writer at The Green Sheet and managing director at DSL Direct LLC, is a payments industry journalist and content strategist. Connect via email dale@dsldirectllc.com, LinkedIn www.linkedin.com/in/dalelaszig/ and Twitter @DSLdirect.
The Green Sheet Inc. is now a proud affiliate of Bankcard Life, a premier community that provides industry-leading training and resources for payment professionals. Click here for more information.
Notice to readers: These are archived articles. Contact names or information may be out of date. We regret any inconvenience.
Prev
Next