The Green Sheet Online Edition
February 28, 2022 • Issue 22:02:02
Cash, credit or crypto?
By Patti Murphy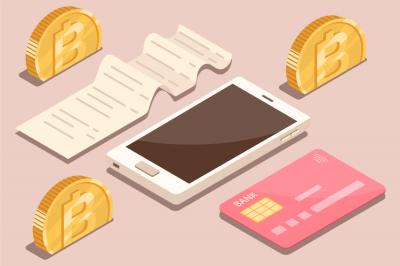 Just a few years ago, the notion of paying for purchases with cryptocurrency seemed the province of underground economies. Not anymore. Visa reported that it processed $2.5 billion in cryptocurrency-based card payments during the first quarter of its 2022 fiscal year, which ended on Dec. 31, 2021. That's a 60 percent jump over the value of crypto card payments processed on the network in the second quarter of 2021.
Among U.S. and U.K. consumers surveyed last fall by Paysafe almost one in 10 had adopted crypto as a payment method since the outbreak of COVID-19. In a separate survey of businesses, Paysafe found 17 percent already allow consumers to pay using crypto in some form, while 36 percent plan to introduce crypto into their checkouts within a year. Just 15 percent said they saw no need to ever accept crypto payments.
"If all these businesses do succeed on that ambition, then more than half of all businesses will be offering crypto payments by this time next year," Craig Patel, CEO for digital wallets at Paysafe, wrote in a Feb. 1 blog post.
This, our second article in a series on crypto payments, examines how crypto payment acceptance is popping up at the POS, and how traditional payments companies are responding.
The time is now for crypto
"I believe crypto is here to stay," said industry attorney Adam Atlas. "Despite all the drama around hacking and criminals using crypto, and complexity issues around the technology, it has earned a place in the wallets of the nation."
Andrea Ramoino, chief strategy officer at Contis, a London-based banking-as-a-service provider concurred. "It might feel cutting edge right now, but crypto is set to become one of many payment norms—and much faster than many businesses might think," he said. "Visa's latest figures help resurrect the idea that cryptocurrencies are not intended to just be an investment vehicle and will one day serve as a spendable alternative to fiat currencies."
Just 15 percent of merchants surveyed by Paysafe said they don't ever expect to accept crypto payments, while 48 percent are committed to accepting crypto payments, and fast. "Businesses want to do this as soon as possible because they see a need to futureproof their survival and growth," Patel wrote. "You can see why: digital assets hold the potential for businesses to reduce transfer fees, improve security and speed up transaction times," Ramoino said.
James Shepherd, president of CCSales Pro, added, "The idea that businesses want to accept crypto payments should be generating a lot of interest from our industry."
Eric Brown, founder and CEO of CryptoBucks and Aliant Payments, expects crypto payments to be commonplace within three to five years. "It's a land grab now," he said.
Crypto cards
Patti Wubbels, senior vice president in the crypto advisory team at the consultancy SRM, sees several iterations of crypto in the retail payments space. The most prominent are credit and debit cards tied to crypto wallets, commonly known as crypto cards. There also are credit and debit cards that feature crypto rewards programs, where the cardholder receives cash back in select cryptocurrencies, like Bitcoin or Ethereum.
But crypto cards can be a clunky way to pay, because the cards merely link to crypto wallets. "The cardholder has to liquidate their crypto first onto their card," explained Jeremy Belostock, head of advanced payment methods at Verifone.
Both Visa and Mastercard are gung-ho on crypto cards since they use the card network rails to process payments. Both companies have inked agreements with crypto wallet providers and financial institutions to get crypto cards into consumer's digital wallets.
They also are looking beyond cards. Each has set up crypto advisory services for financial services firms. Each also has initiatives involving stablecoins—cryptocurrencies pegged to fiat currencies, like the U.S. Dollar or the Euro, which makes them less vulnerable to price fluctuations. In 2021, Visa became the first to settle payments in U.S. Dollar Coin, doing so to support payments using Crypto.com Visa cards.
"We are also providing on-ramps for crypto players, creating connectivity with fiat economies," Visa CEO Al Kelly said in a January earnings call. "There are over 65 crypto platforms and exchanges that have partnered to issue Visa credentials."
Off the rails
Belostock said using native crypto wallets to initiate payments is a more streamlined process than using crypto cards. These solutions bypass the card network rails, instead processing through crypto gateways. There are many, with BitPay and Coinbase among the most popular.
Wubbels agreed. With native wallets, it takes just two to three steps to complete a transaction, she noted, compared to six steps in a card transaction, with fees collected along the way. "As merchants begin to better understand crypto, they're probably going to want this option," Wubbels said.
Verifone recently partnered with BitPay to support this approach to crypto payments. Founded in 2011, Bitpay boasts being the world's largest provider of cryptocurrency payment services. It even offers a crypto Mastercard debit card that can be used to convert crypto assets to dollars for spending.
The partnership with Verifone enables merchants to accept crypto payments in-store directly, using a Verifone Engage terminal, or online using Verifone cloud services, without the need to set up BitPay accounts. Consumers use their preferred crypto wallets to scan on-screen QR codes to complete transactions, and BitPay converts the crypto to dollars on the backend in real time. "It's fast, it's secure and it's intuitive," Belostock said, adding that the arrangement currently supports transactions in 15 cryptocurrencies, with more coming.
The official roll out of crypto acceptance was last fall, but Verifone is gearing up for a big push this year. "There is a lot of demand out there, but we're still in early days for rollouts," Belostock said. "We're primarily in the educational and evangelical stage now, but I think this year we'll see both large and small merchants accepting crypto payments." He said the company has seen interest across verticals, including QSRs, big box stores, restaurants and even movie theaters.
Belostock suggested Verifone is well-positioned to help drive merchant adoption. "We have a significant footprint with both larger and smaller merchants, and can drive ubiquity," he said. Verifone will sell the solution primarily to its portfolio of large merchant accounts, and ISOs and agents are signing on to sell crypto acceptance to small and midsize merchants, he noted. "We're getting calls from ISOs every week," he added.
Getting merchants onboarded and accepting crypto payments isn't as quick or simple as it is for card acceptance, however. It takes more time as the underwriting, security protocols and other steps can be complex, Belostock noted.
On the plus side, merchants benefit from little or no chargebacks; there is no rescinding a cryptocurrency transaction. Besides, to pay using a crypto wallet the buyer has to have physical access to the device on which the wallet is stored and enter the correct PIN, or they need access to the wallet's unique private key. (It is worth noting, however, that because cryptocurrencies are digital, they are prone to hacking, and crypto wallets can be stolen. In one common scam, hackers will contact a mobile provider and convince them to transfer a wallet holder's number to theirs, thus gaining access to the wallet and credentials.)
Merchant fees can be lower than interchange. BitPay, for example, charges just 1 percent of the transaction fee. Belostock characterizes the pricing of crypto payment processing for Verifone merchants as "similar if not less" than traditional processing fees. When you factor in the savings from fraudulent chargebacks, however, overall costs are lower, he said.
Crypto payment acceptance also attracts shoppers and boosts average spend. A Forrester Research study commissioned by BitPay in 2020 found consumers paying with crypto have an average order value of $450, compared to $200 for those using traditional forms of payment.
BitPay and Pymnts.com collaborated on a survey in 2021 that led to estimates that 30 million adult Americans owned cryptocurrency; 24 million of those consumers were expected to use crypto to pay for at least one purchase within the next year. An estimated 17 million consumers not owning cryptocurrency were expected to do the same. As a result, the report concluded that approximately 1 percent of retail sales would involve cryptocurrencies within a year.
A door opener
ISOs and agents offering crypto payment acceptance, especially those early to the game, will benefit from differentiator status. "It opens doors," Brown said. "It has brought us some of the largest traditional processing accounts we have on the books right now."
Cryptobucks, created by Aliant in partnership with the software development company Shokworks, bills itself as the first payment app to support credit, debit and crypto payments through one app. The company had several early successes, including the first cryptocurrency acceptance deal with an NFL team, the Miami Dolphins in 2019. It currently supports acceptance of 11 cryptocurrencies.
"Using cryptocurrency is perfect for sports teams, airlines, gaming organizations, automotive sales, jewelry, real estate and more," said Shokworks COO Daniel Laplana.
"During the last two quarters of 2021 we began seeing a lot more interest from business owners, especially those in tech and those selling high-ticket items," Brown said.
The CryptoBucks approach is similar to Verifone's. Consumers use their crypto wallet of choice, selecting the crypto payment option at checkout and scanning a CryptoBucks-generated QR code. On the back end, Cryptobucks immediately liquidates a corresponding amount from its in-house reserve of cryptocurrencies for the merchant payout. "We're trading crypto at the same value at the same time," Brown said.
Like Verifone, Cryptobucks works with ISOs and agents, with compensation plans that closely mirror those for traditional card processing deals.
Google, PayPal, Square
Some earlier use cases for crypto payments were with ecommerce businesses. Shopify, BigCommerce, Magento and Overstock.com were among them. These transactions are initiated through native crypto wallet apps and processed using crypto gateways, like BitPay and Coinbase, bypassing the card network rails.
Then there is PayPal. "PayPay isn't actually a cryptocurrency, but it facilitates transactions and collects fees like the ecommerce solutions," Wubbels said.
PayPal obviously has grander plans, however. On Feb. 9 it announced the creation of a "a cross-disciplinary advisory council on blockchain, crypto and digital currencies." The company has tapped "some of the world's leading experts in cryptography, distributed technology, regulation, economics and capital markets," Jose Fernandez da Pante, PayPal senior vice president and general manager, said in a statement. He said the move would "support not only our current and future products in the space but our broader mission of leading the way towards a more affordable, efficient and inclusive digital financial system."
Google, too, has been bit by the crypto bug. In January, the company hired a former PayPal senior exec to lead its payments division, according to published reports. Google already has made inroads with Google Pay, the company's digital wallet for online and mobile payments. Back in 2020, Google Pay added integration for the Coinbase Visa debit card that enables Bitcoin payments. And there is speculation that Apple will build a Bitcoin wallet into its wallet app.
Square is also known to have designs on the crypto payments space. The company's recent name change to Block Inc. was widely seen as a nod to that. Users of the Square Cash App have long had the option to spend in Bitcoin, and Spiral (formerly Square Crypto) is a corporate unit that builds and funds open-source Bitcoin projects.

Patti Murphy is senior editor at The Green Sheet and self-described payments maven of the fourth estate. Follow her on Twitter @GS_PayMaven.
The Green Sheet Inc. is now a proud affiliate of Bankcard Life, a premier community that provides industry-leading training and resources for payment professionals. Click here for more information.
Notice to readers: These are archived articles. Contact names or information may be out of date. We regret any inconvenience.
Prev
Next