The Green Sheet Online Edition
November 22, 2021 • Issue 21:11:02
Tis the season for shopping
By Patti Murphy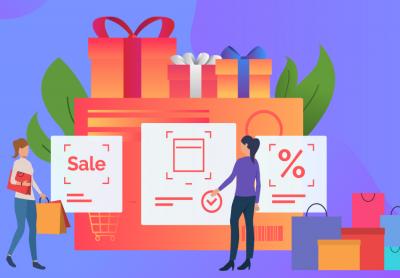 The 2021 year-end holiday shopping season is shaping up to be the largest on record. That is, provided businesses manage to keep enough merchandise on shelves to meet pent-up consumer demand.
"Pandemic-related supply chain disruptions have caused shortages of merchandise and most of this year's inflationary pressure," said Jack Kleinhenz, chief economist at the National Retail Federation. Complicating matters will be the early shopping plans of many consumers, which could pull down inventories sooner than expected, he noted. "However, if retailers can keep merchandise on the shelves and merchandise arrives before Christmas, it could be a stellar holiday sales season," he added.
While supply chain issues have only recently been on the minds of consumers, that's not the case for retailers. "Planning for the holiday season happens months in advance, and many retailers took extra measures to ensure they ordered early, found some sort of capacity and started building inventory earlier than usual," said Jennifer Bartashus, senior analyst at Bloomberg Intelligence.
Target, for example, chartered its own container ship to avoid delays and backed up ports, the company stated in a recent letter to customers. "Once products arrive stateside, we're partnering closely with our vendors and transportation partners to move it quickly to our stores, keeping our shelves well-stocked and ready for guests," the company said.
Challenges remain for smaller merchants, however. "[P]roducts may be tied up and the costs of moving them, once here, are still elevated," Bartashus said. Technology giant Oracle warned that consumers could sour on merchants that lack sufficient inventory. Among those it surveyed in September 2021, 47 percent said out-of-stock merchandise topped their list for a bad shopping experience.
Banner year for spending
The NRF predicted year-end holiday shopping will generate between $843.4 billion and $859 billion in sales this year, a jump of between 8.5 percent and 10.5 percent over 2020. The anticipated increases compare an average year-over-year growth rate of 4.4 percent over the past five years. Retailers rang up $196.7 billion in sales during the 2020 year-end holiday season.
NRF's numbers exclude sales by automobile dealers, gas stations and restaurants. In the federation's Monthly Economic Review, Kleinhenz wrote, "Consumers are in a very favorable position going into the last months of the year and are spending because they can." NRF's president and CEO Michael Shay concurred, stating, "There is considerable momentum heading into the holiday shopping season."
And they're not just purchasing things. An Adobe survey of consumers found that while 51 percent plan to gift physical goods, 17 percent plan to gift experiences. Top experiences include spa treatments, concert tickets, sporting events, plane tickets and cooking classes. Gift cards, too, will be popular. "This is going to be a banner year for gift cards," said Dick Seesel, principal at the consultancy Retailing in Focus.
Blackhawk Network reported that 83 percent of 2,000 adults surveyed in August planned to purchase gift cards this holiday season. Respondents expect to spend 41 percent of their holiday gifting budgets on gift cards, or $272 on average, Blackhawk reported. Among early shoppers surveyed in September by NPD, a retail data and analytics firm, 30 percent had already purchased gift cards for the holidays.
The most popular gift card categories, based on Blackhawk's survey, will be dining/restaurant, multi-brand, grocery and mass merchant. The places shoppers are most apt to shop for gift cards include ecommerce sites, big box stores, grocery stores and convenience stores.
Early momentum
By most accounts, holiday shopping has begun earlier than in past years, leading Mastercard to dub the period from Oct. 11 through Dec. 24 the "75 Days of Christmas." In September, the card company predicted retail sales, excluding automotive and gas, during the traditional holiday period (Nov. 1 through Dec. 24) will rise 7.4 percent, with online sales leading the charge, at 7.6 percent over 2020.
In-store sales will grow 6.6 percent compared to 2020, while online spending will increase 7.6 percent over 2020, based on Mastercard's data. Viewing holiday sales through the 75-day lens, total retail sales excluding auto will rise 6.8 percent over 2020 and 11 percent over 2019, Mastercard said.
NPD reported in October that a third of 3,700 consumers it surveyed had already begun shopping for the holidays; 42 percent cited concerns around availability and supplies as the reason. Forty-three percent had made early holiday gift purchases of electronic devices, for example. Meanwhile, a survey by the consumer website RetailMeNot.com found that 37 percent of consumers had begun holiday shopping by September or earlier.
For their part, large merchants like Target, Walmart, Amazon and Apple are moving up specials before the traditional Black Friday kickoff. Salesforce.com expects pre-Cyber Week sales to generate $141 billion in online sales.
Strong consumer confidence
Increased spending in the final months of the year reflects strong consumer confidence, said Michael McNamara, principal at Mastercard SpendingPulse, the card company's retail sales data service. He said Mastercard has seen year-over-year sales growth, excluding gas sales, of 8 percent for most of 2021. "We have strong momentum going into the holiday season," McNamara said in a Nov. 3 briefing with reporters.
NRF's data suggest spending was up 14.5 percent year-over-year for the first nine months, and has returned to pre-pandemic levels for many retail categories. Kleinhenz noted that consumers have a "savings buffer" of about $2.5 trillion, accumulated while many stayed home rather than dine out or travel during the pandemic. Increased spending also reflects higher incomes due to greater competition for workers during the current labor shortage, he added.
Although consumer confidence has dampened in recent months over inflationary fears, McNamara said it won't depress holiday spending. NPD, in a recent report, offered a similar assessment. "Consumers may still feel grim about the state of the economy, but they are confident enough about their personal situation to celebrate the holidays by spending more," the firm stated.
NPD expects consumers to spend on average $785 on holiday gifts this year, surpassing 2019 and 2020 spending. All categories of retailing will see increased spending, NPD predicted, but two of the biggest winners will be in clothing/footwear/accessories and tech/electronics stores.
Mastercard predicted businesses selling jewelry and luxury items are poised to be big winners this holiday season—two sectors that were especially hammered last year. Jewelry sales are expected to rise 59 percent over 2020 totals and nearly 53 percent over 2019. Sales of luxury items (excluding jewelry) are expected to jump 92.8 percent over 2020 and 55.8 percent over 2019.
Skyrocketing online sales
Online shopping will continue to expand this holiday season. Eighty-five percent of consumers surveyed by NPD plan to shop online, while 74 percent will shop both online and in stores. Salesforce.com predicted sales at U.S. ecommerce sites will grow 10 percent over 2020 online holiday spending; globally online spend will grow 7 percent. During November and December, alone, U.S. ecommerce merchants will ring up sales totaling $260 billion, Salesforce.com said.
Mastercard expects ecommerce sales to rise 59.3 percent between Oct. 11 and Dec. 24, compared to the same period in 2019. NRF's overall spending data includes double-digit increases for online and other brick-and-mortar sales between 11 percent and 15 percent to total between $218.3 billion and $226.2 billion, driven primarily by online sales. That's up from $196.7 billion in 2020.
Adobe Analytics paints an even more optimistic outlook. It forecasts Americans will spend $207 billion shopping online between Nov. 1 and Dec. 31, 10 percent more than they did during the same period in 2020.
Surging demand for online shopping, coupled with supply chain challenges, is having an impact on product availability. Compared to January 2020, the prevalence of out-of-stock messages has risen 172 percent going into the holiday season, Adobe reported. Adobe said it "expects it to remain at this level, increasing for certain products throughout the season," adding that categories with the highest out-of-stock levels include apparel, sporting goods, baby products and electronics.
"We are entering a second holiday season where the pandemic will dictate the terms," said Patrick Brown, vice president of growth marketing and insights at Adobe. "Limited product availability, higher prices and concerns about shipping delays will drive another surge towards ecommerce, as it provides more flexibility in how and when consumers choose to shop."
Multichannel shopping and delivery
A recent survey by Oracle found 20 percent of consumers plan to do most of their shopping in-store, while 47 percent expect to split purchases between the online and brick-and-mortar channels. Sixteen percent plan to retrieve items at curbside. Adobe expects curbside pickup to be an even bigger deal, accounting for 25 percent of all online orders this holiday season, spiking to 40 percent of all online orders on December 22 and 23.
"The holidays promise to test a retailer's ability to serve customers how and where they want to shop," said Mike Webster, senior vice president and general manager of Oracle Retail. "With customers shopping both online and in-store, and taking advantage of new retrieval options such as curbside pick-up and 'buy online pick up in store', retailers are going to have to be firing on all cylinders to meet customer expectations in an already difficult environment."
While rising online sales are a product of the COVID-19 pandemic, Emilie Kroner, vice president for retail and commerce at Mastercard, believes the change is permanent for many. "Upwards of 80 percent of the shift to digital will be permanent," she said in a Nov. 3 briefing.
Consumers are also embracing new payment methods like buy now pay later (BNPL). Online revenue from BNPL has been 10 percent higher this year than in 2020 and 45 percent higher than in 2018, according to Adobe's data. Shoppers are also using BNPL for less expensive items, with the minimum order value for BNPL dropping 12 percent, year over year, to $225.
"Once again, this year's holiday shopping season will look different than the past year's in terms of how and when purchases are made, as well as types of gifts that are given," said Marshal Cohen, NPD's chief retail industry adviser. But not in terms of shopping fervor.
Spending on food and drink
"Grocery spending shot up at the onset of the pandemic and has continued to increase," said Steve Markenson, director of research and insights at the Food Marketing Institute. Online grocery shopping jumped from 15 percent of weekly grocery spend in February 2020 to 22 percent in October 2021. "But brick and mortar [grocery] shopping remains strong, with 40 percent of those who don't shop online indicating they won't change," Markenson said. McNamara added, "some of that is inflation related, but not all."
Recent FMI research found that 58 percent of shoppers have concerns about being able to purchase groceries for holiday meals, but that number hasn't changed since the summer, suggesting consumers are not overly concerned about product shortages, Markenson said.
Restaurant sales have been strong much of the year, although sales at restaurants located in urban business areas remain depressed, according to McNamara. He added that strong restaurant sales growth will likely continue through year end.
NPD said among consumers it surveyed who are planning to celebrate with food and beverages, the mean spend will be $163; mean spend on liquor and wine is expected to be $120. The firm also found that among consumers planning to purchase experience gifts, 42 percent planned gifting food/beverage experiences.

Patti Murphy is senior editor at The Green Sheet and self-described payments maven of the fourth estate. Follow her on Twitter @GS_PayMaven.
The Green Sheet Inc. is now a proud affiliate of Bankcard Life, a premier community that provides industry-leading training and resources for payment professionals. Click here for more information.
Notice to readers: These are archived articles. Contact names or information may be out of date. We regret any inconvenience.
Prev
Next