The Green Sheet Online Edition
September 27, 2021 • Issue 21:09:02
Gift cards: an all-around good value prop
By Patti Murphy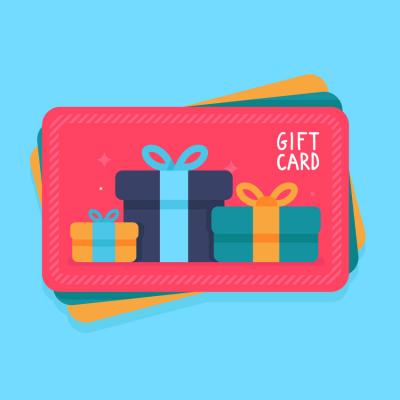 Prepaid cards generally and gift cards in particular are a winning proposition—for merchants, consumers and ISOs and merchant level salespeople (MLSs). For consumers, gift cards make gifting easy. This is especially true with e-gift cards.
"E-cards are a perfect last-minute gift," said Larry Rubin, founder, president and gift card guru at SwipeIt, a Massachusetts-based purveyor of gift card programs. "We saw an incredible amount of instant e-gift card sales on the day before Mother's Day and on Mother's Day," he stated. Father's Day not as much, but activity was "still incredible," he added.
SwipeIt's digitally ordered gift cards can be sent electronically by email or text message. The company also accommodates online ordering with physical delivery, loading plastic cards with value and mailing them to recipients. Rubin noted that about 40 percent of gift cards ordered online with a click of a SwipeIt button get mailed out as plastic cards.
"Virtual gift cards are definitely one of the biggest innovations in recent years within the prepaid market," said Laura Handly, an analyst at Mercator Advisory Group.
Research conducted by Fiserv found 53 percent of consumers have made purchases using gift cards stored in their digital wallets. In fact, gift cards are the third most common payment type used within digital wallets, behind credit and debit cards, Fiserv found.
"Many consumers do prefer a fully electronic gift card experience," said James Shepherd, president of CCSales Pro, which specializes in MLS training. "Also, keep in mind that some businesses are card-not-present or allow online ordering experiences which make electronic gift cards more convenient."
Digital, physical both popular
Not that consumers are shunning traditional gift cards. For example, Rubin pointed out that while SwipeIt has seen a rise in digital gift card orders, the majority of sales occur at brick-and-mortar locations.
The digitalization of gift cards isn't cannibalizing traditional gift card programs at all, added Tom Niedbalski, vice president for global solutions and partnerships, Fiserv gift card solutions. "It's definitely additive; it drives growth," he said.
A Fiserv survey of consumer gifting plans for the year-end holiday season found 58 percent of respondents prefer to give physical gift cards, up from 42 percent in 2020. Fifty-eight percent also said they prefer to receive physical gift cards, up from 39 percent last year. Whether virtual or physical, gift cards are popular with recipients. The National Retail Federation reported that gift cards have top rankings on 59 percent of consumers' holiday wish lists.
Consumers don't just buy gift cards for gifting, either. Research from Blackhawk Network suggests 91 percent of consumers have purchased gift cards, 69 percent bought them for themselves, and 87 percent purchased them as gifts. Gift cards have proven popular in just about every merchant vertical, although Rubin said his experience indicates restaurant gift cards are the most popular among consumers.
One emerging use case is state-sanctioned gambling. Blackhawk recently unveiled a card line it calls Game On, which can be used at a variety of online gambling sites, including FanDuel Sportsbook and BetMGM. The cards are available at grocery stores and other outlets in four states: Colorado, Indiana, New Jersey and Pennsylvania.
Merchant value proposition
The most obvious value proposition for merchants is loyalty. Gift cards also drive increased spend and act as a marketing pitch to new and existing customers. "Merchants can leverage a closed-loop gift card program to get their brand in consumers' wallets, which then drives loyalty," Niedbalski said. "When someone has a gift card in their wallet, they are motivated to go to that merchant." It's "free money" that allows them to splurge without necessarily tapping into their own cash reserves or adding to their credit card balances.
More often than not, recipients spend more than the value on a card. Fiserv's data revealed that consumers spend, on average, $59 more than the value on the card when shopping with a gift card. Supermarkets receive the biggest lift, with consumers spending 94 percent more than the value on the gift cards they receive, according to Fiserv.
There's perhaps no better recommendation for someone to visit a store or restaurant they've never frequented than a card loaded with value that they can spend there, Rubin said. Once a merchant has a gift card program in place, they are less apt to ditch it given the benefits received, Niedbalski added.
Gift cards, while wildly popular with large merchants, can be a real boon to small businesses, too. A 2019 Fiserv study found that 74 percent of consumers regularly purchase gift cards from small businesses. Ninety percent of consumers who receive a gift card from a small business they've never shopped at would shop at that business to redeem their gift cards and make future shopping trips there.
In addition, the cash flow benefits to merchants cannot be understated. Gift cards sold are in essence interest-free loans to merchants from their customers. Rubin recounted that some SwipeIt customers have found themselves with outstanding gift card balances totaling as much as $1 million. That's money available to fund growth or help a merchant make payroll and other expenses when sales are stalled, as happened to many at the height of the COVID pandemic.
A consumer poll conducted by Bankrate.com drives home this point, revealing a huge pool of money available to merchants in the form of unused card balances. Better than half of U.S. adults (51 percent) forget to use the money gifted to them in the form of a physical or electronic gift card, Bankrate reported. Combined, these Americans are leaving about $15.3 billion on the table, or an average of $116 per person. That's down from an average $167 per person in 2020, according to Ted Rossman, senior analyst at Bankrate.
ISO/MLS value proposition
Gift cards are a really good deal for ISOs and MLSs, too. Shepherd puts gift card programs "at the top of the list" of value-added services that ISOs and their agents should be offering. Niedbalski agreed. "Gift cards complete the payment tender type portfolio," he said. "It allows ISOs to check all the boxes for being a single-source provider."
One of the biggest benefits to ISOs and MLSs is the way gift card programs serve as an early warning system, alerting ISOs and MLSs to potential merchant defections. That's because gift card files are integrated with the merchant's payment processing hardware and software. "This means the merchant must reach out to the gift card provider before making a change," Shepherd said.
In most cases, swapping out integrations makes for merchant headaches, made worse when selling gift cards online due to the added step of needed changes to website integrations. Rubin said delays in making the new integrations can take upward of six months. "As delays continue, merchants often start rethinking their decisions," Rubin said. "They start to ask themselves, 'Is it really worth doing all this for $10 a month in savings?'"
While gift card programs are generally a sticky proposition for merchant accounts, it's not a guarantee. "It's easy to lose an account if you're not paying attention," Rubin said. He explained that SwipeIt immediately contacts ISOs and MLSs when a merchant inquires about needed integration changes, thus giving them an opportunity to fend off potential attrition. The company will also work with ISOs and MLSs on ways to keep merchants on board.
"ISOs and agents secure their portfolios by working closely with gift card providers to verify their merchants are maximizing gift card opportunities," Shepherd said.
There is also residual income to be had. SwipeIt offers gift card programs for a set monthly fee, which ISOs and agents are free to mark up substantially. Plus there is the obvious boost to transaction residual splits, the bread and butter of most payment processing professionals.
Niedbalski said that Fiserv has several pricing and revenue options for resellers of its gift card programs. "Several ISOs and agents have been making a good living by adding closed-loop prepaid cards to their portfolios of offerings," he said.
Niedbalski also has advice for ISOs and MLSs looking to add a gift card program to their portfolios. Look for scalability, stability and security, he said. "If you can check the boxes on all three of these, the business case speaks for itself."
The COVID effect
Like most things in the business and consumer realms, COVID-19 has had an impact on the prepaid market. "The COVID pandemic has introduced a number of new use cases for prepaid cards," Handly said. She pointed to the use of prepaid for vaccine incentives, and disbursements of government assistance payments.
Wisconsin's Department of Health Services was giving out $100 Visa gift cards to residents who received vaccines this summer. City and county governments in several states—including California, Georgia, Kansas, New York, North Carolina and Texas—have offered similar prepaid card incentives. Several others were handing out $100 Walmart gift cards to residents who rolled up their sleeves for COVID shots. Colorado residents were among those qualifying for Walmart gift cards. One Nevada county was offering $100 Amazon gift cards to vaccine recipients.
Gift card programs also helped many merchants ride out the pandemic. "Closed-loop prepaid programs have always been an integral part of many merchants' business strategies," Niedbalski said. "Over the last 18 months it has become integral. A lot of businesses ran [gift card] specials, which allowed them to take in revenues, using the float to get them through the pandemic and also secure future business."
The pandemic also drove up consumer and merchant interest in digital gift cards, procured and used either online or with mobile apps. "This allowed merchants to engage with customers while in lockdown," Niedbalski said.
Charting prepaid growth
"The prepaid market has grown significantly in recent years," Handly said. She estimates the market is growing at a 13 percent compound annual rate, which is expected to continue through 2023. The U.S. market, while growing steadily, is charting a 6 percent compound annual growth rate, she added.
Research and Markets said the global prepaid market topped $2 trillion in 2019 and says it's on track to total $18.47 trillion by 2030. Advance Market Analytics reported recently that North America has "a leading position in the global market [which] is expected to remain in place for years to come."
"Growth has been relatively sustained over time in developed markets, such as North America and Europe, but in Latin America and Asia we're seeing a dramatic expansion of prepaid markets brought on in part by the push towards cashless, digital payments that is taking place throughout the world," Handly said.
The one dark cloud over the prepaid horizon is regulation. "We're seeing really stringent regulations on prepaid cards in Europe," Handly said. She pointed to a European Union anti-money laundering directive that prohibits the loading of more than 150 Euros ($177) onto any card at one time.
In the United States, the Consumer Financial Protection Bureau created a controversial rule in 2019 that was intended to provide prepaid cardholders with many of the same protections that apply to other payment products such as checking accounts and credit cards. PayPal, however, successfully challenged provisions of the rule, specifically dictates on how prepaid providers disclose fees.
"While I don't believe we've seen regulation restrain growth in the U.S. prepaid market yet, I think that it may in the future," Handley said. "It will be interesting to see if the U.S. places limits on total allowable loads on prepaid cards [as the EU did] moving forward."

Patti Murphy is senior editor at The Green Sheet and co-host of the Merchant Sales Podcast. Follow her on Twitter @GS_PayMaven.
The Green Sheet Inc. is now a proud affiliate of Bankcard Life, a premier community that provides industry-leading training and resources for payment professionals. Click here for more information.
Notice to readers: These are archived articles. Contact names or information may be out of date. We regret any inconvenience.
Prev
Next