The Green Sheet Online Edition
August 09, 2021 • Issue 21:08:01
QSRs: tech-enabled, customer-driven
By Dale S. Laszig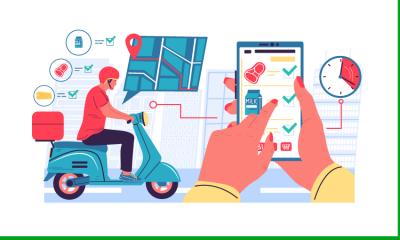 A penchant for measuring success in seconds positioned quick service restaurants (QSRs) for success during the pandemic. When fine dining and fast casual establishments were closed, QSRs filled orders by kiosk, drive-up window, curbside pickup and home delivery while pushing employees and technology partners to make foodservice faster, cleaner and safer.
In the post-pandemic economy, QSRs continue to deliver speed, convenience and safety at scale. "The Safe Restaurant," a March 2021 QSR Magazine article by Amanda Baltazar, identified three strategies developed in response to COVID-19:
Off-premises: Among 3,500 restaurants surveyed by the National Restaurant Association in September 2020, 67 percent deployed curbside pickup, 27 percent added third-party delivery and 17 percent introduced home delivery service during the pandemic.

Branding: Restaurants created clear and conspicuous safety messaging that aligned with their identities and brands to help customers feel safe.

Technology: Restaurants forged ties with vendors that provided necessary tools for keeping restaurants clean and minimizing the risk of spreading the virus.
In this article, The Green Sheet looks at technology innovation through the lens of service providers whose adaptability and deep understanding of the foodservice industry helped QSRs survive the pandemic and shape a new generation of digitally enhanced restaurants. These trusted partnerships are designed to enable QSRs to thrive far into the future.
Rapid-fire change
Dirk Izzo, president & general manager at NCR Hospitality, recalled COVID-19's devastating impact on the restaurant industry. "Restaurants were forced to pivot and adapt, quickly adopting contactless technology and shifting most, if not all, services to off-premise and outdoor dining, while also adjusting labor levels and menus," he said, adding that future restaurants will look fundamentally different than those that existed in March 2020.
Chris Kronenthal, president and chief technology officer at FreedomPay, agreed COVID-19 affected thousands of U.S. QSRs. "Almost every part of the business changed from front of house to the back-office environment," he said. "There is no doubt that QSRs will never be the same."
Emerging Trends at the Point of Sale, a January 2020 study by FreedomPay and Ingenico, found 63 percent of QSRs distrusted contactless cards, and 73 percent would accept contactless payments if they perceived them to be secure. "Fast forward almost two years, and contactless and touchless commerce are widely adopted and supported at almost all QSRs," Kronenthal said. "Technology has enabled a new world of commerce, giving consumers the ability to pay more safely and securely with contactless, QSR codes and mobile ordering."
Mark Bunney, director, go to market strategy at Ingenico, a Worldline brand, also noticed how much attitudes have changed since the FreedomPay and Ingenico study was published. "I remember talking with people [about customer engagement and personalized offers]," he said. "And now, people are more guarded about their privacy in stores and online. As markets evolve and change, we want our partners to be successful not only today but five years from now."
Commerce enablement
As Baltazar noted, at the height of the pandemic, when indoor dining was not an option, service providers launched initiatives to help QSRs stay open, productive and connected to customers. These programs reflect the interdependence of tech and QSR partnerships.
NCR established a global coronavirus task force to help maintain employee safety, customer safety and business continuity along with a coronavirus resources site with tips to help restaurants navigate the new environment. "When restaurants needed to satisfy customers looking for safer, contactless dining experiences, NCR answered the call," Izzo said.
FreedomPay created a Touchless Commerce program to enable merchants to digitally serve consumers in a variety of ways, from curbside pick-up to QSR codes. FreedomPay partners played a pivotal role, Kronenthal stated. "Going forward, the world of fintech will be won and lost by open partnerships and tech collaboration," he said.
Ingenico implemented a COVID-19 action plan in the early days of the pandemic, rolling out safe, socially distanced solutions. "The goal with all of these projects is enablement," Bunney said. "It's how can we enable the ecosystem, how we enable our partners and their customers; that's what we're seeing with the flexibility of POS technology solutions."
Next-gen QSRs
When asked what the future holds for QSRs, executives lauded technology's role in facilitating a frictionless customer experience across channels and devices.
For Kronenthal, choice in delivery, pick-up and mobile payments is key. "Most consumers love the flexibility born from pandemic-enabled-tech," he said. "The payments industry is rapidly becoming a technology play and QSRs who install the best tech will ultimately be the winners; customer centricity and data are becoming the two most important aspects of a business."
With growth of takeout and delivery, Izzo expects dining room footprints to shrink as restaurants dedicate more space to cooking and preparing orders. This may include implementing a central kitchen or ghost kitchen, he stated, or repurposing space to accommodate more delivery drivers and order-ahead-for-pickup patrons who will come into their stores. Mobile apps, loyalty programs and digital ordering will continue to scale as restaurants move to frictionless ordering and third-party delivery services, he added.
Bunney urged QSRs to be bold, experiment and take chances. He spotted a QSR trying different approaches at the drive-thru during the pandemic, first by handing POS devices to drivers, then by passing credit cards back and forth in Solo cups and finally getting it right with a tap-and-go solution. "In the QSR market, 60 to 65 percent of revenue is captured at the drive thru," Bunney said. "We try to provide solutions that make it easy to engage, take payments as part of the experience and also make it safe and socially distanced."
Open-ended models
Open-source technology and trusted partnerships hold the key to next-generation QSRs, Kronenthal stated. "It is vitally important that QSRs work with a capable, trusted partner to enable them to understand the possibilities of commerce technology," he said. "FreedomPay is seeing widespread adoption of new tech to make it faster and safer to order. The implementation of Tip on Device at the counter is a means to drive incremental revenue with higher average tickets and we believe curbside is here to stay as a revenue center."
Kronenthal went on to say that he expects online ordering and curbside pickup to enhance but not replace indoor dining. Human beings will always want to be served food, eat with friends or grab a quick bite not made in their kitchen, and merchants will continue to offer incentives, experiences, offers and rewards to entice the customer back, he noted.
Bunney suggested that technology partnerships are becoming more flexible and open ended. Ingenico has restructured its service model to make it easier to customize and scale. "This is exciting for our sales team because the sales approach is very different," he said. "Unlike a terminal sale, where you provide specs and then you're done, a terminal-as-a-service model allows us to dig into a customer's challenges and customize accordingly."
Bunney noted that customizations are also possible with traditional hardware sales but tend to be more static in nature; providing hosted terminal estate management, terminal software and other cloud services gives resellers more flexibility than they had previously as well as the ability to leverage these applications within a partner ecosystem. "We're not trying to lock our partners into a particular path or solution," he said. "We want them to choose the right tools and solutions based on their clientele and unique requirements."
Izzo observed that partners helped restaurants digitally transform during the pandemic and the most successful deployments involved frictionless ordering, mobile apps, loyalty programs and digital ordering. "COVID-19 has shown it would be detrimental to restaurants to stay stagnant," he said. "They must always look for new ways to innovate their service and guest experience."
Tactical support
Izzo proposed that QSRs need service providers with innovative technology offerings. "The QSR business is all about serving customers with speed," he said. "With COVID-19 almost in the rearview mirror, keeping up with trends and listening to what consumers want will keep QSRs ahead of the curve and build valuable capabilities for resilience and success in the future."
Izzo offered service providers the following advice for helping QSRs compete:
Optimize delivery and takeout capabilities: As more people get vaccinated, confidence will return and bring people back inside restaurants. However, off-premises dining will likely endure because people have acclimated to delivery, takeout and drive-thrus. If restaurants haven't already, they should implement third-party delivery apps or their own branded app to make delivery and takeout an integral part of the operation.

Encourage loyalty: Loyalty programs enable QSRs to send customers buy one, get one incentives, coupons for a free dessert with a purchase, or just-in-time offers featuring their personalized favorites. The NCR Engage app platform can extend a restaurant's experience with an integrated app for mobile orders. Beyond digital ordering and contactless payments, restaurateurs can leverage the app to seamlessly sign up users for its loyalty program as well as building push messaging into a communications channel to reach customers with promotions or other notices.

Enable touchless transactions: The Visa Back to Business Study reported that 65 percent of global consumers surveyed prefer touchless payments to other methods, even after the pandemic. And the need for touchless technology in QSRs goes beyond payments, as consumers continue relying on contactless options, like QR codes, to order their food.

Protect employees and customers: Restaurants can add extra protection, beyond hand sanitizers and rigorous cleaning procedures, by applying antimicrobial coatings to keypads, touchscreens and other high-contact surfaces.
Education is key
Bunney emphasized the need for staff training as QSRs continue to innovate. "The next phase QSRs need to be thinking about is more than just technology; it's also about education," Bunney said. "Considering present labor shortages, as they hire new people on, QSRs should be training them from the start about contactless and touchless solutions."
Trained employees can show customers a logo or symbol where you can just tap and be done, Bunney stated, adding that consumers are getting used to tapping contactless cards, electronic wallets and smartphones at the POS. All these options and choices provide opportunities beyond just technologies; consumers don't always understand where to tap but appreciate being shown a new way to check out that provides a faster, safer, cleaner experience, he said.
Izzo pointed out that education is critical as QSRs introduce new technology while adhering to set service standards, regardless of which technology they implement. "These standards should include consistent food quality, quantity and taste, prepared quickly and at the optimal temperature, and with customer satisfaction top of mind," he said, while noting that implementing new hybrid service models can help QSRs meet these standards.
For example, self-serve kiosks enable customers to visualize menu items and customize orders, reducing the likelihood orders will be incorrect; decreasing waiting time, cutting the cost of hiring more employees and increasing sales volume through cross-selling and up-selling, Izzo explained. "Will customers feel like kiosks put the work on them?" he said. "Some might but most consumers are used to self-service transactions, particularly in the last year."
Citing delivery as another hybrid model, Izzo warned that simply offering delivery does not equate to customer satisfaction, particularly if it takes longer for an order to arrive than promised or if food is not the right temperature. Nevertheless, he noted that offering delivery, ordering and payment choices can help QSRs compete.

Dale S. Laszig, senior staff writer at The Green Sheet and managing director at DSL Direct LLC, is a payments industry journalist and content strategist. She can be reached at dale@dsldirectllc.com and on Twitter at @DSLdirect.
The Green Sheet Inc. is now a proud affiliate of Bankcard Life, a premier community that provides industry-leading training and resources for payment professionals. Click here for more information.
Notice to readers: These are archived articles. Contact names or information may be out of date. We regret any inconvenience.
Prev
Next