The Green Sheet Online Edition
June 28, 2021 • Issue 21:06:02
Doing business in a time of recovery - Part 2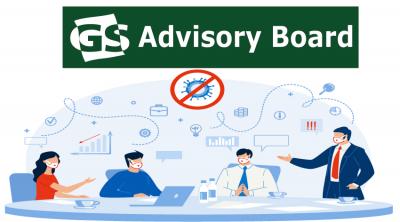 This is the second article of a two-part series in which members of The Green Sheet Advisory Board share their insights at this juncture, when COVID-19 case numbers are declining and we are beginning to recover from the pandemic's wide-ranging impacts.
Now, as many business and recreational activities are opening up, cautious optimism is in the air. While unforeseen events are always possible, many indicators continue to show positive economic signs.
To get the conversation started, we asked board members the following questions:
What are the most effective things you've done to ensure that your company is on strong footing despite the many unknowns at play in our economy right now?

What market trends are you seeing, and how do you expect they'll impact our industry?

What role can leaders in the payments/fintech community play to speed our economic recovery?

What advice do you have for payments professionals who might be struggling right now?
We published a portion of their answers on June 14, 2021, in issue 21:06:01's lead feature article. We wish to thank all who participated.
Thomas Aronica, Biller Genie
We have spent the year ensuring that our platform was scalable with our development and marketing efforts. We have been extremely introspective and due to this, we can withstand and thrive regardless of economic conditions.

Contactless, frictionless and self-service will be the driving trends in our industry. The easier we can make electronic transitions between buyers and sellers, the more productive we will be.

We can embrace change to ensure that we are providing real value to our merchants and their end-users. Getting out of the commodity mindset is paramount in the success of any fintech company in today's world.

Know your customers. Understand their needs and how you can provide services that make their lives easier. It is not about just throwing new products at your merchants; it's about being deliberate and matching the right solutions to each customer.
Jared Isaacman, Shift4
We were very fortunate to launch a successful IPO during the pandemic, which strengthened our balance sheet and positioned us strongly as we look toward the future. This has also enabled us to make significant investments in technology and capabilities that will help our partners and merchants find success in the best and worst of economic circumstances.

There has been a rapid pull-forward of payments digitization, especially in our core verticals of restaurants, hospitality, stadiums and theme parks. These mobile-first solutions create a better customer experience, and companies that are able to deliver these solutions, like Shift4, will benefit from this rapid adoption.

Payments and financial technology companies can accelerate the economic recovery by continuing to invest in technology solutions and capabilities that help merchants adapt to changing consumer preferences.

By facilitating better commerce experiences, it will help encourage consumers to return to their normal spending behaviors in order to jumpstart the economy.

The payments industry is no longer about saving merchants money on credit card rates, as it has been for the last 20 years. It's about delivering value through technology. To stay competitive, payments professionals need to embrace technology and become consultative to their merchants.
Allen Kopelman, Nationwide Payment Systems Inc.
We have to keep working and calling on business owners, diversify the products we are selling, offer solutions that make sense and are cost-effective to the merchants. People are out of work, businesses have closed up—but now, people are going back to work, opening up new businesses all the time. Sell ecommerce—this has always been growing but it's growing faster now.

I think that in the next couple of years we will see some alternative payments enter our space. These companies will have to be smart and integrate into shopping carts, gateways, etc.—payment apps like Zelle, PayPal, wallets, bitcoin, Venmo, etc. I think we will see more ways to pay. Some small businesses might be using these now, but if they are integrated into the rails for First Data, TSYS, etc., or gateways, that will make those alternative payment methods easier for merchants to use.

I remember when I first started in this business over 20 years ago, merchants would get several deposits, one for Visa/MC another for Discover, another for AmEx another for Diners Club and another for debit, JCB, etc. If you accepted all of those payment types in one day, you would get four, five, six deposits in one day. ... After a while, debit went in with the Visa/MC. ... Next came Discover and AmEx. ... Now merchants get one deposit.

Merchants do not want to deal with getting multiple deposits in one day—again. Once things were in one deposit, merchants took Discover and AmEx when they didn't want to deal with them before. It accelerated their acceptance at many merchant locations. Another trend is cash discounting and surcharging. Merchants who did not want to do this are now switching. COVID accelerated this as well.

Call on your merchants and offer them ecommerce solutions. At some point, they will get on the web. The processors can not ignore the alternative payment networks; figure out a way to integrate them into our systems.

You need to diversify your portfolios. Don't just sell POS into restaurant and retail. Learn to sell into other verticals, and partner with someone who can train you or help you close other types of clients. Take advantage of any and all learning opportunities. There are going to be all types of new businesses opening up in the next year or two. Learn some new tricks. A great book I recommend is Who Moved My Cheese? by Spencer Johnson. The cheese in this business is always moving.
Justin Milmeister, Elite Merchant Solutions
Throughout COVID and due to economic uncertainty being so high, our management team has successfully been able to cut unnecessary expenses. This has allowed us to build a fairly substantial reserve which we continue to build presently. Additionally, we have decided to move the bulk of our Los Angeles operations to Texas, which we see a great opportunity along with substantial cost reductions.
Our industry continues to see lots of consolidation which in turn creates fewer choices in the marketplace for ISOs. I have spoken with several ISOs, and the sentiment seems to be the same across the board, which is expected when you experience mass consolidation and have fewer large players. Service has gone down and, in fact, some seem to be pushing out their ISOs without actually saying it. They are doing this through reduced support and service for ISOs and other various needs that ISOs require to be competitive in the marketplace. Sure, there are still solid companies out there that are ISO-friendly; however, they are becoming smaller in number due to consolidation.
Implement various programs that help merchants that have been hit the hardest during the downturn and throughout COVID. Whether that be free processing, that is, no markups, which we did at Elite for those industries. Further, we have assisted our customers hardest hit by promoting them with various products we offer at no charge to help increase their respective businesses, which has been successful.

Any business is a rollercoaster. You have your ups and downs, and just when you think you are on your way up something comes along—in this case, it was COVID, which is an external force that is beyond our control, but nevertheless impacts your business greatly. My suggestion is to come up with various promotions and pitches that are geared to help the business even if it may produce a temporary loss or break even, that is, no profit. Over the long term, when everything gets back to normal you should have a merchant for life if you went the extra mile for them during the darkest times. It is easy to throw in the towel; however, those who are persistent and have a positive attitude and do not make excuses generally prevail in the long run.
Steve Sotis, eProcessing Network
We've learned more than anything over the past year that communication and education are key to understanding the difficulties resellers and their merchants may be facing, and what their needs are in order to keep their doors open. Based on their feedback, we've launched a series of targeted webinars and educational videos to reach a multitude of verticals and help them find or rediscover the best solutions to navigate the new needs of the consumer. We've also worked closely with ISVs to help them better utilize our developer tools so they can enable payments quickly within their own custom applications.

COVID has changed how merchants and consumers are transacting, especially with the rapid adoption of digital wallets and contactless payments. ePN has been able to quickly adapt to the needs of the reseller and merchant by strengthening the integration of our products and the compatibility of our devices so that the merchant can truly accept payments anywhere they can do business—indoors, outdoors and online for BOPIS. And our robust cash discount program is beneficial to merchants that are looking for ways to reduce transaction fees, especially for consumers who still use cash as their main form of payment.

It's incumbent on our community to maintain the highest level of security standards to ensure that business continuity isn't jeopardized, security isn't breached and that sensitive customer data is always protected. With increased adoption of digital wallets, ecommerce transactions, and contactless payments comes the risk of greater fraud—something that the leaders in our industry must be proactively mitigating.

Finding opportunities amidst the hard times is key to revitalizing certain markets. With every bump in the economy comes a chance for resellers and merchants to adapt to the changes and reinvent their business. We've seen numerous new businesses actually develop from the pandemic, showing that as an industry, we have the capacity to grow and stay relevant if we continue to correctly anticipate future trends.

The Green Sheet Inc. is now a proud affiliate of Bankcard Life, a premier community that provides industry-leading training and resources for payment professionals. Click here for more information.
Notice to readers: These are archived articles. Contact names or information may be out of date. We regret any inconvenience.
Prev
Next