The Green Sheet Online Edition
March 08, 2021 • Issue 21:03:01
Age-defying secrets of retail tech leaders
By Dale S. Laszig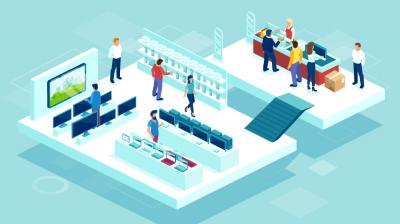 In an age of self-checkout and cross-border commerce, fintech startups unencumbered by legacy infrastructures tend to outperform traditional establishments. NCR Corp. and Subway are notable exceptions to this trend. In this article, executives who have worked with NCR and Subway examine how these iconic brands adapt and stay relevant. Both companies credit their partners and technology for fueling their growth as they navigate opportunities and challenges.
David Wilkinson, president and general manager of NCR Retail, stated that NCR began in 1884 as the National Cash Register Co. and has three businesses: banking, retail and hospitality. "We help clients transact with their customers across these three industries: on the banking side with a traditional ATM or video teller transaction, and in retail and hospitality where consumers scan a QR code or pay at the table," he said. "Everywhere in the world where consumers are touching these enterprises, NCR is likely facilitating the transaction or a big piece of it."
Subway's business model has remained the same since its inception in 1965, when a teenager named Fred DeLuca set out to make great submarine sandwiches. Fred sold 312 sandwiches in Bridgeport, Conn., on opening day, according to Subway's website. Benoit Lamoureux, senior payments product owner at Subway, led the firm's U.S. EMV migration and went on to manage payments globally. "We started small in the United States and now have 42,000 restaurants in 110 countries," he said. "We've saturated the North American market, so the only way for us to expand is globally."
Market knowledge
Market expertise has enabled NCR to rapidly expand its global footprint, according to Dirk Izzo, president and general manager at NCR Hospitality, who noted that NCR employs more than 34,000 people in 160 countries. "We used to be known for our ATM technology," he said. "Today, we are a leading software and services tech provider for banks, restaurants and stores. We run their infrastructure so that they can focus on their customers."
"We're definitely market-driven," Wilkinson added. "We follow the markets closely, listen to our clients and watch what consumers are doing. This enables us to leverage our capabilities with both professional services and software engineering."
Lamoureux's strong professional network and knowledge of global markets helped him tap the right partners and resources for an international Subway store rollout. Mindful that one-off integrations could impede the massive deployment, he sought technical advice from Emmanuel Haydont, co-founder, acting chief executive officer and business director at Amadis, a payment software technology company known for its pioneering work with the nexo standard.
"I knew Emmanuel and told him we needed to standardize payments at Subway," Lamoureux recalled. "He helped create a framework for our project, and we started that journey with Amadis and Worldline about three years ago." Haydont concurred, stating, "In Europe, Subway was a very interesting project and it was the first time an international retailer restaurant organization adopted a global standard to address problems with global international deployments."
Globalization, interoperability
Lamoureux acknowledged that having to transact and negotiate contracts in a fragmented market made international deployment especially challenging. "Europe has so many different languages and vendors may claim that they are global, but that is not always the case," he said. "Subway's base is 100 percent franchisee owned; we don't have any corporate stores. Vendors need the banking rights to settle in franchisor bank accounts."
Fortunately, working with Amadis and Worldline facilitated harmonized, cross-border payments acceptance, Lamoureux stated, while helping to address key technical issues without burdensome proprietary protocols or certification processes. Implementing nexo standards Retailer Protocol provided the partners with simple, clearly defined interfaces across payment applications, loyalty programs and POS systems and used a common approach for all types of POS infrastructures.
Stijn Gasthuys, vice president, global sales and verticals, merchant services at Worldline Global, noted that Worldline supported the Subway rollout to thousands of franchisors in 15 countries, including Spain, Norway, Ireland and Bulgaria, an expansive scope with myriad languages and local specificities. "Without us, there would have been 15 local projects, each with different standards and challenges," he said. "And when you work in the quick service restaurant business like Subway, it's important to package the offer in a clear way, with payment devices, transaction flows and ecommerce made simple, clear and cost-effective, with little upfront investment."
Gasthuys further noted that leveraging the nexo standard made solutions easy to integrate and plug-and-play for restaurant owners. An onboarding portal enabled franchisors to download and upload documents to activate their payment systems. Packaging, standardization and onboarding were the secret sauce that made the project a success, he stated.
Partner-driven
"Retailers around the world have been great partners for NCR," Wilkinson said. "They help us test new technologies and ask us to help them innovate, whether it's integrating mobile apps or providing self-checkout in stores. What a great message to say that 100 percent of my lanes are available and customers can choose an assisted checkout or self-checkout option."
Wilkinson mentioned that NCR had developed a range of contactless payment, appointment setting and mobile pay-at-pump solutions before the onset of COVID-19. When the pandemic pushed retail and hospitality merchants to QR codes, touchless menus and digital commerce, NCR was ready, he said.
"We recently acquired Fresh Shop, a grocery ecommerce company that gives us a platform to extend what we're doing with mobile shopping in the store by offering online and mobile-based ordering," Wilkinson said. "Our customers were asking and we acquired an established company to create an end-to-end integrated solution that allows the retailer to own their brand and customer experience."
Wilkinson mentioned that NCR acquired JetPay as part of that mission, which he described as creating a world where the retailer or bank or restaurant has more control over the end-to-end experience. We didn't want to go out and do merchant acquiring just for the sake of it; we wanted payments capability to be part of the solution, he added.
Future-forward thinking
Worldline's Gasthuys would like nexo standard adoption to soar post-COVID. "Having a global standard benefits everyone and drives innovation," he said. "Subway's powerful ROI proves that."
The world may look different post-COVID, Wilkinson stated, but that doesn't mean that we'll always be queueing up in front of stores. "We'll be more spatially aware when we transact," he said. "And we will probably have a heightened sense of safety and hygiene."
Wilkinson advised service providers to create an environment that allows retailers to invest in labor. "Before COVID, we were pushing costs to consumers by saying, 'Go shop, scan the groceries and carry the bag to your car,'" he said. "During COVID, consumers pushed more and more costs to the retailer, by saying, 'I just want to sit in my house, pick a few things and I want you to pick it off the shelf, put it in a bag and bring it to my house.'"

Dale S. Laszig, senior staff writer at The Green Sheet and managing director at DSL Direct LLC, is a payments industry journalist and content strategist. She can be reached at dale@dsldirectllc.com and on Twitter at @DSLdirect.
The Green Sheet Inc. is now a proud affiliate of Bankcard Life, a premier community that provides industry-leading training and resources for payment professionals. Click here for more information.
Notice to readers: These are archived articles. Contact names or information may be out of date. We regret any inconvenience.
Prev
Next