The Green Sheet Online Edition
January 25, 2021 • Issue 21:01:02
Washington outlook for 2021
By Patti Murphy
ProScribes Inc.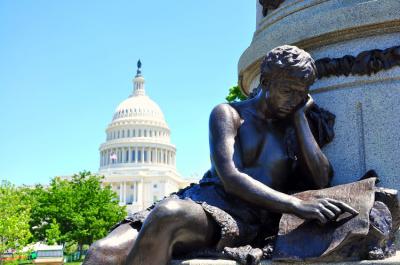 It's a new year with a new Congress and new President. And the question on many minds is what these changes on the federal level could mean for financial services generally and merchant services in particular. "Given that the Senate will be closely divided between Republicans and Democrats, legislative reform may be difficult and time-consuming to advance," a group of attorneys with the firm Pillsbury Winthrop Shaw Pittman LLP, wrote in a recent brief. "However, as per the old Washington adage that 'personnel is policy,' Biden appointees for key regulatory positions will have a large impact on financial services."
Scott Talbott, senior vice president for government relations at the Electronic Transactions Association, summed up the scenario this way: "We expect to see increased oversight of the industry, which could manifest as increased regulatory headwinds."
Stronger CFPB
Some increased oversight could come from the Consumer Financial Protection Bureau. A hallmark of the Dodd-Frank Act, the CFPB was created to protect consumers from predatory lenders and unscrupulous providers of other financial services. But it has been on life support for much of the Trump Administration. In 2015, the bureau's most active year under President Obama, nearly $6 billion was delivered to consumers from settlements with hundreds of businesses; in 2020, it collected 34 fines from businesses totaling $34 million, according to public records.
One of the biggest blows to the CFPB was meted out last summer by a U.S. Supreme Court, which ruled the CFPB's leadership structure—a lone director appointed by the president to a five-year term and cannot be fired without cause—was unconstitutional. The agency averted a fatal blow, however, when the same court rejected legal challenges to the constitutionality of its existence.
In a wish list sent to President-elect Biden, Rep. Maxine Waters, D-Calif., chair of the House Committee on Financial Services, called for replacing CFPB Director Kathy Kraninger with an agency chief who moves to "aggressively protect consumers."
Among other things, Waters said the new CFPB chief should be instructed to "immediately begin work to replace the 'Payday, Vehicle Title and Certain High-Cost Installment Loans' rule," which was put in place last year and was a watered-down version of a rule crafted under the Obama Administration that required lenders to assess borrowers' "ability to repay" loans.
Regulatory power struggle over fintechs
Meanwhile, a potential power struggle is brewing over oversight of financial technology firms. The Office of the Comptroller of the Currency, a Treasury Department agency that regulates nationally chartered banks, tried to break new ground in 2018 by creating a special charter for fintechs engaged in lending activities, and last year the agency said it planned to create another special charter for fintech payments firms. But the OCC's plans were challenged by the Conference of State Bank Supervisors, and a federal court sided with the CSBS.
In December, a task force set up by the CFPB, weighed in on the matter, concluding the OCC is ill-suited to regulate fintechs and that Congress should authorize the CFPB to issue federal charters to fintechs specializing in lending, payments and remittances.
The Pillsbury lawyers noted in their report that "numerous members" of the Biden transition team for financial services have "significant expertise in fintech issues, and President-elect Biden's campaign had substantial support and involvement from Silicon Valley and the technology community." The new administration is likely to look favorably upon new products and services that help the unbanked and underbanked, they added. "Fintech companies that are developing products that meet those priorities are likely to gain greater acceptance from legislators and regulators," the attorneys stated.
One potential fly in the ointment is growing distrust of big tech. "There is an overall concern among policymakers over big tech, which could have a chilling effect on fintech," Talbott observed.
The Pew Research Center reported that 47 percent of Americans want greater regulation of major technology companies, 11 percent favor less regulation, and 39 percent believe big tech is sufficiently regulated. Committees in both Houses of Congress are investigating the need for more vigorous antitrust oversight of big tech firms. Plus, the U.S. Department of Justice and the Federal Trade Commission have ongoing investigations into big tech companies, many of which also face antitrust scrutiny from state attorneys general.
Banking on cannabis?
A question on the minds of many is how the Biden Administration and the new Congress will respond to calls for decriminalizing or legalizing cannabis now that a majority of states have legalized it for medicinal and/or adult recreational uses.
In the waning days of the last Congress, the House overwhelmingly approved legislation—the Marijuana Opportunity Reinvestment and Expungement (MORE) Act—that decriminalized cannabis at the federal level. While the legislation never received a vote in the Senate due to opposition from Senate Majority Leader Mitch McConnell, R-Ky., it may have a better chance when Sen. Chuck Schumer replaces Sen. McConnell as majority leader. Before the November election, Schumer said if he replaced Sen. McConnell as majority leader, he would put legalization legislation up for a vote.
President-elect Biden said throughout his presidential election campaign that he favored decriminalizing marijuana at the federal level, and legalizing marijuana for medicinal uses. Vice President-elect Kamala Harris previously co-sponsored the SAFE Banking Act, which sought to establish a safe harbor for financial institutions that bank cannabis businesses. Although that legislation garnered approval from the House, it, too, was stalled in the Senate.
Biden's choice to lead the Commerce Department, Rhode Island Governor Gina Raimondo, supports legalization. In 2019, Raimondo described full legalization as "the next logical step." And in a December interview with the Providence Journal, she said cannabis legalization "is only a matter of time." As Commerce secretary, Raimondo would be the cabinet official responsible for representing business community interests and promoting economic growth.
Legal marijuana sales represent a multi-billion-dollar market—about $15 billion in 2021, according to Arcview Market Research.
However, most businesses selling marijuana, and related products and services, remain unbanked, forced to accept only cash payments, since credit card networks refuse to accept transactions from these businesses due to federal prohibitions. Some payment processing companies focused on serving state-authorized marijuana businesses have created workarounds, such as cashless ATMs, which route PIN-authorized credit and debit card payments through ATM networks.
The market for payment processing services extends beyond cannabis dispensaries and includes thousands of ancillary businesses, such as growers, testing labs, distributors and companies selling cannabis-related products that have been restricted from the major credit card networks.
While the ETA's Talbott said the chances of something like the SAFE Banking Act passing in the new Congress are improved, it would not signal a rush of activity. The Federal Reserve would need to create a rule set for inter-bank clearing of transactions related to cannabis businesses; the card networks would need to sign off, too. "These type of changes are done in incremental steps," Talbot said. But once all the legalities and rules are in place, he added, "the payments industry stands ready to provide all the benefits [of electronic payments] to legal cannabis businesses."

Patti Murphy is senior editor at The Green Sheet and co-host of the Merchant Sales Podcast. Follow her on Twitter @GS_PayMaven.
The Green Sheet Inc. is now a proud affiliate of Bankcard Life, a premier community that provides industry-leading training and resources for payment professionals. Click here for more information.
Notice to readers: These are archived articles. Contact names or information may be out of date. We regret any inconvenience.
Prev
Next