The Green Sheet Online Edition
September 28, 2020 • Issue 20:09:02
Manifesting our digital commerce destiny - Part 2
By Dale S. Laszig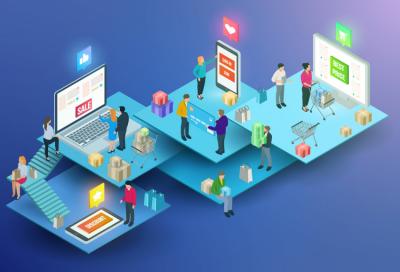 The payments industry's journey to digital platforms has been marked by a stream of regulatory mandates and technical initiatives, each with its own sense of urgency. In recent years, we've seen massive migrations to secure, compliant, mobile and digital platforms. Merchants and service providers continually update infrastructures to stay ahead of fraud and comply with EMV, PCI and PSD2 requirements.
This series examines the current race to digital commerce in response to the global coronavirus pandemic. Part 1 focused on early reactions during the onset of COVID-19. Part 2 probes the changing role of hardware in the payments ecosystem.
The term "hardware" brings to mind countertop terminals and PIN pads that once defined merchant services. However, today's solutions offer alternatives to hardware-centric POS environments. Modern estate management systems accommodate digital as well as physical assets, and leading original equipment manufacturers boldly experiment with new approaches to commerce.
The world needs PIN
Justin Pike, founder of MYPINPAD, noted that entering a four-digit personal identification number at the POS has been a popular authentication method for nearly two decades. "When first introduced in the UK in 2004, losses due to the fraudulent use of credit and debit cards fell by 13 percent in the first year," he said. "And the use of cloned or skimmed cards dropped by 25 percent, and the use of lost or stolen cards fell by 22 percent."
Pike sees a greater need for PIN implementation during the global pandemic, with cash usage down and online transactions rising. "With limited options for shopping and an increasing need to [minimize] time in public spaces, people are going online to buy what they need," he said. "But this in itself brings new challenges; with less experienced people shopping through digital channels, there has been a 50 percent rise in online fraud since January 2020."
Pike also noted that growing demand for touchless and contactless payment methods has prompted regulatory changes. For example, the European Union issued a Revised Directive on Payment Services (PSD2), raising the limit on contactless transactions. And SCA guidelines that went into effect in September 2019 will require multifactor authentication. Beginning Dec. 31, 2020, the SCA will require at least two of the following three authentication elements: password/PIN, phone/card, or fingerprint/face recognition. PIN is the most secure option, Pike noted, because it is required to complete the transaction and known only to the user.
PIN on mobile
Until recently, facilitating PIN entry involved certified service providers physically injecting encrypted keys into hardware peripherals. This changed in 2019, when the PCI Security Standards Council (PCI SSC) introduced SPoC (Software-based PIN entry on COTS) and CPoC (Contactless Payments on COTS). The new standards enable secure PIN entry on smartphones and tablets as well as on traditional POS and mPOS devices.
Colin Greene, CEO at MYPINPAD, called these standards a game changer. "The protection of data associated with payments has and continues to be one of the cornerstones of the payments industry," Greene said. "Compared to an aging hardware-centric POS estate, PIN on mobile delivers best-in-class security at all times, protecting both customer and merchant payment data."
Greene further noted that the face-to-face payment environment will no longer be reliant on expensive, single use POS hardware to protect cardholder data. Merchants and service providers will be freed from related costs, complexities and the need to continually replace aging equipment to meet the ever-increasing PCI standards, he stated.
Digital store transformation
Mark Bunney, director, go to market strategy at Ingenico Group, observed that mobile technologies are enabling digital store transformation. In a June 2020 FinTech Forward interview with Board Studios Inc., he suggested that PIN-on-mobile, PIN-on-COTS and tap-to-phone initiatives reflect a growing appetite for multiple facets of mobile technology.
"Some people may call it kiosk or digital signage, but [mobile technologies] basically involve taking information and putting it into a digital form so a consumer can interact with it," Bunney said. "And that could be on LCD screens, smartphones or tablet devices."
Bunney pointed out that today's consumers have a greater say in where this industry is headed. They don't care about PCI or EMV; they just want their payments to be safe and transactions to be frictionless, seamless, automatic and readily available to them, he stated. Consumers who were once happy to have their cards accepted are now expecting a great deal more from service providers, and we'll see more demand from them as payments technology continues to evolve, he added.
Innovation lab
In addition to freedom from the costs and complexities of managing physical estates, digital technologies afford users the freedom to innovate, according to Brad Giles, senior vice president, marketing and sales enablement at Ingenico Group. Giles has been instrumental in shaping the company's innovation lab, which he described as one of his favorite projects. "Innovation is about pushing the envelope all the time," Giles said. "And it's like a funnel: you come up with 100 good ideas; 20 of them make it to the drawing table; 10 of those become concepts; five of those concepts get shown to customers, and one or two of them end up making it—and that's real innovation."
Another interesting aspect about working in the Innovation Lab is that one third of participants have nothing to do with writing code, Giles added. They're marketing people who are out talking to the market, talking to the consumer and talking to the merchant, and getting feedback on what their expectations are today, tomorrow, next year, next decade, and where they think it might go, he stated, adding that these interactions with real users in the wild help Ingenico maintain its edge and sense of timing. A market that's not immediately receptive to new technology may embrace the same solution four years later, he noted.
"The challenging part for us is to find where to slide these products into the market at the right time, so that the market is ready to embrace them," Giles said. "Biometrics is a great example of that. We've had it for quite some time and the market is just now starting to adopt it."
Estate management
Robert Downton, vice president sales, North America, at Advanced Mobile Payment Inc. has also seen dramatic changes in the hardware industry. In an August 2020 panel discussion at the Mobile Payments Conference, Downton said hardware and payments are evolving into what he described as Payments-as-a-Service.
"It's no longer about being able to deliver payments; payments are expected," Downton said. "Service providers need to be able to provide integration and it needs to be easy. With today's smarter platforms, you can integrate to just about anything."
Downton went on to say that the digital world makes it possible to do much more than direct integrations on payment hardware: Manufacturers can talk to cloud-based and browser-based solutions, and this opens the ability to connect any type of even external hardware, like Apple-based hardware talking and integrating to an Android device. That's a real game changer, he added.
Having easy access to information can help small and midsize businesses manage their portfolios. For integrators, having a single-access view of their enterprise, including what applications are running, where inventory is located and various other services that tie into the ecosystem is essential. Today's estate management includes inventory management, transaction tracking and access to all of this critical information, Downton stated.
"There are so many different solutions out there and we want to work with everybody," Downton said. "We provide everything from integration of third-party applications, business solutions, training, documentation and support. That's clearly our focus at AMP, being nimble in getting innovations to market as technology keeps changing."

Dale S. Laszig, senior staff writer at The Green Sheet and managing director at DSL Direct LLC, is a payments industry journalist and content development specialist. She can be reached at dale@dsldirectllc.com and on Twitter at @DSLdirect.
The Green Sheet Inc. is now a proud affiliate of Bankcard Life, a premier community that provides industry-leading training and resources for payment professionals. Click here for more information.
Notice to readers: These are archived articles. Contact names or information may be out of date. We regret any inconvenience.
Prev
Next