The Green Sheet Online Edition
July 13, 2020 • Issue 20:07:01
App markets reimagined, reborn
By Dale S. Laszig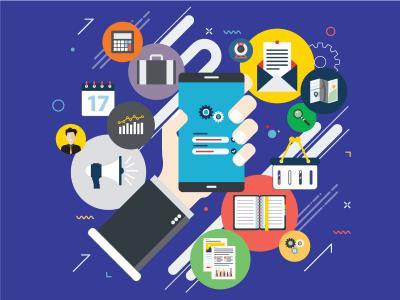 A decade after app marketplaces burst onto the payments scene, forever changing commerce, digital apps are breaking free of original models. As apps are subsumed into next-gen technology platforms and services, they become part of a global payments ecosystem and the Internet of Things (IoT). In this article, payments industry leaders discuss how their original app concepts and marketplaces have evolved into new digital solutions and possibilities.
Mike Camerling, CEO at AEVI, described the app marketplace as a way for merchant service providers to differentiate, generate new recurring revenue streams, and provide small and midsize merchants with solutions that help them grow and scale.
"AEVI is all about openness and collaboration, therefore we have built our platform as much as possible on open standards," Camerling said. "Utilizing AEVI's API strategy, AEVI Connect, we are making integration and especially interaction much easier for all parties involved in the value chain."
Commerce enablement
Before AEVI ventured into the app marketplace, it primarily focused on face-to-face payments, Camerling noted. In 2012, when the company was part of Diebold Nixdorf, it developed a device-agnostic, cross-European acquiring solution for a leading fuel merchant. Camerling called the solution a major step forward for European acquiring.
"The European F2F payment landscape is highly fragmented, with local schemes being guarded by regulatory and certification walls, creating a highly inflexible infrastructure with cemented local partnerships," Camerling said. "This in return is preventing payments and data to move freely across partners, devices, channels and territories, dramatically limiting how merchants can run their businesses."
In addition, locking app marketplaces into proprietary POS environments limits interoperability, Camerling stated. To overcome these barriers, AEVI launched a processor-agnostic, device-agnostic, interoperable app marketplace. Over time, the marketplace evolved into AEVI's current commerce enablement platform that partners can use to drive strategy, test the market and get closer to their merchant customers.
Interoperability
"Part of our platform strategy, and DNA, is continuously creating the ability to collaborate, allowing each partner to concentrate on their strengths and to cooperate with others enhancing their proposition," Camerling said. "This has been the foundation of many digital businesses that we extend to the physical world."
Camerling further noted that numerous financial institutions still use ISO8583, a 30-year-old communications standard with a bit map architecture and discretionary data fields that restrict interoperability and new payment card functionality. By contrast, the newer ISO 20022 standard facilitates better integrated services, he pointed out.
"ISO 20022 is offering building blocks for each stakeholder from the finance industry to build better integrated services, unconstrained by technical dependency on their partners or domestic integration complexities," Camerling said. "This is just one example of standardization in payments; Android is another example, from the apps and content side."
From app to ecosystem
Paresh Patel, CEO of PayRange Inc., observed that early app marketplaces focused on digital experiences. Consumers used apps for social media, online shopping or reading the news. These digital experiences were consumed entirely online, he noted.
"Today's apps are increasingly integrating digital and real-world experiences," Patel said. "For example, you can use apps to order ahead and physically pick up your shopping or to make in-person payments or reserve a parking spot."
PayRange is active in this movement, bringing the "online" experience to "off-line" things in the real world, Patel stated. In February 2020, the company introduced a mobile app to make laundromat commerce easier, simpler and faster by replacing coin hoarding. Several months later, when businesses shuttered during the coronavirus pandemic, the company added a pay-later feature to the app, which enabled users to use washers and dryers if the app declined their credit card transactions.
Blending into the background
Paresh and other payments leaders have observed that apps are following a similar trajectory to payments as they are absorbed into everyday activities. When Uber and Starbucks launched their mobile apps, people were excited about using them. Today, consumers expect their apps to provide instant gratification via smartphones and connected devices.
In a recent interview on FinTech Forward 2020, a virtual summit produced by Board Studios Inc., Patel pointed out that early app developers tried to maximize the amount of time that consumers spend on their apps. "For us, it's the exact opposite. We want consumers to download and use the app without even thinking about it," he said.
As he looked ahead at the PayRange near-term roadmap, Patel suggested the company will continue to expand beyond self-attended commerce into the broader micropayments ecosystem. Like before, when he identified ways to better serve machine operators, consumers and communities by providing smarter unattended solutions, Patel sees gaps in micropayments.
Universal access
"What is missing in the micropayment space is a solution that goes across industry boundaries," Patel said. "Vending machines may have one solution, parking may have another, laundry still another." PayRange strives to build a single point, universal solution that works across any type of small-ticket transaction that the consumer would like to make, Patel added. The consumer will not want to have 10 different apps, each with its own account credentials and stored payment credentials to make 10 different $1.50 or $2 transactions over the course of a week.
"This is the classic case of where a network can help both the consumer and merchant alike," Patel said. "PayRange is building the largest small-ticket payment network for everyday purchases."
A better sandbox
Another lasting benefit of apps and app marketplaces is their ability to generate continuous iterative innovation. Unlike the old days, when hardware and software rolled off assembly lines and onto merchant countertops, today's digital solutions are virtual, customizable and continuously updated, according to Austin Mac Nab, managing partner at VizyPay.
In June 2020, VizyPay released a cash discount app in the Clover app market. Designed to facilitate discounts to customers who pay in cash, the new app complements the company's existing cash discount program and is available to any merchant who uses Clover POS. VizyPay's cash discount app uses proprietary technology to automate cash discounting, thereby removing fee unpredictability and helping lower the merchant's costs, Mac Nab stated.
"We wanted to take the stigma away from cash discount programs," Mac Nab said. "Some of the signage that is being used places the program in a negative light. In reality, our cash discount program is helping our small business partners reduce and eliminate monthly processing fees and save millions of dollars."
Leveraging existing technology
Mac Nab mentioned he was attracted to Clover because of market share and finely tuned infrastructure. While his initial plan was to build technology to give away free to his merchant customers, he soon recognized that he could make the solution available to all merchants who use the Clover app market.
"It was important to me to be compliant in the eyes of the card brands, which have a bigger voice in the merchant acquiring world," Mac Nab said. "We worked closely with app developers. Clover's legal teams helped us navigate the legalities, which greatly simplified the process and gave us the assurance we needed that we were executing precisely and according to plan."
The app makes it easier for businesses to implement and start saving money, Mac Nab added. Merchants can sign up for the program directly on their Clover systems. All they have to do is download the app and upload their inventory of products or menu items to a Clover POS device.
"When a customer pays with cash, the merchant can select the VizyPay Cash Discount Tender option and choose cash or check, and the system will automatically apply the cash discount to the balance due," Mac Nab said. "The customer's receipt will show the cash discount received at checkout. This is another example of how mobile apps and marketplace models help participating merchants build customer loyalty and trust."

Dale S. Laszig, senior staff writer at The Green Sheet and managing director at DSL Direct LLC, is a payments industry journalist and content development specialist. She can be reached at dale@dsldirectllc.com and on Twitter at @DSLdirect.
The Green Sheet Inc. is now a proud affiliate of Bankcard Life, a premier community that provides industry-leading training and resources for payment professionals. Click here for more information.
Notice to readers: These are archived articles. Contact names or information may be out of date. We regret any inconvenience.
Prev
Next