The Green Sheet Online Edition
June 22, 2020 • Issue 20:06:02
COVID-19 driving debit card, contactless payments
By Patti Murphy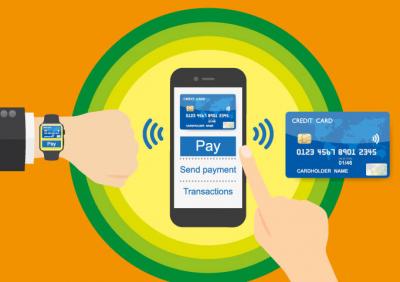 The coronavirus pandemic is changing the way many Americans choose to pay. They are less inclined to use cash, more inclined toward debit than credit cards, and becoming much more comfortable with contactless payments, whether that involves using contactless-enabled cards or apps on mobile devices.
While there is no definitive evidence that the coronavirus can spread through cash handling, consumers have a new affinity for options that allow for low- to no-touch payments. Among consumers recently surveyed by American Express Co., 16 percent said they are less likely to use cash now than they were before the pandemic. Fifteen percent said they are less likely to insert (dip) or swipe their payment cards.
Data compiled by Fiserv revealed that among merchants using Clover POS devices, cash transactions are down 8 percent since the start of the year. Indications are that at least some of these transactions are moving to contactless. Fifty percent of consumers surveyed by AmEx agreed with the statement that "using contactless is safer for personal health than using cash or inserting or swiping a card."
Contactless payments (sometimes referred to as tap-to-pay) have been slow to take hold in the United States, although they enjoy widespread adoption in other countries. "We've been pushing it for years, and it's been going really, really well; however, this [coronavirus] is an incredible catalyst for it," Oliver Jenkyn, executive vice president and regional president for North America at Visa Inc., said in a June 3, 2020, earnings call.
Contactless displacing cash
Craig Vosburg, president, North America at Mastercard offered a similar assessment. "I believe long before COVID we were finally at the point where the U.S. was on its way to becoming a contactless market," he said in a June 3 call with analysts. "I believe that even more today, and that we'll get there sooner because of the circumstances we're in with COVID." He added that more consumers are embracing contactless payments, and more merchants are encouraging contactless use.
Contactless payments can be initiated using cards or mobile device apps. Visa reported that U.S. issuers have distributed about 200 million Visa-branded credit and debit cards embedded with near field communication, the technology that support contactless. Visa expects that number to reach 300 million by year end. In addition, AmEx reported that all new and renewed cards now being issued in the United States are contactless enabled. Vosburg said.
Vosburg said Mastercard has commitments from issuers representing 70 percent of its U.S. card base to get contactless cards into consumers' wallets. "[M]any of them have a significant number of contactless cards in the market already," he said, adding that contactless-enabled terminals are now installed and functioning at merchants representing 65 percent of current U.S. Mastertercard card transactions. Worldwide, Mastercard reported, contactless payments (using cards and mobile devices) surged 40 percent in the first quarter.
Data Fiserv provided to The Green Sheet points to a 13 percent increase in contactless payments initiated using cards and mobile devices from March through May via Cover devices. Jane Chae, director of product marketing for Clover, said Fiserv expects the trend will continue after the pandemic passes. "We've seen that contactless payment usage has been steady since the week of May 10," she said.
"We're seeing real growth in contactless," added Derek Webster, founder and CEO of CardFlight, the company behind SwipeSimple POS software. Between March 2 and June 7, contactless payments (using cards and mobile devices) were up 35.4 percent at CardFlight merchants, compared to a 3.8 percent increase in dipped card transactions. Examples of business sectors embracing contactless include auto repair, plumbing, HVAC, pool maintenance, towing and limousine services. "If contactless is available, there's a preference for it," Webster said.
Jenkyn said Visa sees opportunities in migrating more cash to electronic payments with contactless. More than half of all transactions under $10 are paid using cash, according to Visa's analysis. "And to some extent, that's because if you're just doing a small transaction you don't want to give your card and swipe it or dip it," Jenkyn said. "But with tap-to-pay, it's easier than cash. And so we're expecting a significant displacement transaction lift like we've seen in other markets as tap-to-pay takes hold and people really build that muscle memory."
Sarah Grotta, director of the debit and alternative products advisory service at Mercator Advisory Group, isn't convinced contactless payments will have staying power. "There will be a temporary increase in contactless payments due to a change in shopping patterns," but "not necessarily an enduring change in consumer payment habits," she wrote in March.
Debit, ecommerce trends have staying power
Consumers are also moving more credit card purchases to their debit cards, Jenkyn said. A similar trend occurred following the 2008 financial crisis and again in late 2018 when the federal government shut down, he noted. "There's a consumer psyche of not spending someone else's money but spending their own," he said. "We've done some analysis internally based on the past which suggest there could be $100 billion annually of credit to debit shift that happens over time."
Grotta offered a different perspective. The non-prepaid debit card market has been growing steadily for the last few years, with the cards commonly used for everyday essentials. Consumers spent a lot of money on essentials in the lead up to and early days of state stay-at-home orders, but it was a temporary blip, she suggested. "Even though online and mobile purchases will fill in for some transactions typically carried out in person, the online and mobile channels are dominated by credit, not debit," she wrote.
She further noted that Mercator's most recent consumer survey data revealed that 42 percent prefer to pay for online purchases using credit cards, while just 19 percent prefer to use their debit cards.
Grotta conceded, however, that debit cards may offer a key advantage over credit cards among consumers desiring low-touch transactions. Unlike credit card payments, which typically require signature authorizations, "a debit card can be inserted into the terminal by a cardholder for a contact chip transaction without ever touching anything beyond the card itself, so this may be considered a virus-safe transaction in the eyes of consumers," she said.
The CNP alternative
Another trend Visa is planning for is ongoing migration away from brick-and-mortar purchases. People are getting habituated to shopping from home and other low-touch interactions, including omnichannel and curbside pickup, Jenkyn stated. "I think that will be a long-term change that we'll see. Some will go back, but some folks like this," he said.
Erin Fenn, executive vice president at Intouch Insight, agrees. Intouch develops customer experience management products and services. A survey of North American consumers recently conducted by the firm found that among consumers who order takeout for delivery, for example, 78 percent prefer to pay online in advance as opposed to at curbside pickup or delivery. She suggested this trend is likely to continue. "As businesses continue on their path to re-opening, understanding how best to serve customers could mean the difference between regaining traction, or falling short over the next few months," she said.
CardFlight, which has been publishing reports on transaction trends at its 60,000 client locations since early March, has seen a steep rise in card-not-present (CNP) transactions across most merchant verticals. During the first week of June, CNP payments were up nearly 30 percent over early March, while card present transactions were up just 3.9 percent.
Webster added that there's also been a steep rise in payments on invoiced transactions, where businesses email invoices with links that customers can use to pay from their PCs or mobile devices. The option is especially popular with businesses in the services sector. "We've seen use of our invoicing product more than double since the baseline week [March 2 through 8]", Webster said.

Patti Murphy is senior editor at The Green Sheet and co-host of the Merchant Sales Podcast. Follow her on Twitter @GS_PayMaven.
The Green Sheet Inc. is now a proud affiliate of Bankcard Life, a premier community that provides industry-leading training and resources for payment professionals. Click here for more information.
Notice to readers: These are archived articles. Contact names or information may be out of date. We regret any inconvenience.
Prev
Next